These Were The Last Songs John Lennon Recorded Before His Death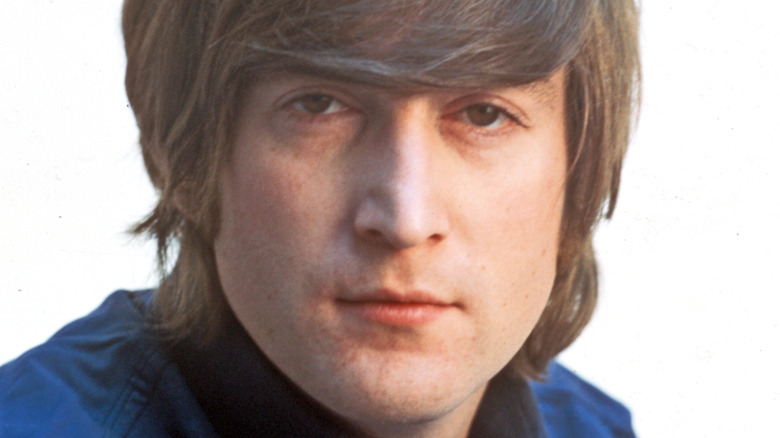 Rowland Scherman/Getty Images
In today's celebrity-dedicated culture, it's difficult not to feel tremendous envy for our favorite stars. From their bank balances to the circles they travel in, the A-list lifestyle seems but an impossible paradise. Even the most successful stars, though, have bumpy rides throughout their careers, and sometimes, tragically, all that attention can have deadly results.
On December 8, 1980, the world of music (and beyond) was devastated by the sudden and violent death of the Beatles icon John Lennon, per the BBC. Lennon, reportedly, was returning to his Manhattan apartment with wife Yoko Ono that night, when assailant Mark Chapman shot him from behind. Lennon was shot four times, dying soon afterwards at St. Luke's Medical Center.
Needless to say, Lennon is remembered not just for his tragic and untimely end at just 40, but for his time with the Beatles, and for his creativity and innovation in the industry. He kept up these efforts to the very end, as his fascinating last songs make clear.
Walking On Thin Ice was the Lennon's last song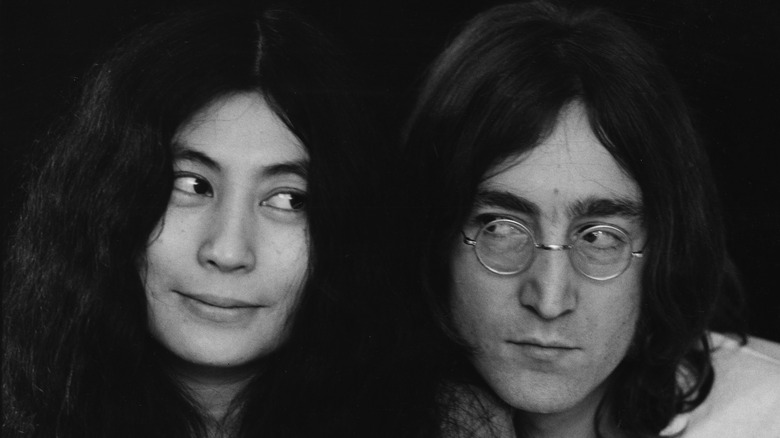 Michael Ochs Archives/Getty Images
Paul McCartney told Jonathan Ross in 2014 (via The Jonathan Ross Show on YouTube) that the news of John Lennon's murder was broken to him via a telephone call. "I just got a phone call," McCartney said, "and it was like ... I think it was like that for everyone ... it was just so horrific ... you couldn't take it in." One of the cruelest things, perhaps, was that Lennon would never be able to unleash the untapped potential he was still displaying, musically.
The BBC reports that Lennon and Yoko Ono had been at the Record Plant, a recording studio, earlier on the very night he was killed. Per Far Out, the pair had been working on a flurry of new music in the weeks prior to Lennon's death, and it had been quite some time since they'd done so: "Double Fantasy" was the first original album of Lennon's that had launched since around 1974. On his very last day alive, he was back where he belonged: the recording studio, working on a track with Ono entitled "Walking On Thin Ice."
"Walking On Thin Ice" is a poignant piece, one that boasts almost prophetic lyrics: "I gave you my knife/You gave me my life/Like a gush of wind in my hair/Why do we forget what's been said and play the game of life with our hearts?"
The sad end of John Lennon's extraordinary yet ordinary life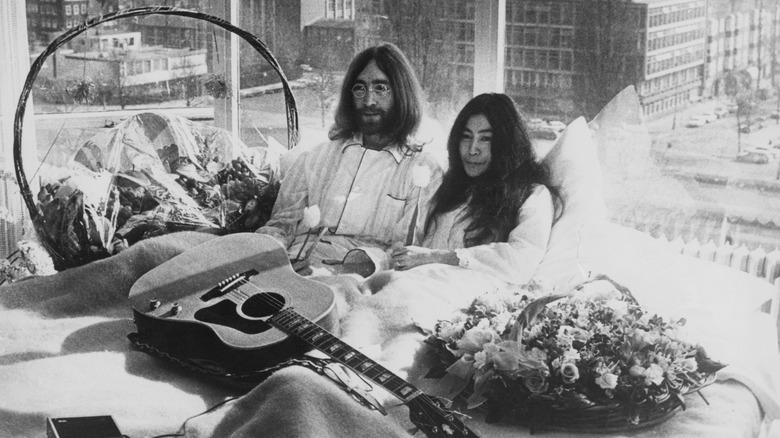 Keystone/Getty Images
The song ends, "Ai-ai-ai-ai-ai-ai-ai-ai," which isn't the most profound of messages, and Yoko Ono is certainly known to have been decidedly unconventional with her lyrics. At the same time, though, they can't have known the tragedy that was soon to come to pass, and it's deeply touching that they got to spend this last session in the studio together. They surely wouldn't have had it any other way.
According to Far Out, the famous and often controversial pair returned home in very short order after their creative session. Very short order, in fact: At the time of Lennon's fatal encounter with Chapman, the musician was holding a copy of the recording of "Walking On Thin Ice."
Lennon will be remembered as a musician to the final moments of his life, but also as a man who embraced simpler moments outside of his life in the spotlight. In 2021, Paul McCartney and Howard Stern discussed McCartney's book "Lyrics," in which he divulged that his very last conversation with Lennon was about the simplest of things: baking bread. "I ring John, and I was baking bread, and got quite good at it," McCartney said, via The Howard Stern Show on YouTube. "John was doing it. It was great, we could just talk about something so ordinary."