King Von's Disturbing Connection To A 17-Year-Old Girl's Murder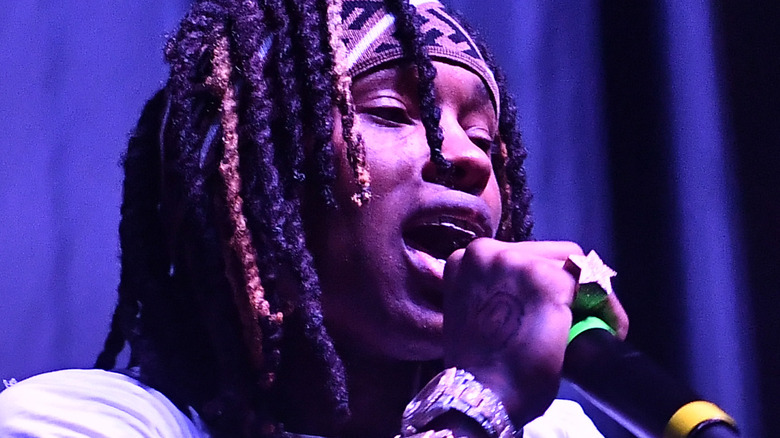 Paras Griffin/Getty Images
In 2014, 17-year-old Gakirah "K.I." Barnes was shot and killed in Chicago. At the time that Barnes was killed, no one was charged with her murder due to a lack of evidence, as The Source reports. But in 2021, unsealed Chicago police documents allegedly linked the rapper, King Von, to the crime, based on eyewitness testimony. Born Dayvon Bennett (via AllMusic), the "Crazy Story" drill rapper King Von was shot dead in Atlanta in 2020 over a dispute with another hip hop musician, as TMZ goes on to explain.
At the time that "K.I." Barnes died, the alleged member of a Chicago street gang had purportedly killed several people, picking up the nickname "Lil Snoop," inspired by the fictional assassin called Snoop from the hit TV show "The Wire" (via Daily Mail). In her lifetime, Barnes was arrested several times but was never charged, listed as a suspect, or convicted of any crime, according to The Daily Beast. Nonetheless, those in her community thought of Barnes as a killer due to this fearsome reputation, despite her young age.
Barnes' father died when she was young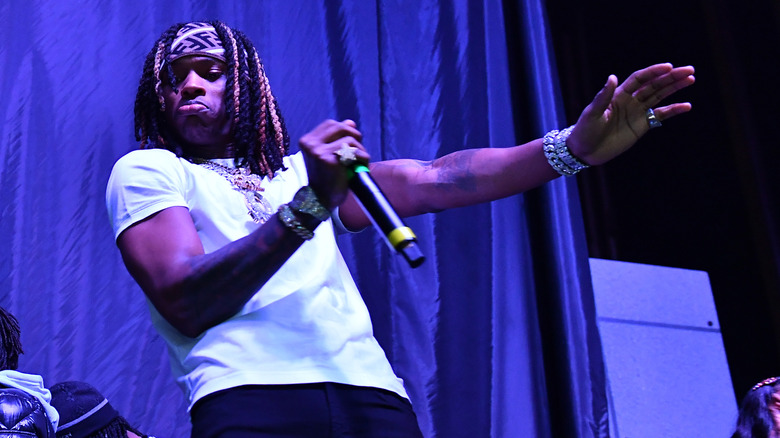 Paras Griffin/Getty Images
"K.I." Barnes' father died when was young, and by her teen years she purportedly fell into gang life on Chicago's South Side, as The Daily Beast goes on to explain. She was allegedly affiliated with Chicago's Fly Boy Gang (via Daily Mail). At the time of her killing, Barnes' mother, Shontell Brown, admitted that her daughter was no angel but that she had a loving home life. She had recently graduated from high school at a charter academy, according to Brown.
On the day that Barnes was killed, a hooded individual approached the young woman near her home and proceeded to shoot her several times, based on reporting from The Daily Beast. Despite the best effort of a neighbor to help, the bleeding could not be stopped. By the time that Barnes reached the hospital, she had died. After her death, a number of menacing photos appeared on social media in which Barnes was seen brandishing firearms. Her mother later characterized those pictures as playacting.
The hooded man was allegedly King Von, based on the unsealed police report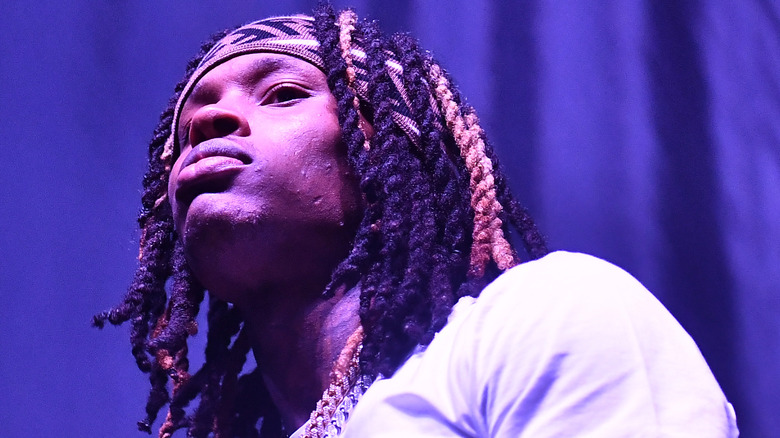 Paras Griffin/Getty Images
In unsealed police documents, the hooded individual that allegedly shot "K.I." Barnes was King Von, according to multiple eyewitness testimonies, as the Mirror reports. There were two other individuals shot at the time, but neither died, as The Source explains. Little other evidence linked Barnes to the killing, and for this reason, King Von was not charged at the time and remained a free man until his own death in 2020. Barnes was shot nine times in the neck, chest, and jaw, according to the Daily Mail.
Nonetheless, Dayvon Bennett, as he was referred to by the Chicago Police Department, was positively identified as the offender, according to the unsealed documents. King Von was also an alleged member of the Gangster Disciples street gang at the time that the killing took place. After her daughter's death, Barnes' mother, Shontell Brown, said (via The Daily Beast) "​​She was a young girl that had dreams of being something and getting herself and family away from this life."