Why Are Diego Maradona's Health Care Providers Being Charged With Homicide?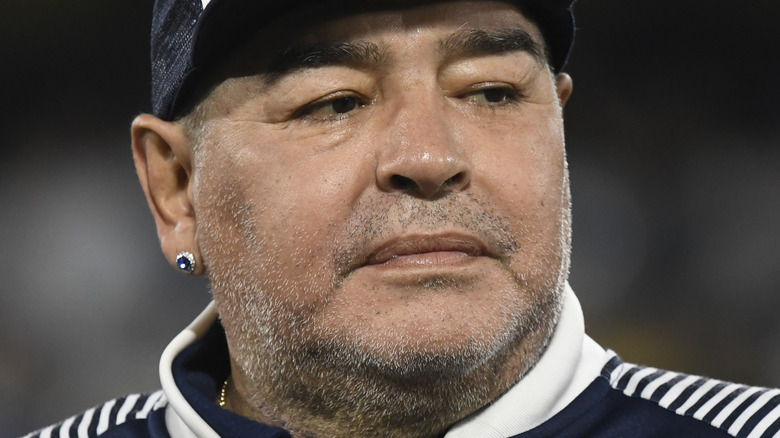 Jam Media/Getty Images
In November 2020, Argentine football legend Diego Maradona died from a heart attack at the age of 60. That same month, the captain of the `86 Argentinian World Cup championship team had undergone surgery for a blood clot in his brain. He had also been treated for alleged alcohol dependency, based on reporting from the BBC. In June 2022, eight medical professionals involved in Marodona's treatment at the time were charged with homicide (via CNN).
After Maradona died, condolences and words of remembrance for the star streamed in from fans, former coaches, and players. Among other accomplishments, Maradona is most well-known perhaps for the so-called "Hand of God" goal he scored against England in the `86 World Cup quarter-finals. At the time that Maradona died, fellow Argentine football legend Lionel Messi called Maradona "eternal" (per the BBC). "I keep all the beautiful moments lived with him and I send my condolences to all his family and friends," Messi said.
Maradona was recovering from brain surgery at home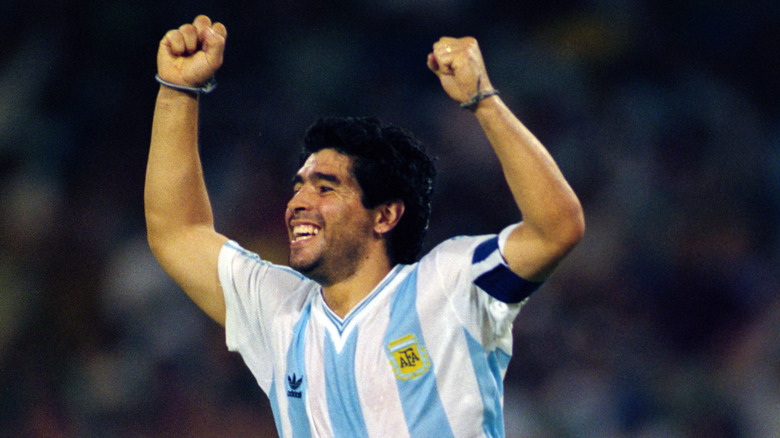 Getty Images/Getty Images
Diego Maradona was recovering from a recent brain procedure in his Buenos Aires home when he died, according to NPR. In the aftermath of the football star's death, the offices of his personal doctor Leopoldo Luciano Luque — who denied he was involved in Maradon's post-surgery care — were searched by authorities. A 20-member panel was also formed to further investigate the details surrounding his death.
At that time, the eight medical professionals now charged with homicide denied any involvement in the decision to let Maradona recover at home. Instead, the defense representing Luque says that two other companies, Medidom and Swiss Medical, were primarily responsible for Maradona's home care and that these two companies had also intended to help treat Maradona's alleged alcohol dependency.
But in the days leading up to Maradona's fatal heart attack, the football star exhibited signs that should've caused more alarm among the medical staff attending him, according to the prosecution (via the Buenos Aires Times).
Eight medical professionals are now charged with simple homicide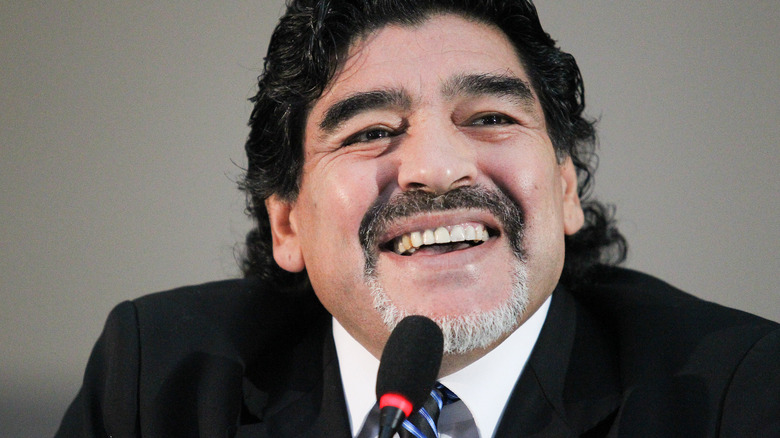 M. Cantile/Shutterstock
According to The Associated Press, a medical board appointed by the prosecution to investigate Diego Maradona's death concluded that his medical team acted in an "inappropriate, deficient, and reckless manner." Now, eight of the medical professionals involved in his care are charged with simple homicide, per CNN. As those court documents state, the eight individuals, including nurses, doctors, and mental health professionals, failed to adequately perform their duty while in charge of Maradona's health care. For this reason, the death of the football star was avoidable.
Several health care providers involved in the case are also charged with falsifying documentation relating to Maradona's case. According to Argentine law, failure to perform "good medical practice" amounts to malice, enough for charges of homicide to be brought against the group. That group now charged includes Maradona's personal doctor, Leopoldo Luciano Luque, who plans to appeal. If convicted, the defendants could face up to 25 years in prison, per Argentine law, the Buenos Aires Times reports.