The R. Kelly Prison Sentence Explained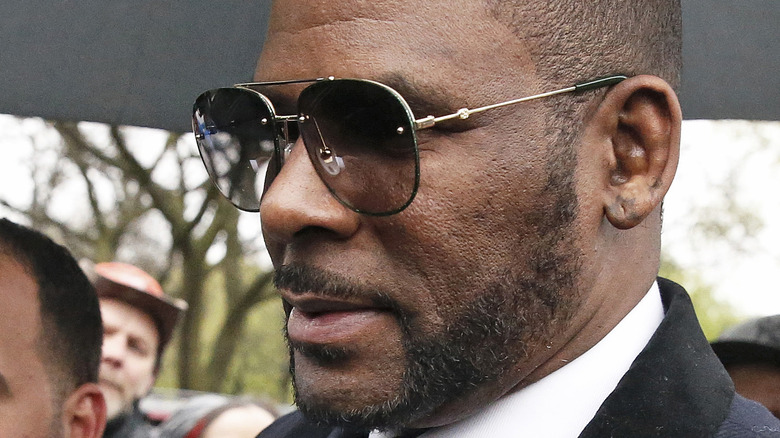 Nuccio Dinuzzo/Getty Images
Disgraced Grammy Award-winning musician and record producer R. Kelly received a prison sentence in late June 2022, according to an AP report. The sentencing in a Brooklyn courtroom came roughly one year after Kelly, born Robert Sylvester Kelly (via NBC News), was convicted on eight counts of sex trafficking and one count of racketeering, as the BBC notes. 
Rumors of sexual misconduct linked to the songwriter behind hits like "Trapped in the Closet" and "I Believe I Can Fly" first emerged in the 1990s. In 1994, Kelly reportedly married the late R&B singer Aaliyah when she was 15 and he was 27. The illegal marriage was annulled a short time later. Aaliyah died in a plane wreck when she was 22, according to NBC News. Over the years, a number of accusations of sexual misconduct were levied against Kelly, but most were settled out of court.
Beyond the court of public opinion, Kelly stayed largely out of legal trouble and managed to maintain a successful career in music until 2002, when the Chicago Sun-Times received an anonymous videotape in which Kelly could be seen having sexual contact with a minor. This report led to child pornography charges against the singer, to which the singer pled not guilty. Kelly was indicted but eventually acquitted of those child pornography charges in 2008, as NBC News goes on to explain.
If you or anyone you know has been a victim of sexual assault, help is available. Visit the Rape, Abuse & Incest National Network website or contact RAINN's National Helpline at 1-800-656-HOPE (4673).
He must also pay a $100,000 fine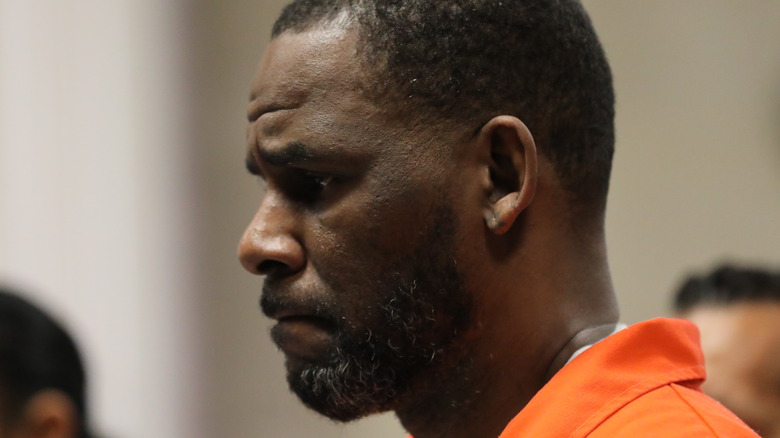 Pool/Getty Images
In addition to the prison sentence R. Kelly received in June 2022, the musician, who has been behind bars since 2019, was also ordered by the court to pay a $100,000 fine. Kelly also stands accused of child pornography and obstruction of justice. As of this report, that trial is set to begin in Chicago in August 2022, according to the AP. Prior to Kelly's 2008 acquittal on child pornography charges, allegations of domestic abuse were levied against the musician by his then-wife. After his 2008 acquittal, BuzzFeed published a damning report alleging that Kelly was known to abuse his industry power by luring young women who dreamed of success in the music business into his orbit.
In that BuzzFeed article, Kelly's influence was described as a cult in which sexual abuse of underage girls was alleged to take place. In the aftermath of the #MeToo movement, accusations of sexual misconduct continued to pile up against Kelly, and support from the broader music industry faltered. In 2019, the documentary series "Surviving R. Kelly" premiered on the Lifetime cable network (via IMDb). In it, a number of women recounted their experience of inappropriate sexual encounters and abuse from R. Kelly when they were minors, as NBC News goes on to report. Also in 2019, Kelly maintained his innocence to Gayle King of CBS News.
R. Kelly will spend at least 30 years in prison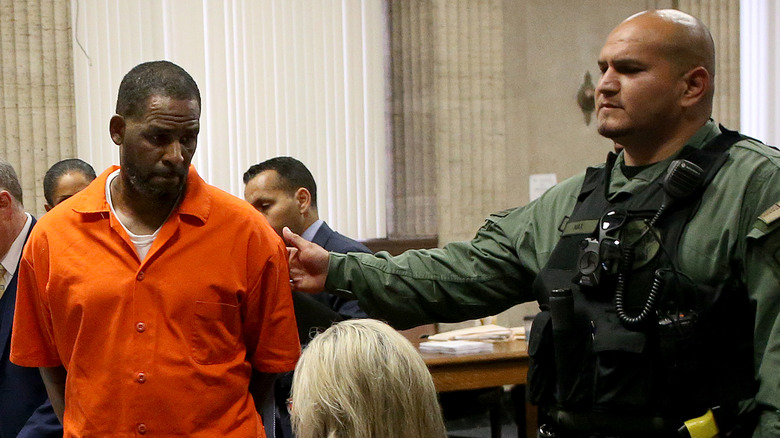 Pool/Getty Images
At the June 2022 hearing, R. Kelly was sentenced to 30 years in prison for eight counts of child sex abuse and one count of racketeering. Alleging Kelly has "literacy deficiencies," Kelly's defense claimed their client had a traumatic childhood during which he experienced domestic violence and sexual abuse of his own. The defense also alleged that R. Kelly was "repeatedly defrauded and financially abused, often by the people he paid to protect him" in the music industry, according to his defense (per the AP).
An accuser of Kelly's spoke at the hearing where the singer received his sentence. "You made me do things that broke my spirit. I literally wished I would die because of how low you made me feel," the unnamed person said (via AP). According to the prosecution in the case, Kelly used his "fame, money, and popularity" to take advantage of girls and young for his own sexual gratification (via CBC).
Per the nature of Kelly's conviction, the multi-platinum-selling artist could have been sentenced to as little as 10 years in jail or received a sentence as long as life in prison, according to the BBC. Kelly's defense claimed their client poses no immediate threat to the public, and for that reason, the minimum 10-year sentence was most appropriate. In addition to charges of child pornography and obstruction of justice charges in Chicago, Kelly must now also stand trial for sex abuse charges at the state level in both Illinois and Minnesota, as the BBC goes on to report.
In February 2023, Kelly was sentenced to another 20 years for creating child sex abuse images (per Yahoo News). However, all but one will be served concurrently, meaning the sentencing will only add one additional year to his total.