What Barbara Eden Really Did Before Her Hollywood Fame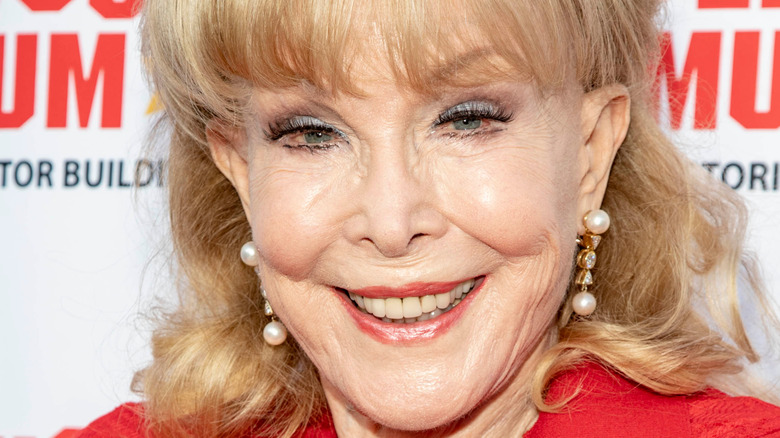 Eugene Powers/Shutterstock
The 1960s and '70s were a mystifying time in television. Housewives of hotshot executives were casting spells by twitching their noses, while NASA astronauts were finding beautiful women in mysterious bottles who could grant wishes with a nod. Whether you were watching for the witches or wishes, this period of entertainment made its mark on history amidst the ongoing women's rights movement (via Britannica). While many of these fictional personalities were homemakers, they still proved women could do anything ... albeit supernatural, bringing another meaning to the divine feminine. 
Riding the coattails of an 8-year "Bewitched" craze, writer Sidney Sheldon created "I Dream of Jeannie" in 1965, starring then-up-and-coming actress Barbara Eden (via Biography). She played the role of a genie in a bottle with co-star Larry Hagman, who played astronaut Major Anthony Nelson. After landing in the ocean, Nelson found a mystical pink bottle on a desert island containing Jeannie, a beautiful genie who returned with the spaceman to Florida to live in secret, where her powers regularly got her into shenanigans. Despite the show's cult following and Eden's propulsion to fame, she had been working in Hollywood long before the show first aired ... but not always on the big screen.
It Wasn't Always Magical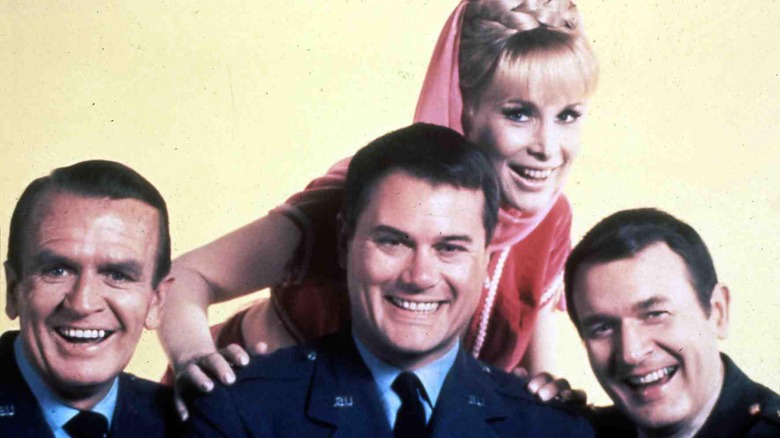 United Archives/Getty Images
Long before fame, Barbara Eden made her uncredited debut in a 1956 film, "Back from Eternity," followed by a series of other unpopular films through the '50s and '60s (via Biography). She starred in the 1957 TV show "How to Marry a Millionaire," based on its film namesake. Throughout her career, she was also featured in popular shows like "I Love Lucy," "Perry Mason" "Gunsmoke," "Route 66," and a pilot called "The Barbara Eden Show," which never aired. Take it back even before that, and she was not Ms. Eden at all.
She was born Barbara Jean Morehead on August 23, 1931, in Tucson, Arizona, far from her eventual Hollywood home. However, fate had different plans. Her parents divorced when she was just 3 years old (via The Spokesman-Review). Eden's mother moved them to San Francisco amidst the Great Depression, and Eden later graduated from Abraham Lincoln High School there in 1949, where she was known for being a cheerleader and pop singer. Although she did not know it yet, those showman abilities would lead her to a life in the limelight ... but not right away.
From Rags to Riches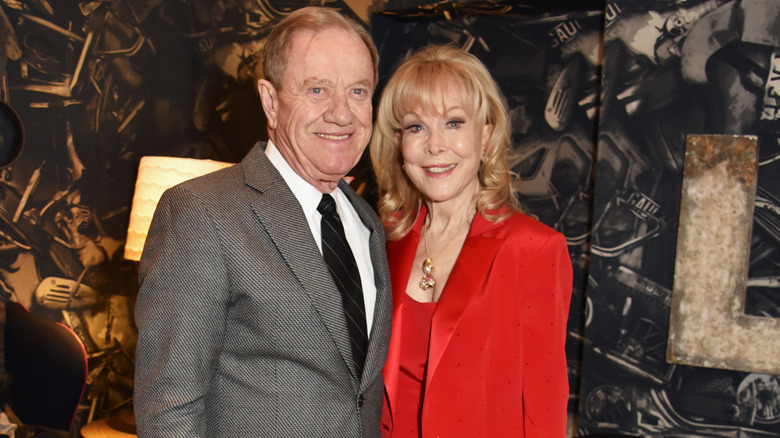 David M. Benett/Getty Images
When Barbara Eden first arrived in Hollywood, before eventually starring in unknown films leading to her big break, she actually worked at a bank (via The Spokesman-Review). She said it was the only time in her early career she was not working in entertainment: "I had no relatives in the field, and I didn't know enough to tell producers that I belonged to Actors Equity and could qualify for membership in the Screen Actors Guild." You might be wondering how she made the huge leap from counting coins to granting wishes for astronauts, but it was singing gigs that helped her get on stage. After leaving the bank, she performed regularly in nightclubs before landing a contract with 20th Century Fox.
And into a cloud of pink smoke, the rest is history. Eden, who is now 90, has gone on to live a quiet life in her Beverly Hills mansion. She resides with her labradoodle Bentley and husband of 30 years, architect and philanthropist Jon Eicholtz (via People), making people question if the key to a long and happy marriage is the ability to grant wishes.