How R. Kelly And Jay-Z's Collaboration Became A Bitter Feud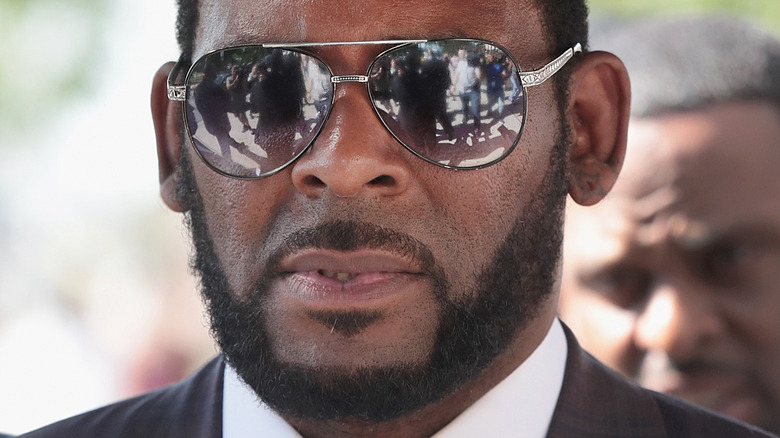 Scott Olson/Getty Images
This article contains mentions of sexual assault and child sex abuse.
It is something of an understatement to say that the lives of rap superstar Jay-Z and disgraced former R&B hitmaker R. Kelly are strikingly different. On the one hand, veteran hip-hop MC and industry empire-builder Jay-Z, who made his name with his debut LP "Reasonable Doubt" in 1996, has risen to the ranks of pop culture royalty alongside his wife, Beyoncé Knowles. (For proof, look no further than 2019 — the year Jay-Z became hip-hop's first billionaire, a goal he had set for himself upon meeting business tycoon Warren Buffett almost a decade prior, per Forbes.) Alongside his work as a respected musical artist who continues to record and perform, Jay-Z has operated and grown his own brands (like Rocawear, which he sold in 2007 for $204 million), and owns diverse investments in several large, cutting-edge companies like Uber.
On the other hand, R. Kelly – who was sentenced to 30 years in prison in June 2022 for sex trafficking and racketeering, and who, according to prosecutors, created and controlled a "network of people at his disposal to target girls, boys and young women for his own sexual gratification" — is far from his past reputation as a chart-topping success story (via CNN). But back in the mid-2000s, both Jay-Z and Kelly were considered on a par with one another in the music industry, so much so that the two came together in a celebrated collaboration. However, it would ultimately prove to be short-lived, ending in bitterness and strife.
R. Kelly and Jay-Z's collaboration started with success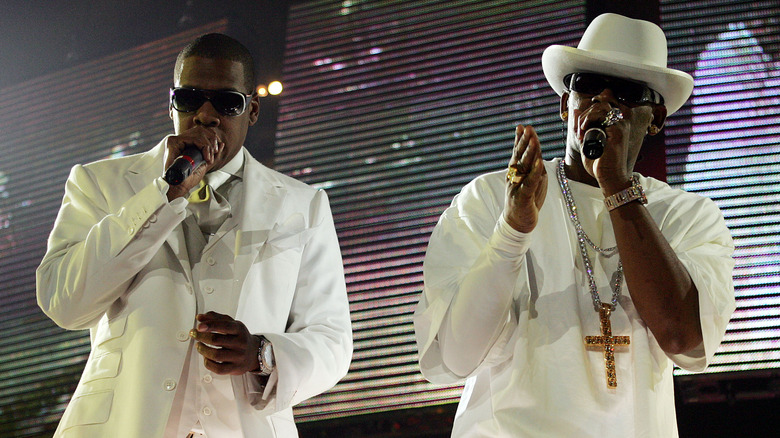 Frank Micelotta/Getty Images
In the early 2000s, arguably no one was quite as big as Jay-Z or R. Kelly. The former had built on his 1990s success with his critically acclaimed 2001 album "The Blueprint," which Rolling Stone considered one of the best albums of that decade, and subsequently earned the New York native the reputation as one of the greatest rappers alive. Around that time, Kelly, too, had made his own name as both a chart-topping singer, producer, and Grammy winner (via the Associated Press). 
As XXL magazine noted in a 2014 write-up, the two stars sought to embark on a creative project together — what would become the 2002 release titled "The Best of Both Worlds" — after Jay-Z's work on the remix version of Kelly's single "Fiesta." Though the resulting LP received mixed reviews, it was a commercial smash, debuting at No. 1 on Billboard 200 and going platinum in a matter of months, per Billboard, with a full-on Jay-Z/R. Kelly tour ready to roll.
However, things took a dark turn only weeks before "Best of Both Worlds" debuted, when news broke of a video recording that featured Kelly engaged in sexual activities with a minor (via XXL). After Kelly's subsequent indictment later that year, which included 21 counts of child pornography offenses related to the leaked tape, the proposed tour experienced delays. All of this set in motion the unraveling of Kelly and Jay-Z's working relationship.
R. Kelly's behavior led to a tour derailed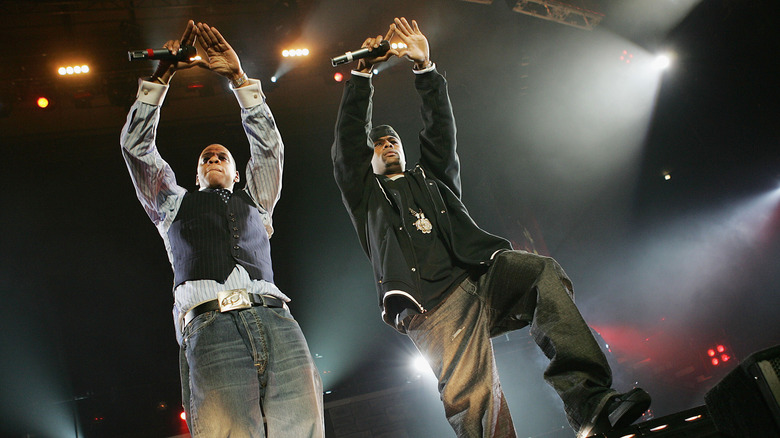 Frank Micelotta/Getty Images
Eventually, the "Best of Both Worlds" tour was finally rescheduled for 2004 — by which time Jay-Z and R. Kelly had recorded and released a second collaborative album, "Unfinished Business," which again went platinum and topped the U.S. album charts. But according to XXL, the chemistry between the two artists which had precipitated their feature-length collaborations was way off by the time the tour began. Jay-Z reportedly took issue with Kelly over a less-than-professional approach to performing (which included showing up late for rehearsals, if he showed up at all). XXL stated that at that time, Kelly was characterized as more paranoid than not, complaining that the lighting and set design gave his opposite number greater prominence onstage and left him looking like the junior partner.
Tensions came to a head in October 2004 during their performance at New York City's Madison Square Garden, when Kelly abruptly left the stage mid-performance over claims that he had spotted a concert-goer waving a gun at the singer –though these claims have never been verified, per XXL. The seemingly erratic singer was then pepper-sprayed by a member of Jay-Z's entourage. As Rolling Stone reported at the time, the incident led to Jay-Z kicking Kelly off of the remainder of the tour, replacing him with a cohort of special guests like P. Diddy and Mariah Carey. The bad blood didn't end there, either: In the intervening years, both artists sued one another for millions, though their legal issues were by all accounts resolved privately (via The Chicago Tribune).
If you or anyone you know has been a victim of sexual assault, help is available. Visit the Rape, Abuse & Incest National Network website or contact RAINN's National Helpline at 1-800-656-HOPE (4673).