Lucille Ball's Heartbreaking Final Words To Desi Arnaz Before His Death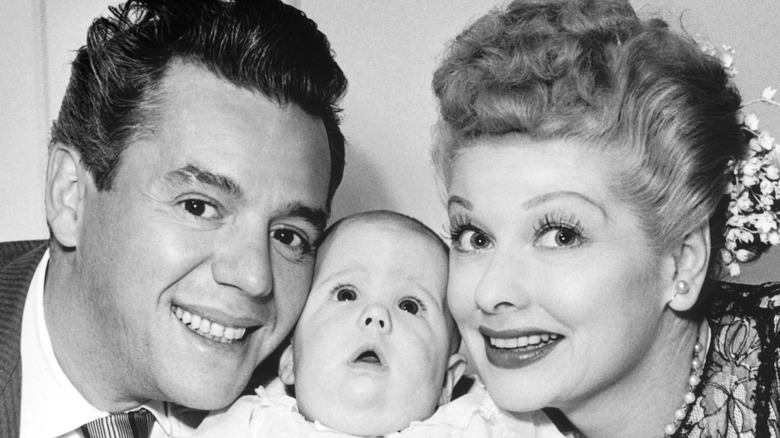 Km Archive/Getty Images
Lucille Ball and Desi Arnaz are one of television's most iconic on and of screen couples. They portrayed a married couple on the sitcom "I Love Lucy," which ran from 1951 to 1957 and was the most popular show for most of those years. The show won five Emmy awards as well. Ball brought slapstick physical comedy to the show in her role as Arnaz's housewife Lucy while Arnaz played nightclub performer Ricky Ricardo who comedically attempts to avoid Lucy's schemes.
"I Love Lucy" was groundbreaking in that the characters of Lucy and Ricky were interracial. Lucy was American while Ricky was Cuban-American and occasionally spoke Spanish on the show (per Britannica). These were their nationalities in real life. Ball and Arnaz were a real life couple as well. Ball was the one who wanted Arnaz to play Lucy's husband in the show. However, the marriage did not last. After 20 years together, the couple divorced in 1960 due to Arnaz's infidelity and struggles with alcohol abuse.
Lucille Ball spoke to Desi Arnaz two days before he died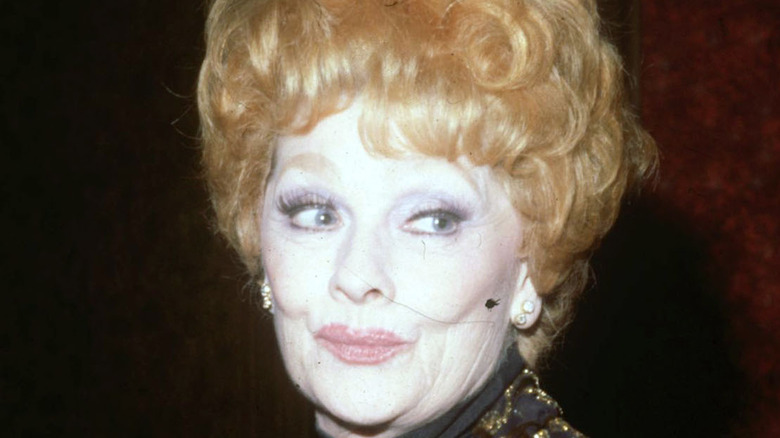 Michael Ochs Archives/Getty Images
Over the course of their relationship, Desi Arnaz had a tendency to leave Lucille Ball for extended periods of time. In her attempts to avoid questions from the public about Arnaz's whereabouts, Ball stayed cooped up in her home. But despite their relationship's difficulties, the two did not divorce in a fiery rage. Rather, they remained close and still cared for each other in the decades that followed (per Collider).
Arnaz was diagnosed with lung cancer toward the end of his life. The couple's daughter Lucie Arnaz knew that he would soon pass away. She called Ball over the phone and told her "If you want to say anything at all, now's a good time." She gave the phone to Arnaz and Ball repeated "I love you" to him multiple times. Arnaz replied, "I love you too, honey." Arnaz died on December 2nd, 1986, jut two days after he and Ball stated their love for each other one last time.
Lucille Ball and Desi Arnaz still loved each other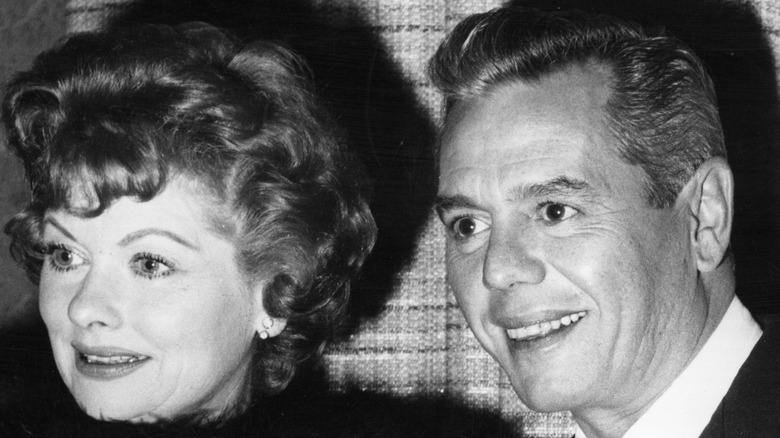 Keystone/Getty Images
History explains that after their 1960 divorce, Lucille Ball continued her work with the production company Desilu Studios that she and Desi Arnaz created together. Desilu Studios produced the original Star Trek series and "The Lucy-Desi Comedy Hour" that aired after "I Love Lucy" came to a close in 1957. When Ball bought out Arnaz from the company, she became the first woman to lead a television studio at such a large scale.
Lucie Arnaz insists that her parents' divorce was a positive thing for the whole family. Ball and Arnaz had a "fantastic romance that even got more passionate and more friendly after they were not married to each other anymore." Though Ball and Arnaz both remarried, Arnaz echoed his daughters sentiments in his memoir when he stated that "'I Love Lucy' was never just a title" (via Closer Weekly).
Ball passed away in 1989 from an acute aortic aneurysm at the age of 77. She remains an inspiration for women in comedy, so much so that comedian Amy Poehler directed the 2022 documentary on her life titled "Lucy and Desi."