NHL Star Bruce Gardiner Had The Oddest Pre-Game Ritual Involving A Toilet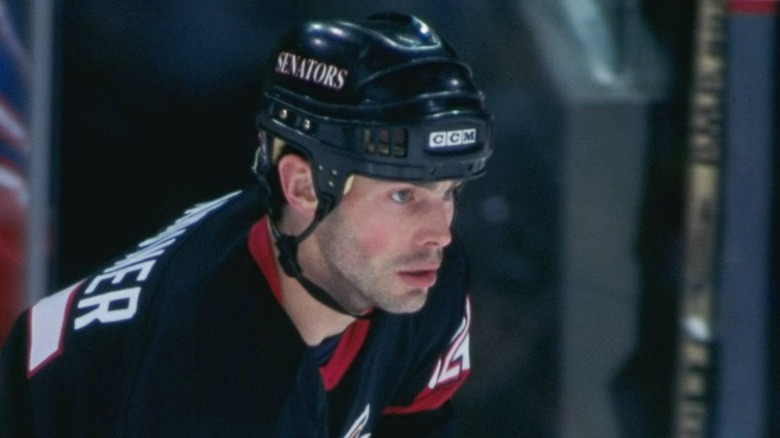 Robert Laberge/Getty Images
Athletes are more often than not a superstitious bunch, and included in that bunch are hockey players. Poke your head inside a hockey locker room at any level and you're bound to see an array of superstitions and rituals being performed before taking the ice. Some players may start with the left side of their equipment first before moving on to the right. Others may be meticulously taping their sticks in a specific way that can't be tampered with. Why? They may not even know, or it could be that they did it once and wound up scoring and going +3 on the night.
These habits don't die before a player reaches the big leagues; in fact, they may even become even more of a necessity. According to The Athletic, Pittsburgh Penguins' captain Sidney Crosby is one of the most superstitious in the game, with a laundry list of superstitions and rituals including not letting anyone touch one of his sticks after he has taped it and even wearing the same athletic supporter for every single game he has played since he played junior hockey for the Rimouski Oceanic of the Quebec Major Junior Hockey League. But few rituals or superstitions can make the average person raise their eyebrows quite like the one performed by former NHLer Bruce Gardiner (via the Internet Hockey Database – HockeyDB).
Bruce Gardiner's career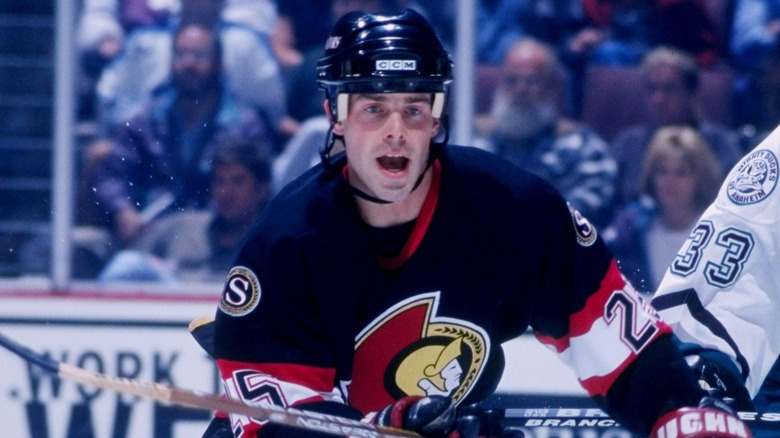 Elsa/Getty Images
According to HockeyDB, Bruce Gardiner was chosen in the sixth round of the 1991 NHL Entry Draft and was selected No. 131 overall by the St. Louis Blues. However, Gardiner never played for the Blues. After just three games for the Blues' farm team, the Peoria Rivermen (via another HockeyDB posting), Gardiner made his way to the Ottawa Senators and spent two seasons with their farm team, the Prince Edward Island Senators.
Gardiner made his NHL debut during the 1996-97 with the Ottawa Senators, where he stayed until about a month into the 1999-00 season when he was dealt to the Tampa Bay Lightning in a one-for-one deal in exchange for winger Colin Forbes (via HockeyDB). After one season with the Lightning, Gardiner spent one season with the Columbus Blue Jackets (he scored the first goal in that franchise's history, per NHL) before splitting the 2001-02 season between the New Jersey Devils and their minor league affiliate, the Albany River Rats. Gardiner spent the 2002-03 and 2003-04 seasons playing in Russia and Finland respectively, before returning to North America for one final season of professional hockey with the Adirondack Frostbite of the UHL. Gardiner appeared in over 300 games and registered 88 points and 263 penalty minutes, but one of the things he is best known for was his strange pregame ritual.
Bruce Gardiner dunked his stick ... in the toilet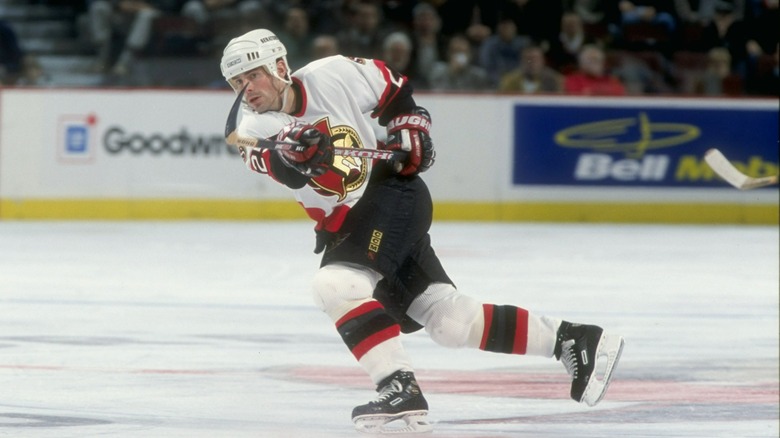 Robert Laberge/Getty Images
Hockey sticks are very important pieces of equipment, which is why so many players treat theirs with a lot of reverence. Gardiner's famous superstition had to do with performing the exact opposite of respect. According to The Sportster, Gardiner was in the middle of a scoring slump in 1995 when his teammate Tom Chorske suggested that the problem was his stick and that he needed to remind it who was in charge. Chorske suggested that the best way of doing this would be for Gardiner to give his twig a swirly, or dunk it in the toilet.
Gardiner did it. Apparently, he thought it must have done the trick, because he did this whenever he found himself in need of something to get the offensive juices flowing again for the rest of his career. "You tape it, you dunk it, and you don't touch it. I'd do anything for a couple of goals," Gardiner said about the unusual habit in 2007. According to the NHL, since retiring from professional hockey Gardiner has worked as a police officer in Barrie, Ontario.