How An Unsolved Murder Reignited Interest In D.B. Cooper
It's a 51-year-old mystery from Seattle, Washington, according to the FBI: the D.B. Cooper plane hijacking is a cold case that has fascinated people for years. In November 1971, a well-dressed man named Dan Cooper boarded a plane, and after takeoff, he slipped a note to a stewardess saying that he had a bomb. From there, Cooper commandeered the fight. He made the pilots fly him to Seattle, Washington, where he let all the plane's 36 other passengers go free. But he then demanded four parachutes and $200,000, before making the pilots take off again with him as the sole passenger. 
Cooper told the pilot to fly to Mexico, but he never made it there. Instead, he used one of the parachutes to take the money and jump out the back of the plane. He was never identified or seen again, and his mysterious disappearance has been a favorite tale for true-crime fans for decades. A new Netflix documentary titled "D.B. Cooper: Where Are You?!" premieres on July 13 to reexamine the case. (The trailer is on YouTube.)
Per The Mountain News, a man named Earl Cossey got caught up in the case as the FBI investigated. That's because he had packed the parachutes Cooper used in his escape. Esquire reports that as they investigated Cooper's case, Cossey was an expert resource for the FBI, since he knew so much about parachutes and skydiving.
A skydiving expert for the FBI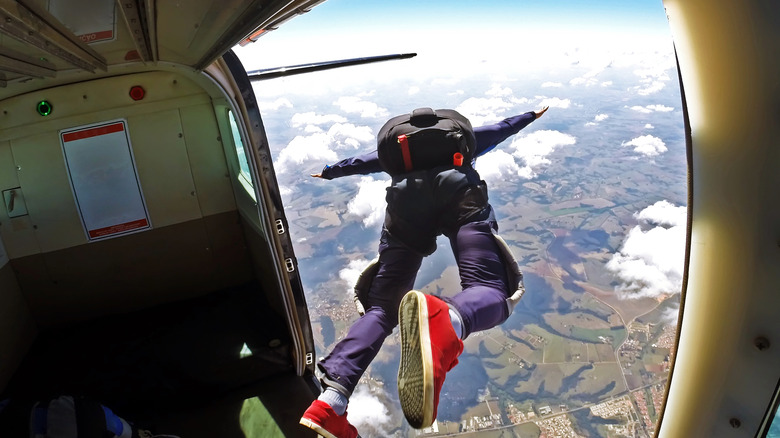 Mauricio Graiki/Shutterstock
At first, investigators thought Cooper must be a professional skydiver — so much so that they scoured 14,000 skydiver registration cards for leads on the mysterious hijacker (per Esquire). But as an experienced skydiver himself, Cossey changed their narrative: He believed that Cooper made rookie mistakes, and may have only jumped from a plane a handful of times with an instructor by his side. Regardless of whether he had a working parachute or not, he should have landed in the dense forests of the Pacific Northwest. 
Cossey said that Cooper picked a sports parachute that can be tough to deploy and cause an abrupt parachute opening — not exactly ideal for someone clutching a suitcase full of cash (via The Mountain News). Cooper is thought to have dropped the money, and Cossey believed he may not have gotten the parachute to open at all.
Cossey worked with the FBI as they investigated the Cooper case, although he eventually grew annoyed by the work, as they constantly asked him to try to identify random scraps of fabric as the parachute, per Fox 4 News. Esquire reports that Cossey never got any of his parachutes back from the FBI.
Earl Cossey's tragic death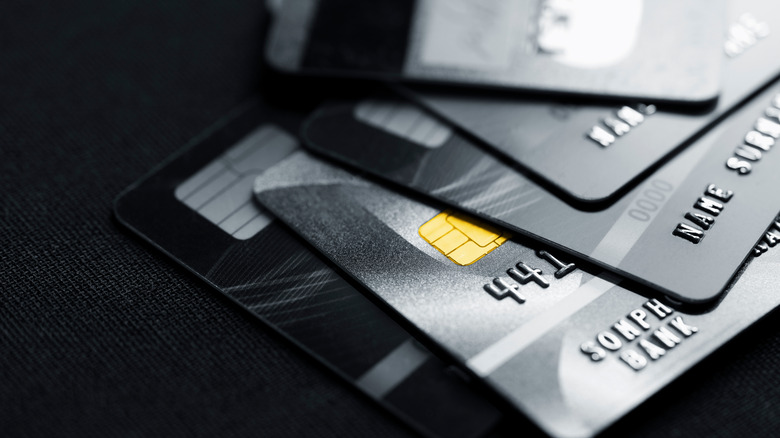 Suradech Prapairat/Shutterstock
Earl Cossey was murdered in 2013 at age 71, according to Woodinville Patch. Like the case of D.B. Cooper he was so closely connected to, Cossey's tragic murder is also a cold case. 
It appears that someone broke into his house to rob him on April 23, 2013. He died from blunt-force trauma to his head; his daughter found his body three days after that. Per King 5 News, detectives searched Cossey's home and the surrounding areas for clues, and some of the search-and-rescue team used metal detectors as they looked.
Per Fox 13 Seattle, scant details emerged from the case. Cossey's identification cards and credit cards were stolen from him during the robbery, but someone later placed them in the mail anonymously, where they reached Cossey's family. The Seattle Times reports that the envelope had a hand-written address, but the sender was never identified, even when a cash reward for information was offered to the public. A local sheriff said that there is no connection between the D.B. Cooper case and Earl Cossey's murder. Cossey's murderer has yet to be found.