Inside John Quincy Adams' Unusual Skinny-Dipping Routine
National Archives/Getty Images
The United States is a relatively young country compared to the likes of Great Britain or China. However, in its short just over 200 years of history, some strange things — and people — have come and gone. The United States has had 46 presidents. Each brought unique ideas, viewpoints, and lifestyles as well. From Martin Van Buren's tiger cub pets to William Taft's custom bathtub, presidential history is much more than dates and milestones.
John Quincy Adams was the sixth president of the United States and served from 1825 to 1829. He was the son of second president John Adams. He was a child during multiple landmark events in U.S. history, including the Battle of Bunker Hill. After graduating from Harvard, he was elected to the Senate before serving the key role of Secretary of State under President James Monroe. Together, they authored the Monroe Doctrine. This document's aim was to convey the newfound position of power held by the United States to warn European powers from interfering further in the new territory.
John Quincy Adams often swam in the Potomac River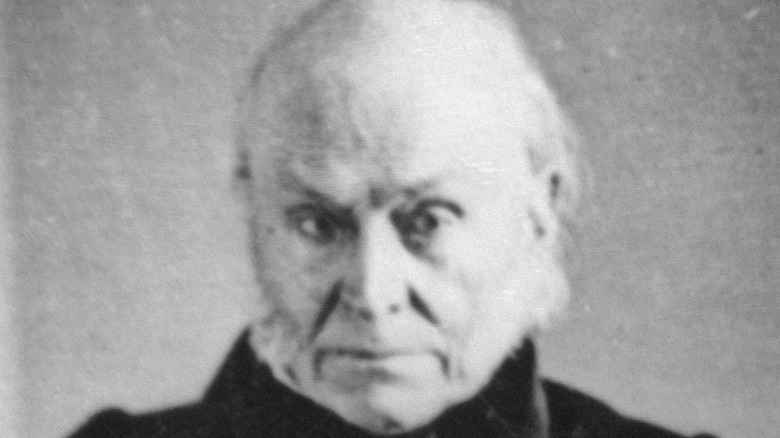 Henry Guttmann Collection/Getty Images
Perhaps it doesn't matter what a powerful leader does in their personal life. But that does not stop people from being curious about public figures and those of the past. John Quincy Adams kept a journal for most of his life. One of the entries gives insight into his unusual morning routine. This routine included walking, reading, writing, and bathing in the Potomac River. He nearly lost his clothes from the tide on more than one occasion. Neal Millikan of the Massachusetts Historical Society explained that Adams was definitely not the only person who swam naked during the 1800s. In fact, sometimes others would join Adams in the water, as stated in his diary entries. His diary entries also explained that he saw health benefits from daily swimming, but others disagreed and believed it to be too strenuous (per Business Insider).
Regular skinny dipping likely did not negatively impact his health. Adams lived to be 80 years old and worked in government until the day he died. In 1848, he suffered a stroke right in the House of Representatives and died in the building.
John Quincy Adams swam even in old age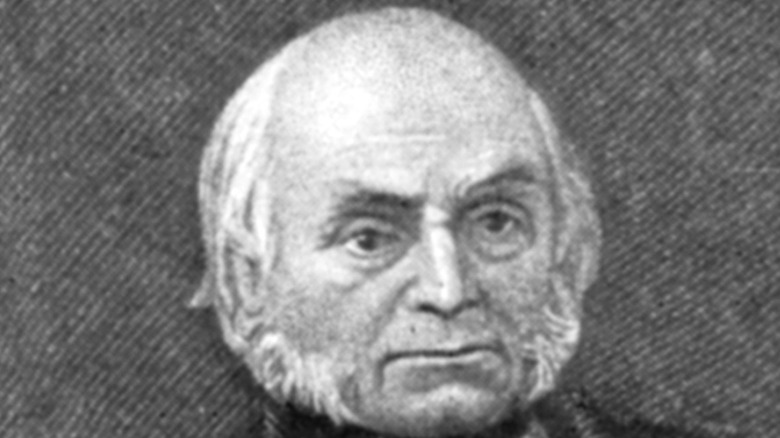 Print Collector/Getty Images
Perhaps John Quincy Adams was onto something with his morning skinny dips. Swimming has long been considered a positive form of exercise. Swimming in cold water adds even more benefits such as increased circulation, immune system boosts, and it can even reduce stress (per IPRS Health). Stress reducers could definitely benefit someone who worked in the highest office of the federal government as Adams did.
According to Business Insider, Adams still took occasional dips in the Potomac even into his 70s, leaving his clothes on a nearby rock with clothes of other swimming enthusiasts. Contemporary morning swimming enthusiasts include Aerosmith front man Steven Tyler who owns a home on Lake Sunapee in New Hampshire. In an interview at the lake with Oprah Winfrey, he stated, "I jump right into this water in the morning." Singer Harry Styles also takes part in outdoor swimming on the daily, per his March 2022 interview with Better Homes and Gardens. Maybe Adams' morning routine is not so strange after all.