James Caan's Real Ties To The Mafia Outside Of The Godfather
"The Godfather" is arguably one of the most respected mob movies — or movies in general — ever made. It's a genre-defining film that cemented Marlon Brando's status as an acting legend and helped kickstart the careers of some of his co-stars. One of those who benefited from appearing in the 1972 classic was James Caan.
Caan took on the role of Sonny Corleone, though according to The New York Times, he was initially cast for the role of Michael Corleone, one of the series' central characters, a role that ultimately went to Al Pacino. Undeterred by the casting change, Caan put together a memorable performance that helped bolster his already growing reputation in Hollywood.
Caan's performance was well-received, according to HollywoodMask, leading to Oscar and Golden Globe nominations for best supporting actor. However, according to his son, actor Scott Caan, the elder Caan may have had something at his disposal that helped him pull off such a convincing performance as a mafioso: real-life mob connections.
Caan was close to an actual mafia figure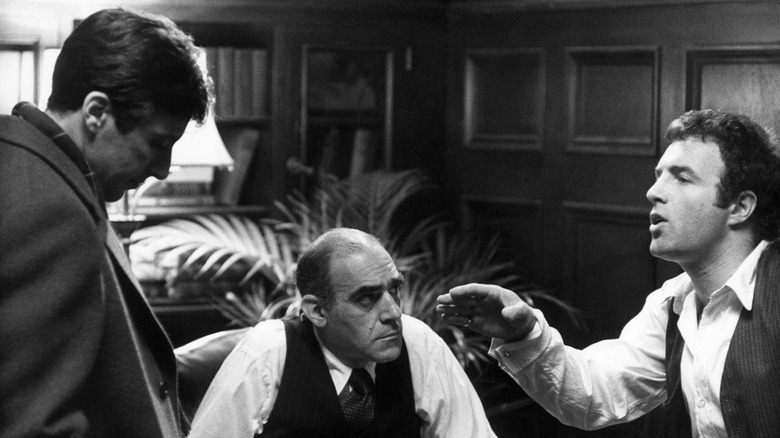 United Archives/Getty Images
James Caan had a long-lasting friendship with Andrew Russo, boss of the Colombo crime family, per HollywoodMask. Russo — who died in 2022 while out of prison on $10 million bail and facing federal racketeering charges, per the New York Post — was once part of one of the biggest mob takedowns in history. He was just one of 127 suspects arrested on a single day in 2011. According to the New York Post, Russo was brought in on conspiracy and extortion charges.
However, he had some major supporters in his corner, including his long-time pal, James Caan. "My friendship with Andrew Russo dates back over 35 years, and I've only known him to be as good a friend as anyone could be to me and my family," Caan told the New York Post. Caan went on to talk about how Russo is his son Scott's godfather and that the Caan and Russo families were "intertwined," adding that Russo "has always been the first to call when any member of my family has been ill or troubled, and always looked after me like a brother."
Caan may have picked up on some of Russo's mob boss habits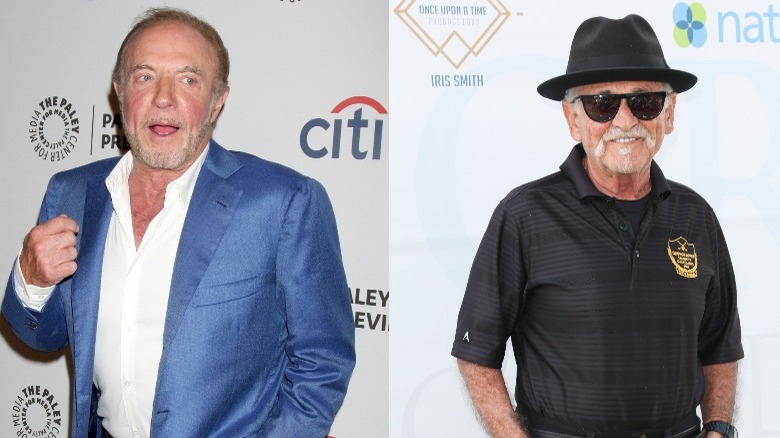 Paul Archuleta/Getty & Kathy Hutchins/Shutterstock
After Russo's 2011 arrest, Caan told the New York Post, "I'd be willing to put up anything of personal value that the court would accept [for bail]. I would not hesitate a moment to fly in and be present if the court should so request. In short, there's nothing I wouldn't do to see this man where he belongs and where he is needed the most — with his family."
According to Radar Online, some of Russo mafioso ways may have rubbed off on Caan over the years. Caan allegedly enlisted mobster Anthony "The Animal" Fiato to beat up actor Joe Pesci after Pesci refused to pay an $8,000 hotel bill. The alleged incident occurred in 1982, after Pesci stayed in a Miami hotel with Dodi Fayed, but left without paying.
Arnold Robinson, Caan's spokesperson, denied Fiato's claims that this ever happened, but Fiato claimed that he had a tape recording of the actor asking him to "take care" of Pesci. "Jimmy can say he's a friend of Pesci's now. But he can't deny that at one time he tried to hurt him. It's on tape," Fiato later said.