James Caan's Relationship With Misery Co-Star Kathy Bates Explained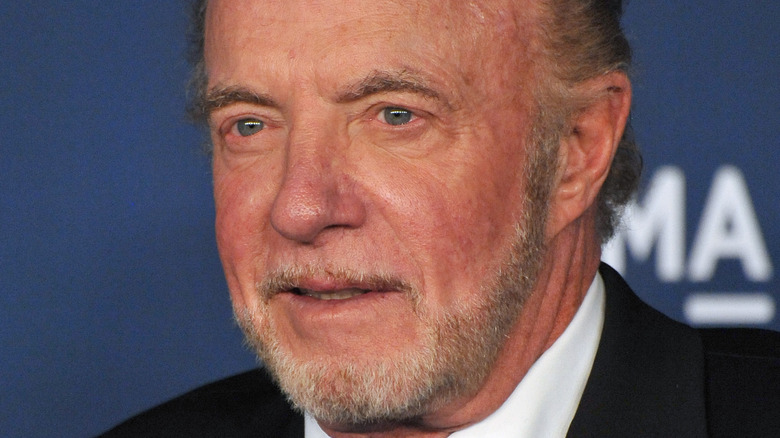 Featureflash Photo Agency/Shutterstock
Acclaimed Oscar-nominated actor James Caan died on July 6, according to a statement from the Caan family on Twitter. He was 82. Star of such films as "The Godfather," the Bronx-born actor made his name playing tough guys, but he was also a dab hand with comedies in movies like "Elf" alongside Will Ferrell (via IMDb). One of Caan's most well-known roles was in "Misery," a 1990 film adaptation of the Stephen King novel, with a screenplay by William Goldman.
In the film, Caan plays Paul Sheldon, an injured novelist trapped by one of his fans, Annie Wilkes (Kathy Bates). In what would become an iconic piece of movie-making, Wilkes smashes Sheldon's legs while he's tied down in bed. Bates went on to have a successful career thanks in no small part to her harrowing performance in "Misery," winning both an Oscar and a Golden Globe for the role (via IMDb). One might think that such a brutal movie scene, though, could drive a wedge between the two film stars.
In 2015, Caan and Bates met up again for an Entertainment Weekly reunion issue for the 25th anniversary of "Misery" and to reminisce with NBC's "Today." In that interview, the two movie stars revealed whether or not Bates' hobbling Caan in "Misery" did in fact prove too much for the legendary actor and actress to get over.
In King's book, Bates' character does something much worse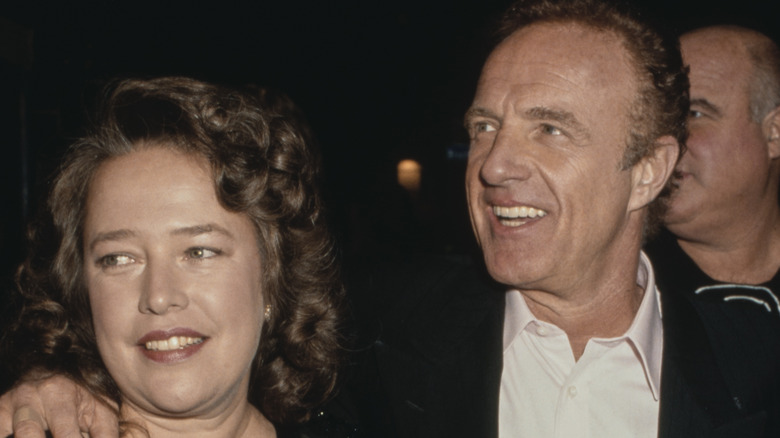 Michael Ochs Archives/Getty Images
Stephen King came up with the idea for his 1987 novel "Misery" while on a flight from New York to London aboard the Concorde. According to King's website, he was thinking about writer Evelyn Waugh's short story "The Man Who Loved Dickens." That particular story is about a man held captive in South America who is forced to read Dickens' classics to his captor. King asked a question about Waugh's story, which in turn became the basis for "Misery": What would it be like if Dickens were the one who was being held captive?
In the book, Kathy Bates' character, Anne Marie "Annie" Wilkes, does something much worse than smash the legs of Paul Sheldon, played by James Caan in the movie. As Bates revealed in her 2015 reunion with Caan (via "Today"), she was disappointed with one particular change film makers made in their adaptation. At the time, Bates said (via "Today"), "I had read the book ... and in the book, she chops his feet off."
Rob Reiner was the director at the helm of "Misery." Another well-known sequence from the film was a fight scene, which the actors performed without stunt doubles. One way that Bates, Reiner, and Caan diverged in their approaches to their craft was in how they preferred to prepare for their parts. Caan hated rehearsal, while Bates and Reiner liked to rehearse, as Bates revealed in a 2019 interview with Yahoo! Entertainment. For this reason, Bates also said (via Yahoo!) "I got so frustrated working with" Caan.
Kathy Bates and James Caan remained friends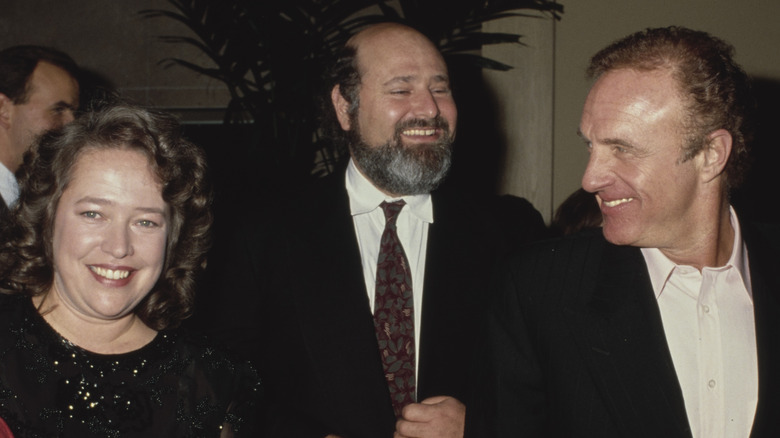 Michael Ochs Archives/Getty Images
Despite the brutal film work Bates and Caan performed together in "Misery" and the initial on-set tension between the two stars, director Rob Reiner (above, center) was able to find common ground, and Caan and Bates delivered their performances, as Yahoo! Entertainment goes on to report. According to IMDb, Bates' performance was met with widespread acclaim, both among moviegoers and her peers: "Misery" earned her both an Academy Award and a Golden Globe. Icing on the cake? Bates and Caan remained friends once production had wrapped, and that relationship was rekindled in their 2015 reunion for "Entertainment Weekly" and "Today."
As "Today" reports, the two old friends picked up where they left off, with Caan expressing how nice it was to see Bates again as he kissed her hand. Caan, a famously physical, athletic actor, reminisced about that fight scene, expressing praise for Bates' skill: "She had me pinned twice," he laughed, "but I got out."
As news of James Caan's death spread, Bates tweeted, "I'm heartbroken to hear of Jimmy's passing. Shocked. No words. Thank you, Jimmy. Love you, your 'Kat.'" Bates elaborated on her relationship with Caan with a statement given to People. "I can't believe Jimmy's gone. Working with him on 'Misery' was one of the most profound experiences of my career," Bates said. "When you watch his performance, his terror, it's as though he's watching a snake. Brilliant." The Oscar-winning actress continued, saying that memories came flooding back to her after Caan's death. "He was kind. Hilarious. He would have something insightfully funny to say right now. I'm bereft. Sending all my love to the Caan family."