What Was Mary Kay Letourneau's Relationship With Her First Husband Like?
In 1997, Washington State school teacher Mary Kay Letourneu was sentenced to prison for sexual contact with a student, Vili Fualaau. Fualaau was just 12 years old when their relationship first began. Letourneau was 34 (per Radar Online). At the time that Letourneau — who died in 2020 at the age of 58 from stage 4 cancer (via People) — pleaded guilty to two counts of child rape, she was married to her first husband, Steve Letourneau. With Steve, Mary Kay had four children, according to another report by People, and perhaps unsurprisingly, given how their relationship ended, Mary Kay's marriage to Steve Letourneau was rocky from the start.
Through a plea deal, May Kay Letourneau was sentenced to six months in jail for her abusive relationship with Fualaau; three months of the sentence were suspended. After her time spent behind bars, Letourneau was ordered to receive treatment for sex abusers, as HeinOnline explains. And despite a court order to remain apart, the former school teacher had two children with the minor, all before the boy turned 15 years old (via 9Honey). Mary Kay Letourneau married her former student in 2005, but Fualaau filed for separation from his former school teacher in 2017, as People also notes. From a string of alleged infidelities to financial challenges, Mary Kay's first marriage to Steve Letourneau seemed destined to end in a similarly dramatic fashion.
If you or someone you know may be the victim of child abuse, please contact the Childhelp National Child Abuse Hotline at 1-800-4-A-Child (1-800-422-4453) or contact their live chat services.
Mary Kay met Steve Letourneau at Arizona State University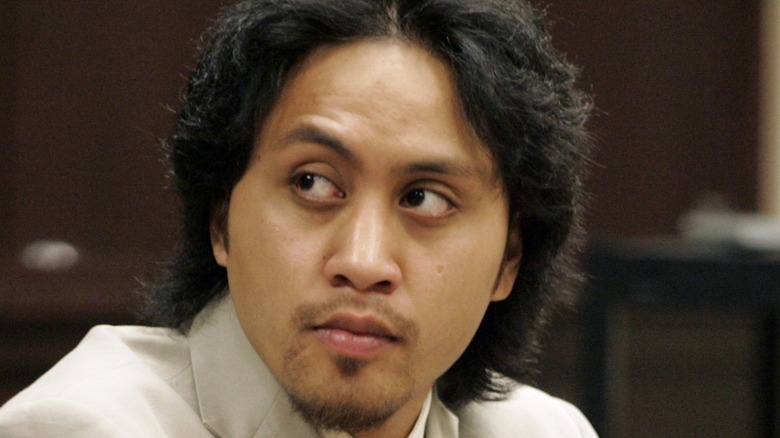 Ron Wurzer/Getty Images
Then Mary Kay Schmitz, the future convicted child sex offender met her first husband, Steve Letourneau, while attending Arizona State University. From the very beginning, their relationship was one of physical attraction and convenience rather than a solid love match, according to the TruTV Crime Library. Nonetheless, by 1985 Mary Kay was pregnant with the first of four children she'd have with Letourneau, and unwilling to have an abortion, the couple decided to marry despite Mary Kay's misgivings about what her feelings for Steve truly were. As it turned out, Mary Kay was pregnant with twins, one of which she miscarried.
Following Mary Kay's marriage to Steve Letourneau, the couple dropped out of college and relocated. Eventually, Mary Kay ended up back in school and she graduated from Seattle University in 1989, after which point she became a school teacher. Over the course of their marriage, Mary Kay and Steve Letourneau reportedly struggled financially, and emotional and physical abuse was alleged, based on a 1998 report from the Los Angeles Times. And both parties in Mary Kay Letourneau's first marriage were also purportedly unfaithful, as TruTV Crime Library goes on to explain. After her abusive relationship with Fualaau (above) was exposed, Steve Letourneau filed for divorce, as 9Honey also notes.
If you or someone you know is dealing with domestic abuse, you can call the National Domestic Violence Hotline at 1−800−799−7233. You can also find more information, resources, and support at their website.
Steve Letourneau gained custody of their four children
In the midst of the Letourneau sex abuse scandal, divorce was granted between Steve and Mary Kay and he gained custody of their four children. Steve would go on to marry twice more after stepping back from the spotlight to focus his attention on fatherhood, according to Radar Online. In 1997, Steve commented (via Radar Online) that although he considered Mary Kay a good wife and a good person while they were married, he added, "[D]oes a good mom do what she did? Does a good teacher do what she did? Does a good wife do what she did? No." After her sex abuse was exposed, Mary Kay Letourneau would be diagnosed with bipolar disorder, as the Los Angeles Times goes on to report.
Despite the shocking and tragic nature of their parents' relationship, the four children Mary Kay had with Steve Letourneau are also reportedly doing well, and some have had children of their own, as Radar Online elsewhere notes. One of Mary Kay's older daughters was maid of honor at Mary Kay's wedding to Fualaau (via 9Honey). Prior to dying from cancer in 2020, Mary Kay Letourneau reportedly reached out to Steve to make amends, among others affected by the scandal, including Fualaau and all her children. In 2020, a source close to Letourneau told People, "When it was clear that she wasn't going to make it, she made her peace with everyone in her life ... Everyone said everything that needed to be said."