What Was The Last Song Amy Winehouse Recorded Before She Died?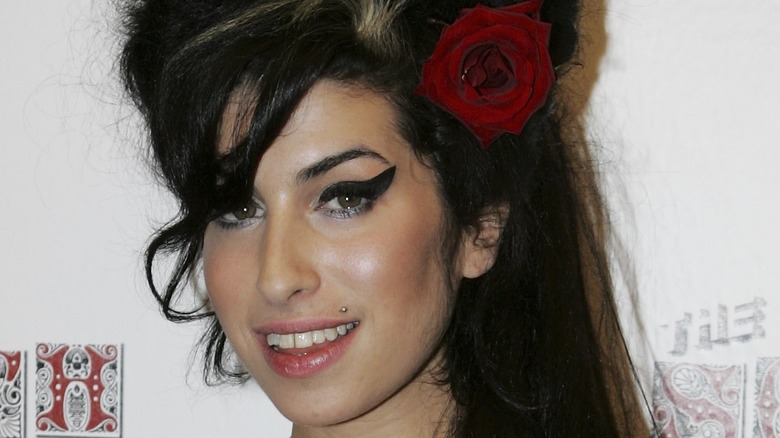 Gareth Cattermole/Getty Images
Amy Winehouse was a truly transcendent talent. In recent memory, there's scarcely been a vocalist as soulful, as emotive, as powerful. Winehouse had the rare gift of covering a song and infusing it with her own distinctive style, making it uniquely hers. "Valerie," originally released by The Zutons, is testament to this.
Winehouse's own original content was just as distinctive too, not to mention popular. In 2018, Billboard reported that her classic album "Back to Black," had reached worldwide sales of 16 million. Tragically, it would be her last album release.
As Britannica reports, Winehouse died in July of 2011, just eight years after her first album, "Frank," arrived on the scene. It was a career cut sadly short, but one into which she packed a lifetime's worth of passionate, painful and high-profile performances. She traveled in some impressive circles, and the final song she recorded was a collaboration with another musical legend: Tony Bennett.
Amy Winehouse recorded her last song with Tony Bennett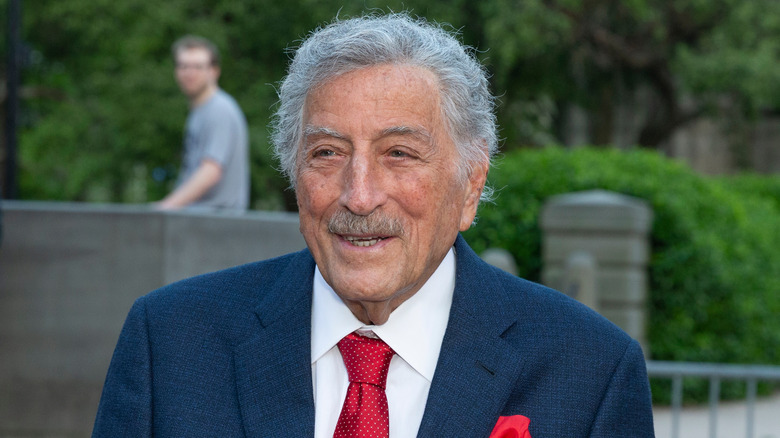 lev radin/Shutterstock
In 2006, All Music reports, the illustrious Tony Bennett released his album "Duets."As the title probably hints, it features a range of duets between Bennett and numerous other musical heavyweights, including Stevie Wonder, Barbra Streisand, Celine Dion and Elton John.
A second volume, "Duets II," followed in 2011 (per All Music). An eclectic mix of stars including Lady Gaga and John Mayer lent their talents to the album, and Amy Winehouse's dulcet tones also feature. The song she recorded with Bennett would tragically be her last.
Per Entertainment Weekly, Winehouse joined Bennett in a rousing rendition of "Body & Soul," and it seems that she needed an awful lot of reassurance and support from Bennett in order to do so. "She was very nervous to perform," he told the outlet at the time, but he knew just how to encourage her. "I said, 'You know, it sounds like you're influenced by Dinah Washington,'" Bennett explained. "She did some Dinah Washington licks, and from that moment on, she just relaxed ... she was like, 'Tony understands me, you know?'"
From there, he said, the end result was fantastic. 
A phenomenal performer to the end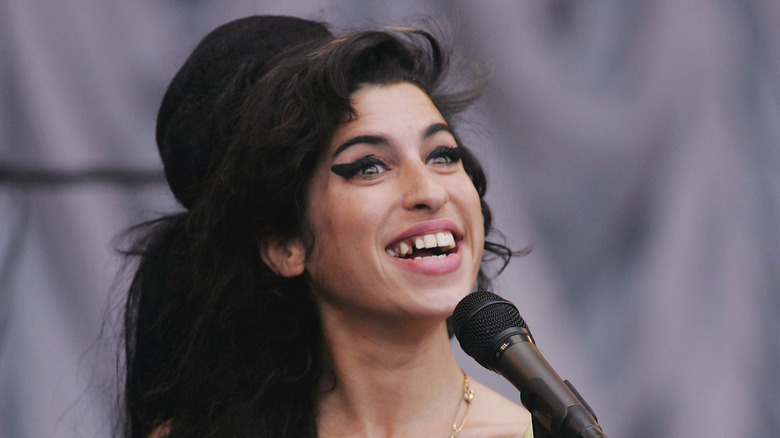 Matt Cardy/Getty Images
Entertainment Weekly states that this take on "Heart & Soul" released as a single on September 14, 2011. Winehouse, per Biography, had died less than two months prior to the song's release, on July 23. In the same interview with Entertainment Weekly, Bennett paid tribute to her, noting, "the fact that she died at 27 years old is just horrible to me. If she had lived, she would've been right up there with Billie Holiday and Dinah Washington. It's just a tragedy."
Winehouse's personal life was certainly troubled, and she was hounded by relentless media attention. As controversial a figure as she may have been, though, there's absolutely no denying that she was an incredibly gifted performer with a one-of-a-kind voice.
In a 2007 interview with MTV News (via MTV on YouTube), summed up her love for her craft. She said, "I live to go on stage ... to me, singing on stage ... it's like breathing." She gave her all for the last song she ever recorded, as she always did, and it absolutely shows.