This Was The Last Song Janis Joplin Ever Recorded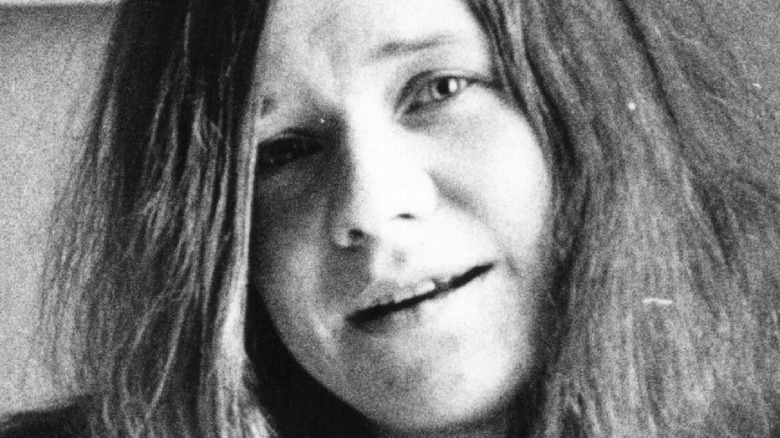 Evening Standard/Getty Images
On January 19, 1943, in Port Arthur, Texas, a counterculture icon was born. She would later break ground for women in the rock 'n' roll industry with her uniquely bluesy vocals and hearty personality (via Biography). Her hometown was famous only for its oil refineries, showing a young Janis Joplin the folly of consumerism at a young age. From this age, she developed a passion for music, but her career did not take off until 1966 when she joined the band Big Brother and the Holding Company. She did not stop there, later branching off as a soloist, understanding no band could contain her.
Joplin's identity was defined by loud music and even louder views. From wearing rebel fashion in high school — like menswear or short skirts — to headlining Woodstock, one of the greatest counterculture gatherings of our time, she left her mark on this world. She went on to create hits like "Piece of My Heart" and cover songs you would never know were not hers, like "Me and Bobby McGee." However, it's the stuff that was never meant to be famous that we talk about here. A melody born of late-night celebratory drinks, friends, and excitement for an impending performance that would change rock 'n' roll history forever.
The Birth of Mercedes Benz
John Byrne Cooke Estate/Getty Images
The night of August 8, 1970, four stars sat down at a local bar in Port Chester, New York, called Vahsen's (via The Capitol Theatre). Janis Joplin, singer Bob Neuwirth, and acting couple Geraldine Page and Rip Horn were all celebrating prior to Joplin's upcoming show at the nearby Capitol Theatre (via The Wall Street Journal). Joplin began belting out lyrics from a Michael McClure song, but the only line she could remember was "come on, God, and buy me a Mercedes Benz." After singing the same line a few times, the stars came together in jest to create an anti-consumerist song that would top charts for years to come.
In an interview with The Wall Street Journal, Neuwirth (who was in charge of writing the song on bar napkins) said, "Janis came up with the words for the first verse ... she came up with the second verse too, about a color TV. I suggested words here and there, and came up with the third verse — about asking the Lord to buy us a night on the town and another round." Neuwirth, who had been the first to show Joplin "Me and Bobby McGee" by his friend Kris Kristofferson (via Rolling Stone), knew his friend well and suggested Joplin was trying to impress Page and Horn out of admiration. However, he never expected what his longtime friend would do next to keep the show going. At that moment, Joplin's career-long manager came in and told her she was on in 15 minutes.
Immortalized through Music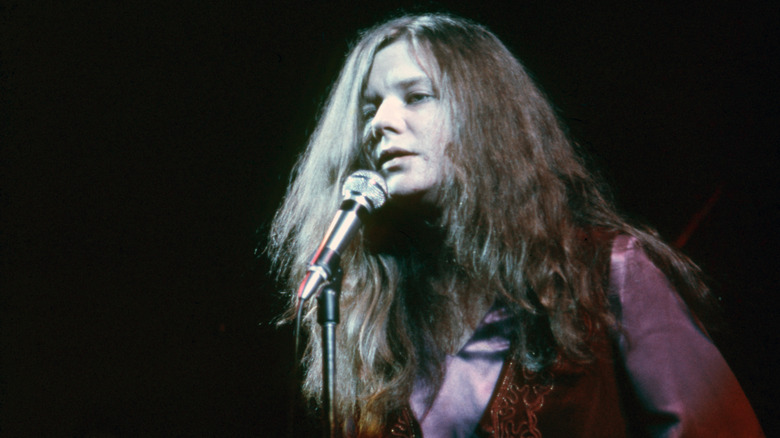 Icon And Image/Getty Images
After performing "Tell Mama" and "Half Moon," Janis Joplin took the stage with just her guitar (which she never ended up playing) and surprised everyone by saying she wanted to sing a new song (via The Wall Street Journal). In an act that shone a spotlight on her unfiltered personality, Joplin sang "Mercedes Benz." A hit with the audience, Joplin went on to perform the ballad once more at Harvard Stadium in Boston for her last concert. She later traveled to Los Angeles to record her 1971 "Pearl" album, which she never lived to see (via History). There, on October 1, she performed "Mercedes Benz" in the studio for fun. On October 4, she never showed up for recording, so her manager John Cooke traveled to the Landmark Motor Hotel where she was staying (via Unlimited Classic Rock). There, he found Joplin's body after an accidental overdose at 27.
The only songwriters listed for "Mercedes Benz" are Joplin, Bob Neuwirth, and Michael McClure, who was told how his song inspired the hit but wanted no credit. The song Joplin recorded just days before her death was never meant to be famous. Neuwirth said Joplin would be shocked to know it was and that it would have likely never made the album if she did not die before its completion. The song has since been covered by over 30 artists and used in Mercedes Benz ads, but most importantly, it immortalized an icon taken from us too soon.
If you or anyone you know is struggling with addiction issues, help is available. Visit the Substance Abuse and Mental Health Services Administration website or contact SAMHSA's National Helpline at 1-800-662-HELP (4357).