Spike Lee And Michael Jordan's Relationship Explained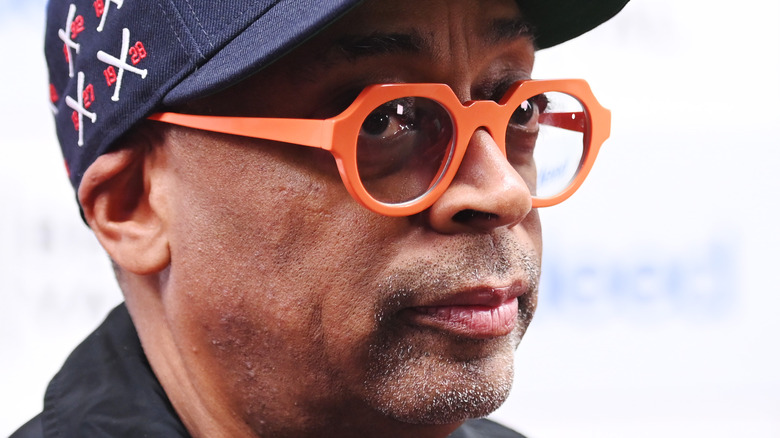 Noam Galai/Getty Images
Michael Jordan appeared in the 1996 film "Space Jam" (per IMDb), while director Spike Lee is a well-known basketball fan and frequent courtside presence at Madison Square Garden, where he cheers on the New York Knicks. So, considering each of them has a foot in each other's worlds, it shouldn't be a surprise that Jordan and Lee have crossed paths on more than one occasion, and are actually good friends. However, their friendship hasn't squashed a friendly rivalry between the two, especially whenever Jordan's Bulls took on the Knicks. This happened quite a few times when the Jordan-era Bulls were at their peak in the early- to mid-1990s.
According to Shoe Palace, the two became friendly in the late 1980s when Lee directed a commercial for Nike to promote their Air Jordan line of sneakers, Jordan's signature line of athletic footwear. The commercials helped to cement Nike and the Jordan brand as huge players in the sneaker world and made the shoes themselves a pop culture phenomenon.
Lee directed some Nike commercials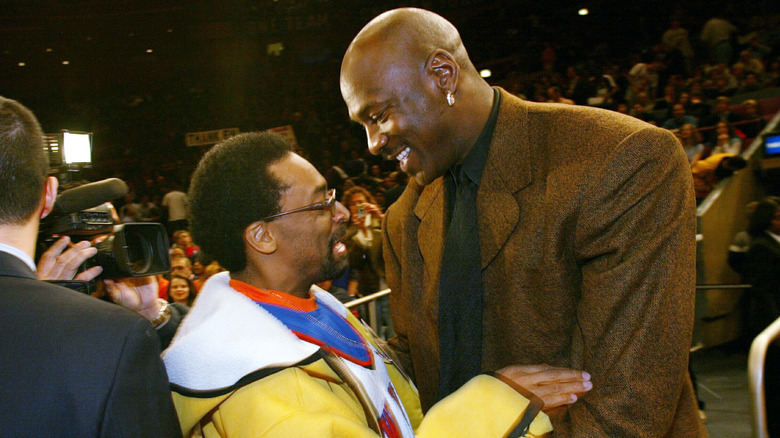 Ray Amati/Getty Images
In 1986, the film "She's Gotta Have it" was released (per IMDb). The film was directed by Lee, but he also acted in it. In the film, Lee played the character Mars Blackmon. One of the character's hallmarks was that he always wore Air Jordans. According to Shoe Palace, "She's Gotta Have It" is regarded as Lee's breakout film. It garnered him a lot of attention and helped to kickstart his career.
The film and the character caught Nike's attention. The company enlisted Lee to not only direct a commercial for their latest Jordan Brand offering — the Air Jordan III — but also star in it as Blackmon. The first commercial aired in 1988 and featured Lee (as Blackmon) and Jordan. However, as Lee revealed during a 2020 interview with "Good Morning America" (posted on Twitter), Jordan wasn't familiar with Lee, his character, or even his film.
Nonetheless, they made a series of commercials over the years that helped establish Nuke and the Jordan brand as formidable forces in the sneaker industry (per Bleacher Report). Lee has since voiced his surprise at how well received the commercials were. "I was completely surprised when it blew up," he said. "It blew up, it changed the culture, and I'm just happy I was a part of it. And it was 100% accident."
Jordan and Lee's friendly rivalry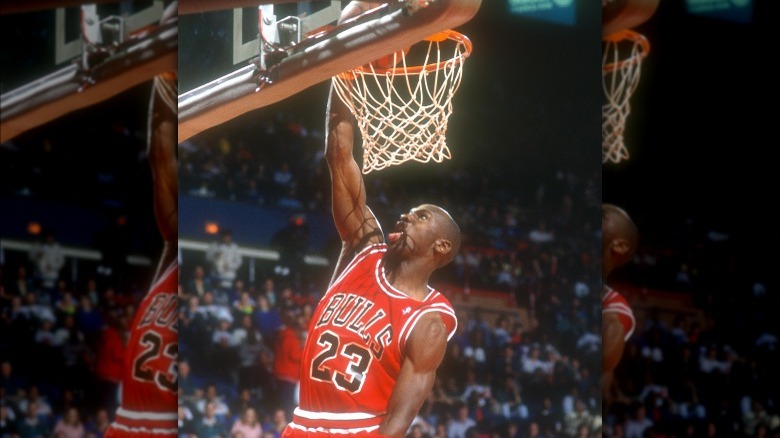 Mitchell Layton/Getty Images
While the commercials made Michael Jordan and Spike Lee good friends, that didn't stop them from having a bit of a friendly rivalry. The two teams met in the playoffs regularly, running into each other in every postseason from 1989 to 1996 with the exceptions of 1990 and 1995. Despite the frequency, it was one of the most lopsided rivalries in sports, with the Jordan-era Bulls winning every single series the teams had during that stretch.
According to Sportscasting, Jordan and Lee made headlines during the 1996 Eastern Conference semifinals. The Bulls had a 3-1 lead going into Game 5, per Basketball Reference, and were on their way to cruising to a 94-81 win and a series victory. However, the focus wound up being on Jordan and Lee, more than the Bulls' victory.
In the fourth quarter, Jordan drilled a three-pointer (also posted on Twitter), which was met with a thunderous cheer from the crowd gathered at Chicago's United Center. However, one person who was not thrilled about it was Lee, who sat courtside with a thousand-yard stare. Jordan saw him after sinking the shot and gave him a subtle wave. After the game, Jordan was asked about it and said that Lee could "have a safe flight back to New York." The Bulls went on to beat the Seattle Supersonics in the 1996 NBA Finals.