1950s Retail Stores At Disneyland Were A Lot Different Than They Are Today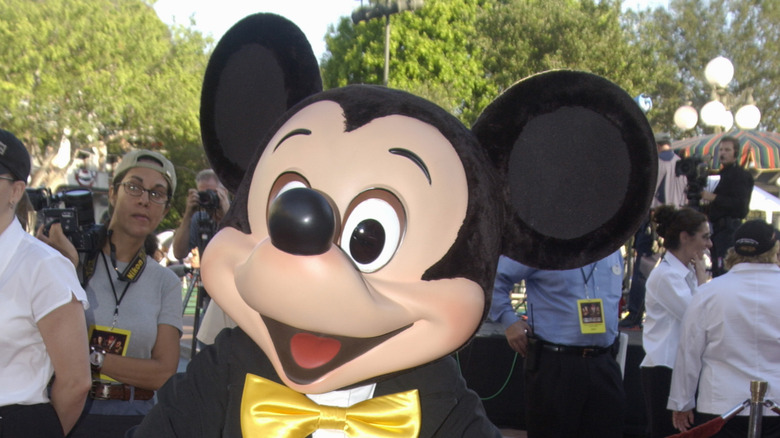 Featureflash Photo Agency/Shutterstock
Today, the Disney empire has taken over huge swathes of the entertainment world. From "The Simpsons" to "Star Wars," the House of Mouse has control over some of the biggest shows, franchises and properties in the world. This translated, of course, into enormous user numbers for its streaming service. In 2020, per CNBC, Disney announced that it expected to have up to 260 million worldwide Disney+ subscribers in 2024.
There was a time, however, when the company was a simple cartoon-making enterprise. There was a time when everything was just getting started, and when "Snow White and the Seven Dwarfs" (which, released in 1937, was Disney's very first animated movie, per Britannica) was brand-new and breathtaking.
By the 1950s, Disney had the cachet to construct the world famous Disneyland in Anaheim. According to History, the vast complex opened in July of 1955, and it survived a troubled launch (many more guests flocked in than could be catered to) to become an enduring and monstrously successful tourist hotspot. The Disneyland of the 1950s was a very different beast than today, though, as the retail stores available there at the time make clear.
Disneyland boasts stores aplenty
Bloomberg/Getty Images
In the 21st century, Disneyland gets some truly remarkable footfall. According to History, 18 million people visit the United States' Disneyland every year. On such a trip, naturally, these legions of visitors are expected to bring ample spending money. Not only do food and drinks have to be factored in (Magic Guides suggests that a family with two adults and two children can spend around $250 on meals in a day), but then there are the stores.
Naturally, souvenirs are all but a necessity for any Disney trip, both for yourself and for friends and family who invariably express their love of Mickey, Donald, Goofy, and the gang when they get wind of your trip.
Though you'll find almost every variety of Disney paraphernalia imaginable at the park today, there's one odd establishment that was only available at the Disneyland of the 1950s: a lingerie store. Here's why Walt Disney offered some very special bras for a brief period during the park's opening.
Unsurprisingly, Disneyland doesn't sell lingerie any longer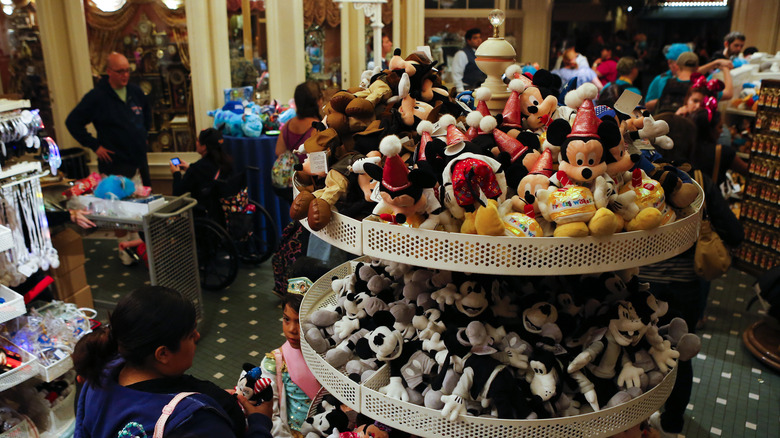 Bloomberg/Getty Images
As SFGate reports, Disneyland's Main Street is now largely a parade of Disney stores selling ... Disney products, unsurprisingly. At the time of the park's launch, however, 50 different heavyweight companies took the prestigious opportunity to open stores there. One such store was Hollywood-Maxwell, an acclaimed lingerie brand.
According to Yesterland, the storefront featured an ornate sign that read "Intimate Apparel, Brassieres, Torsolettes," and it was decorated in the Victorian style that defined Main Street's stores at the time. Some of the lingerie on display within reflected this theme too. A piece in the "Santa Ana Register" of the period, via Yesterland, stated than Main Street was designed as "an exact replica of an American town of the 1890-1910 period," but Hollywood-Maxwell's store included another unique element: a mechanical figure dubbed The Wonderful Wizard of Bras. This character, the article goes on, appeared "on a revolving stage, on one side of which is a complete re-creation of the fashions and intimate wear of the 1890's and on the other side a showing of the fashions of today — inner and outer wear."
According to Ripley's Believe It Or Not!, a shop that sold glassware and delicate china pieces was housed next door. It took over the Wizard of Bras' space when the Hollywood-Maxwell store was closed in January of 1956, having lasted just six months.