How Dr. Seuss Really Got His Pen Name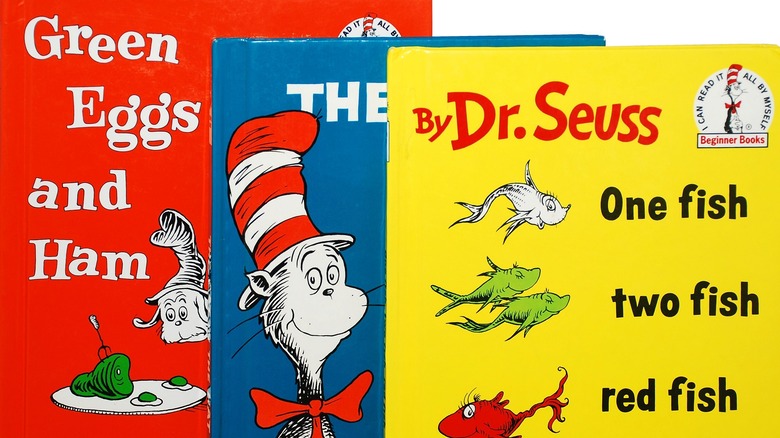 Julie Clopper/Shutterstock
For a huge portion of the population, one name was virtually omnipresent on early-childhood reading lists: Dr. Seuss. Dr. Seuss — whose real name was Theodor "Theo" Geisel — was responsible for a long list of classic children's books, including "The Cat in the Hat," "Green Eggs and Ham," "How The Grinch Stole Christmas," "The Lorax," and "Horton Hears a Who!" Every year, school kids across the United States celebrate Read Across America Day, which is celebrated every March 2, which was Dr. Seuss' birthday.
"Children's classics such as Dr. Seuss' 'Green Eggs and Ham' and 'Oh, the Places You'll Go!' have inspired a passion for reading and endless creativity that spans generations. Today's stories and adventures are as diverse as the world in which we live, and by reading them, we come to more fully understand the vibrant diversity of our Nation — and the world." President Joe Biden said in a proclamation to celebrate Read Across America Day in 2022, per The White House.
While most people are well aware that Dr. Seuss is a pen name, not everyone is certain where it came from or why Geisel even adopted it in the first place. Given the Dr. Seuss name and brands associated with children's books, the name stemmed from an incident involving, of all things, bootleg gin (via History).
Seuss was part of his actual name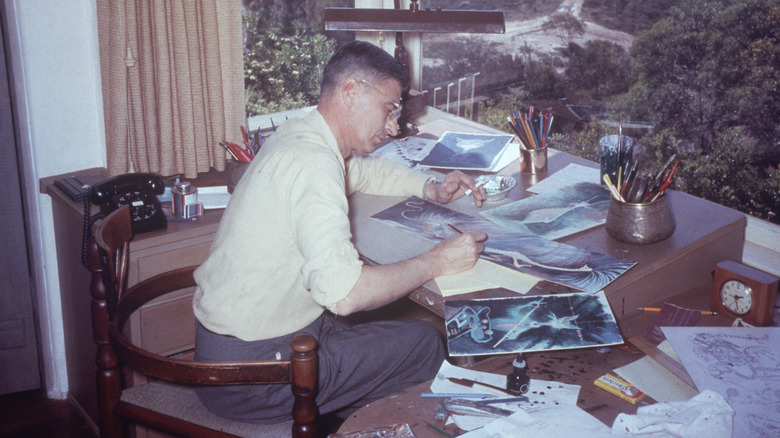 Gene Lester/Getty Images
The pen name Dr. Seuss wasn't just something Theo Geisel came up with on the spot. Instead, it came to him in pieces, and some of the pieces were pretty easy to come up with. Geisel's full name was Theodor Seuss Geissel, per History, with Seuss being his mother's middle name. Geisel's grandparents were German immigrants and the pronunciation of the name Seuss in German is different, rhyming with the word "choice," as opposed to the Americanized pronunciation we all use today, which rhymes with "loose."
According to the New England Historical Society, when Geisel was a young boy he had a strange experience that involved public humiliation at the hands of former United States President Theodore Roosevelt. Geisel grew up in Springfield, Massachusetts, and during World War I, he became one of the top war bond-selling Boy Scouts in town. (It helped that his grandfather bought $1,000 worth.) He and 10 others were invited to receive awards from Roosevelt. However, the former president was mistakenly only given nine medals, and when he got to Geisel — who was the last one on stage — Roosevelt exclaimed, "What's this boy doing here?" Geisel was rushed off stage and was severely embarrassed,
This made him highly averse to appearing in front of audiences. This may have been a reason he started using a pen name, but the larger truth is he actually started using it out of necessity if he wanted his work published.
Geisel became Seuss in college
Geisel came from a family of successful brewers, according to the New England Historical Society. He went off to college at 18 and started attending Dartmouth College, a good call professionally, considering the United States was in the midst of Prohibition at the time, which would have been a massive blow to the family business. At Dartmouth, Geisel became the editor-in-chief of the campus humor magazine, which was called "Jack-O-Lantern."
In 1925, Geisel was caught partying with friends and drinking bootleg gin. This wound up getting him kicked off the "Jack-O-Lantern" staff. Undeterred, Geisel started submitting work to the magazine under a series of pen names. These included T. Seuss and the even simpler Seuss. After a stint studying at the University of Oxford, Geisel pursued cartooning full-time and held on to the name Seuss. Eventually, he tacked on the "Dr." and became "Dr. Seuss."
However, Dr. Seuss wasn't the only pen name he used during his career. Geisel also published some books under additional pseudonyms, per ThoughtCo. He wrote one book under the name Rosetta Stone, and wrote more than a dozen using the name Theo LeSieg. The last name "LeSieg" is just his real last name, Geisel, spelled backward.