Inside The Bo Diddley Beat, The Most Iconic Rhythm In Rock Music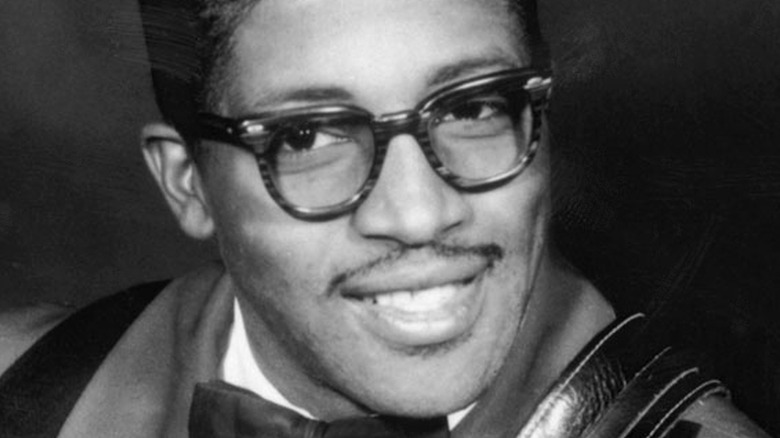 Silver Screen Collection/Getty Images
At the time of his death in 2008, guitar pioneer Bo Diddley — who was born Ellas Bates in McComb, Mississippi on December 30, 1928 — was celebrated as one of the most important and influential figures in the history of popular music. In his own lifetime, other musicians and music fans acknowledged his contribution with an impressive nickname: "The Originator." And, it was almost all down to a single beat, which Diddley released into the world in 1955. Emerging from Chicago as an artist with a performance style that preceded him, Diddley's debut single, "Bo Diddley," became a major hit for the 27-year-old guitarist, and spawned a legion of imitators right up until the present day.
ZZ Top's Billy Gibbons explained shortly after Diddley's death the incredible impact of that song in all its raw and stripped-back glory. "He hit the scene with that infectious beat he brought to the forefront ... It was Bo Diddley, Clifton James on drums, and Jerome Green on maracas — and that was it. Who ever heard of a guitar player and two percussionists? And you listen to those early records now, with the knowledge there was no bass guitar, no rhythm guitar, no piano, no nothing except those three guys, but you turn it up and you say, 'Well, I don't miss anything. It sounds like a full orchestra to me.'" (via Reuters)
But, as well as the exquisite rawness of the song, what's notable about "Bo Diddley" the single is that its rhythm has become an eternal touchstone in popular music. Countless acts reaching decades into the past have tried to imitate the "Bo Diddley beat."
So what exactly is it?
As many musicologists — and Bo Diddley devotees — have long since argued, the Bo Diddley beat is near unmistakable, whatever genre it emerges in. Joe Satriani claims that, "Bo Diddley gave us so much. He was an essential part of rock 'n' roll. It couldn't have happened without him," while Bonnie Raitt says that "Bo's music will continue to influence people as long as someone can beat out that signature rhythm on whatever instrument they can." (via Reuters) But, to get to the core of what makes the Bo Diddley beat 'the Bo Diddley beat' — and almost anything created in its image so downright infectious — we have to look to the music itself.
The National Blues Museum describes the Bo Diddley beat as a "two-measure, syncopated pattern" derived in part from the traditional African-American music practice of "Pattin' Juba," which involves beating out complex rhythms on parts of one's body, while The New York Times notes its links to Afro-Cuban music, and that it's simple three-beat-two-beat structure creates an instantly catchy simplistic swing: "bomp-ba-domp-ba-domp, ba-domp-domp."
Bo Diddley and the Diddley Bow
But, even the great Bo Diddley didn't emerge from a vacuum, and the hugely influential Bo Diddley beat didn't just pop into his head out of nothing. According to the National Blues Museum, the guitar pioneer's unusual stage name is derived from another string instrument: the Diddley Bow, a West Africa-derived one-string instrument with a glass bottle bridge that is played like a zither or dulcimer, and which was used as entry point for children looking to get to grips with playing string instruments. Though the same source claims that there is no concrete evidence that Diddley himself played one as a child, the allusion serves to link Diddley's music and the Bo Diddley beat in particular to traditional West African music, as scholars have noted.
Per udiscovermusic, a notable precursor to the Bo Diddley beat can be found in "Hambone," a 1952 single by Red Saunders and His Orchestra with the Hambone Kids. Like "Bo Diddley," the song is mainly derived from the nursery rhyme "Hush, Little Baby," combined with the "Shave and a Haircut" rhythm on percussion at various points.
In addition, Bo Diddley's good friend Johnny Otis recorded his biggest hit, 1958's "Willie and the Hand Jive," with the same reference points. When Diddley commented that Otis' song bore a strong resemblance to his own "Bo Diddley," Otis fired back that Diddley's breakthrough hit was based on "Hambone."
A popular music touchstone
Nevertheless, it was certainly Bo Diddley who popularised the beat and infused it with a certain swagger that has made it an indelible part of rock 'n' roll ever since. As noted by The Independent, Diddley even set a precedent for rock 'n' roll rebellion in that during a 1955 appearance on "The Ed Sullivan Show," Diddley defied instructions to play a cover song and instead performed "Bo Diddley," resulting in a lifetime ban from the show that would negatively affect his career thereafter.
As udiscovermusic details, the impact of the Bo Diddley beat was almost immediate, with some of the biggest artists of the day incorporating the infectious rhythm into their own songwriting. A notable early adopter was Buddy Holly, whose 1957 single "Not Fade Away" became a beloved classic, and was covered to great effect by the Rolling Stones in 1964, becoming their first major hit.
The same source recounts how Diddley became a major figure among other British Invasion groups, with "House of the Rising Sun" rockers The Animals recording a dedication to the guitarist, titled "The Story of Bo Diddley," the same year, which also noted the singer's influence on the Stones and Merseybeat acts, including The Beatles. And, as the years rolled on, the Bo Diddley beat continued to linger, with groups as disparate as The Stooges ("1969"), Talking Heads ("Ruby Dear"), George Michael ("Faith"), Rihanna ("If It's Lovin' That You Want"), and St. Vincent ("Bring Me Your Loves") have all turned to Diddley's iconic rhythm, ensuring his influence is likely to remain strong for decades to come.