Jim Thorpe Is Finally Getting The Recognition He Deserves 110 Years Later
At the 1912 Olympic Games in Stockholm, Sweden, Native American athlete Jim Thorpe won the gold medal in both the decathlon and the pentathlon, a track event which is no longer included in track and field competition at the Olympics. After taking first place in those events, it was discovered that Thorpe — who was already a notable athlete at the time for his performance in football playing for the now-defunct Carlisle Indians Football Team (via NPR) — made some money playing professional baseball prior to winning gold at the Games.
Given the Olympics amateur-only policy, which was much more strictly enforced at that time, Thorpe, who died in 1953 (per Britannica), was first stripped of his medals but later declared the co-winner of those events in 1982. Now, more than a century after Thorpe took the field in Stockholm and after he was subsequently stripped of his medals, Thorpe, who is considered by many to be the greatest natural athlete of his generation, is now back on top of the podium as the sole gold medal winner in both those track and field events, as The New York Times reports.
The decision to strip Thorpe of his medals was controversial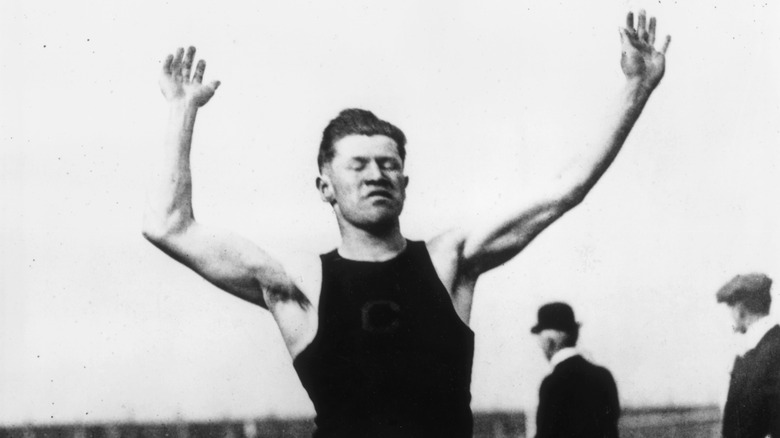 Topical Press Agency/Getty Images
As ESPN goes on to explain, the decision to strip Thorpe of his medals was controversial from the start. Born in 1883, Thorpe belonged to the Sac and Fox Nation, first of the Great Lakes area of Michigan but later relocated to Oklahoma, where Thorpe was from, among other locations throughout the Midwest (via Sac and Fox Nation of Missouri in Kansas and Nebraska). Many observers to this day suspect that the I.O.C.'s decision to penalize Thorpe was motivated in no small part by his race, as The New York Times notes. At the time, track and field officials from the United States were among the most vocal proponents for taking the punitive measure against the Native American athlete, as The New York Times goes on to report.
On the news that Thorpe's two gold medals were restored, Prairie Band Potawatomi member Nedra Darling of the Native American advocacy group, Bright Path Strong, and producer of the Jim Thorpe biopic "Bright Path: The Jim Thorpe Story" said (via ESPN), "Jim Thorpe is a hero across Indian Country, and he is an American hero ... He represented this country before it even recognized Native Americans as citizens, and he did so with humility and grace." Through two years of intensive lobbying, Darling was also instrumental in the decision to have Thorpe reinstated, as Indian Country Today explains. "Even after he was wronged ... [Thorpe] never gave in to bitterness and led with a spirit of generosity and kindness," Darling also said. 
Thorpe made $2 per game playing baseball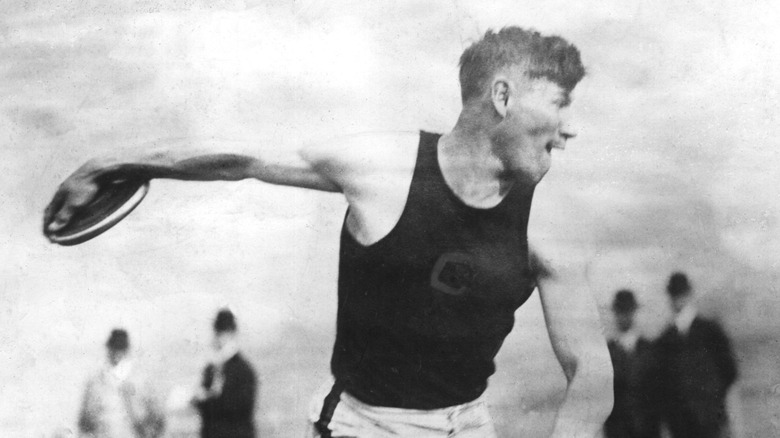 Topical Press Agency/Getty Images
Based on further reporting from ESPN, Thorpe was paid $2 per game to play baseball before competing in the Olympic Games, or roughly $50 in today's money, which adds up to about $35 a week in the 1909-1910 baseball season, or a bit less than $1,000 when adjusted for inflation (per DollarTimes). Voted the greatest athlete of the first half of the 20th century by The Associated Press, Jim Thorpe went on to achieve a number of other notable athletic accomplishments post 1912, according to ABC News. Retiring at age 41, Thorpe played professional baseball and football for teams like the New York Giants and Canton Bulldogs, and he belonged to the NFL's first all-decade team in 1931, as ESPN also reports.
According to Indian Country Today, some 75,000 individuals signed the petition to have Thorpe reinstated as the sole awardee of those two gold medals from the 1912 Olympic Games. In 1982, Thorpe was given co-winner status alongside Swedish athlete Hugo Wieslander and Norwegian Olympian Ferdinand Bie, who both finished second in the pentathlon and the decathlon that year, but were given first after Thorpe was stripped of his gold. Both Wieslander and Bie are returned to their silver medal status. The bronze medal winner in both the events remains unchanged. After the return of Thorpe's gold was announced, current I.O.C. president Thomas Bach called it a unique and exceptional situation (via The New York Times) which was addressed by "an extraordinary gesture of fair play from the concerned National Olympic Committees."