The Truth About Stevie Ray Vaughan's Guitar Solo On Let's Dance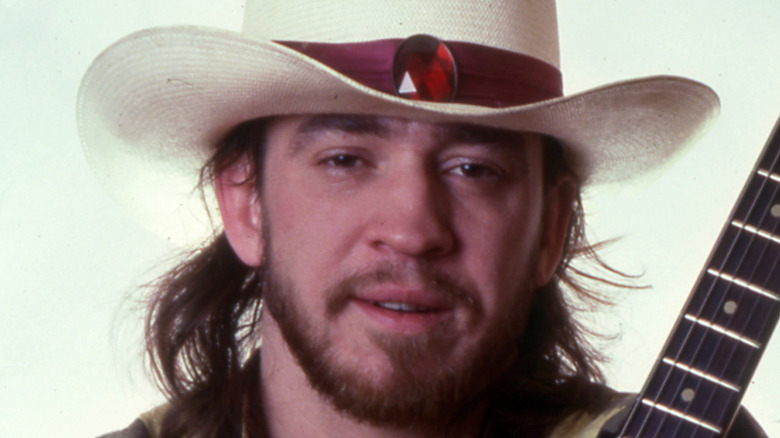 Icon And Image/Getty Images
Stevie Ray Vaughan is an undisputed blues legend and is often hailed as one of the best players to ever pick up a guitar. The late Fender Stratocaster-wielding bluesman is best-known for songs like "Texas Flood" and "Pride and Joy" and was a major influence on the next crop of blues players like Joe Bonamassa and John Mayer. It doesn't seem like it would be a logical combination, but when Vaughan teamed up with glam rock pioneer David Bowie it spawned a massive mainstream hit for both of them. However, that success didn't come without some degree of internal strife — on Vaughan's part at least.
According to Far Out, "Let's Dance" became one of Bowie's most popular songs, which is saying quite a bit given how popular his music is overall. The song wound up hitting the top spot on the Billboard Hot 100 charts where it stayed for an impressive nine weeks.
The song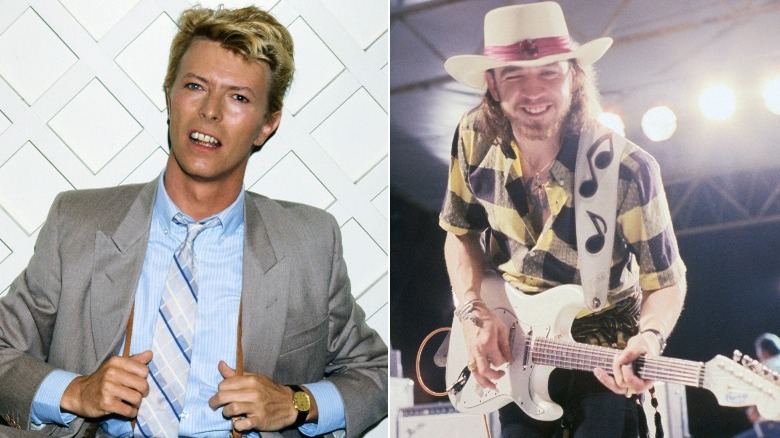 Luciano Viti/Getty & Dave Hogan/Getty Images
Bowie wrote the song with Chic guitarist Nile Rodgers and was recorded at Power Station studio in New York City. The song became the title track of Bowie's 1983 album, which also included songs like "China Girl" and "Modern Love," per Billboard. With Rodgers attached to it, the song already has more than enough street cred to raise a guitar aficionado's eyebrows, but the inclusion of Stevie Ray Vaughan sent it over the top.
When the track was recorded in 1982, Vaughan's reputation was far from what it became in the years that followed. He was an undeniably virtuosic guitarist, but he hadn't yet attained the legendary status he holds today. The solo he laid down gives the dancey, New–Wavey song a touch of the blues, and the rich guitar tone that Vaughan used throughout his career is on full display as well. While the song was well-received and remains a classic to this day, there was a bit of controversy surrounding the video (via Far Out).
The video and issues between Bowie and Vaughan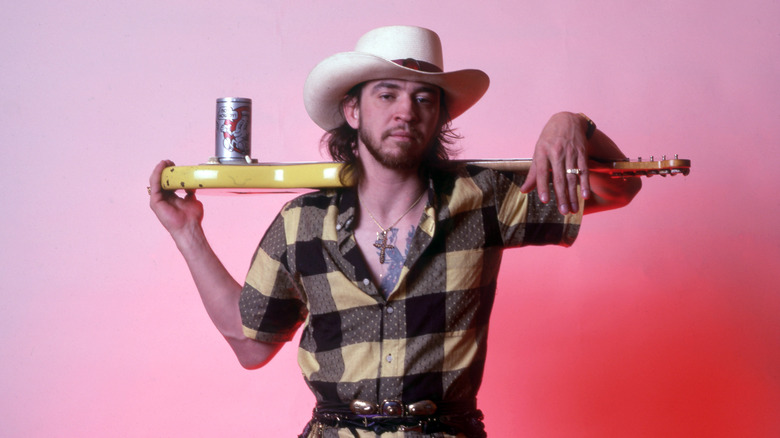 Icon And Image/Getty Images
According to Far Out, the song "Let's Dance" is sometimes credited with launching Stevie Ray Vaughan's career and giving him exposure to audiences that may not be so inclined to throw on a blues record. The collaborative relationship between Bowie and Vaughan went beyond just the song "Let's Dance" with Vaughan's playing on several other tracks on the album. However, the "Let's Dance" video wound up causing some friction between the two iconic artists.
In the video, Bowie can be seen playing guitar in several scenes. However, he continues to pantomime playing during Vaughan's solo, something that according to Vaughan's drummer Chris "Whipper Layton, didn't sit well with the legendary blues guitarist. "Stevie was about to become world famous as the guy who played that solo, but the video really bothered him. Bowie's wearing white linen gloves, and Stevie said, 'That m***** f***** shouldn't be pretending to be playing s*** he wasn't playing!' He couldn't understand why Bowie would do that."
Vaughan played live with Bowie in Montreaux, Switzerland, and was supposed to go on tour with him but the two wound up butting heads. According to Ultimate Classic Rock, Vaughan didn't like being told how to move and became frustrated when his wife was banned from coming to rehearsals. The final straw was when Bowie didn't want Vaughan to do press for his debut album "Texas Flood." With other issues at hand, Vaughan quit Bowie's band the night before the tour was due to start.