Here's Why It Took Four Years For Nikolas Cruz's Sentencing Trial To Happen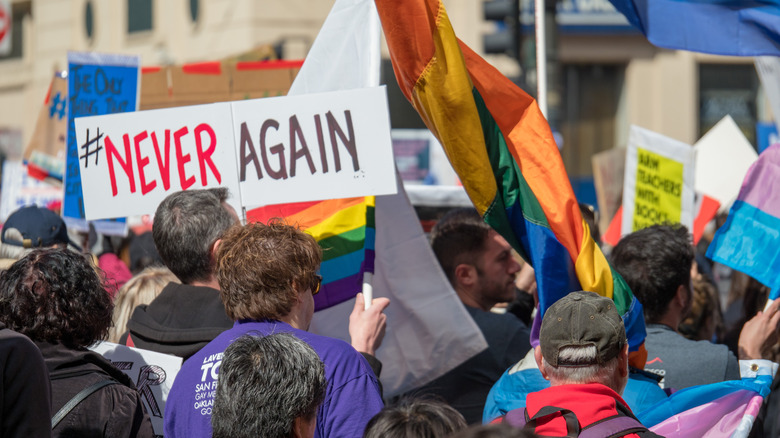 David Tran Photo/Shutterstock
The Stoneman Douglas High School shooting of February 14, 2018, was the deadliest high school shooting in American history. As reported by The Guardian, 17 people were killed and many more injured when 19-year-old Nikolas Cruz, a former student at the school, entered Stoneman Douglas High, intentionally set off the fire alarm, and began firing indiscriminately at staff and students. As well as a rifle and numerous magazines full of ammunition, Cruz was armed with a number of smoke grenades and seemingly took pleasure in taunting students and members of staff who were hiding in classrooms as his rampage continued.
Cruz eventually left the school and was captured by police at 4:11 p.m. without resistance. He was identified immediately as the killer, suggesting that the countless grieving friends and families of his victims and those he had traumatized with his actions that day would soon see justice. However, it took an infuriatingly long four years for Cruz — who eventually pled guilty to his crimes that day — to be brought to a penalty trial due to countless delays that have made the process all the more painful for those involved.
Countless delays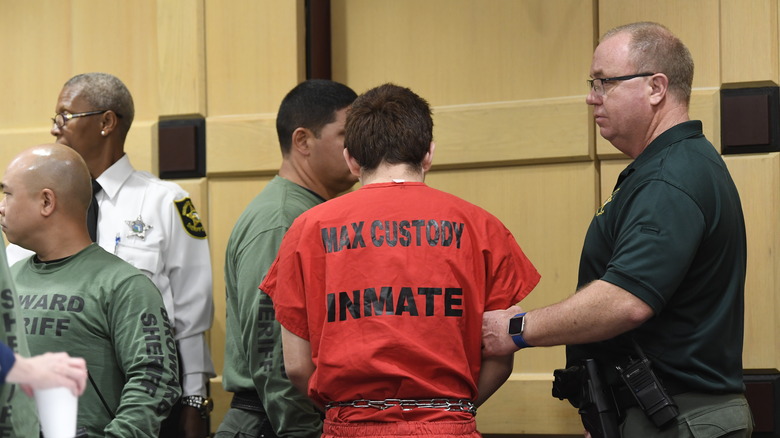 Pool/Getty Images
Though Nikolas Cruz was arrested on the day of the shooting, and his initial arraignment began the following day, his trial immediately ran into numerous delays. The first major obstacle came in March 2018. During an arraignment in which Broward County Judge Elizabeth Scherer entered a "not guilty" plea for Cruz — who refused to speak and kept his eyes on the ground — it was debated whether Cruz had the funds available to hire a private attorney (via Local 10).
In these first arraignments, Cruz had been supplied a legal team by the Public Defender's Office on the grounds that he had a low income. But it emerged that as well as Cruz holding around $12,000 in savings, he was also due to a windfall of $25,000 from his mother's life insurance. In response, Judge Scherer ordered a 30-day reset, allowing Cruz's defense team to update the documents outlining his financial assets. This month-long delay was only the first of many, with the COVID-19 pandemic playing the most major role in slowing down the legal process. As AP reported in 2021, 1000 days after Cruz committed his crimes, the pandemic meant that cases were halted as courtrooms were indefinitely closed. But the same source also notes that the prosecution's determination for Cruz to receive the death penalty has made the trial much longer; Cruz's defense team had previously attempted to offer a plea deal in exchange for a sentence of life in prison, but the prosecution rejected it.
Jury selection issues and a lengthy penalty trial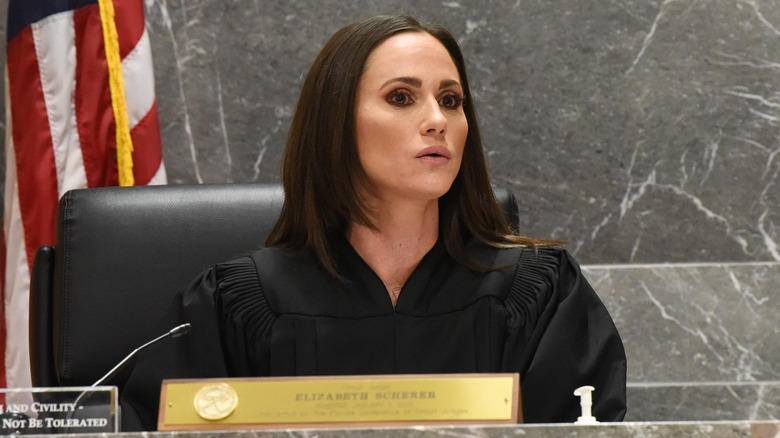 Pool/Getty Images
Even as late as 2022, long after court sessions had been restarted following pandemic-related delays, the trial of Nikolas Cruz continued to run into obstacles. In the spring of that year, numerous news outlets — including WPTV — reported that Judge Elizabeth Scherer was experiencing delays in appointing a jury as the vast majority of those appointed claimed they could not "follow the law" in such a high-profile and harrowing case. When the judge dismissed these potential jurors, Cruz's defense suggested that they should have been given time to question those who had been dismissed, causing a crisis and raising the possibility of a mistrial. Jury selection eventually went ahead, and the penalty trial began on July 18, 2022.
But though the families of Cruz's victims had already waited almost half a decade for the killer to receive his sentence, by the summer of 2022, the penalty trial was expected to take many months, with Cruz's defense offering mitigating circumstances regarding Cruz's background that they hope will lead to a more lenient sentence (via CNN). However, prosecutor Michael Satz told the same source: "These aggravating factors [that call for the death sentence] far outweigh any mitigating circumstances, anything about the defendant's background, anything about his childhood, anything about his schooling, anything about his mental health, anything about his therapy, anything about his care."