Noah Lyles Swiftly Stole This 26-Year-Old Title From Sprinter Michael Johnson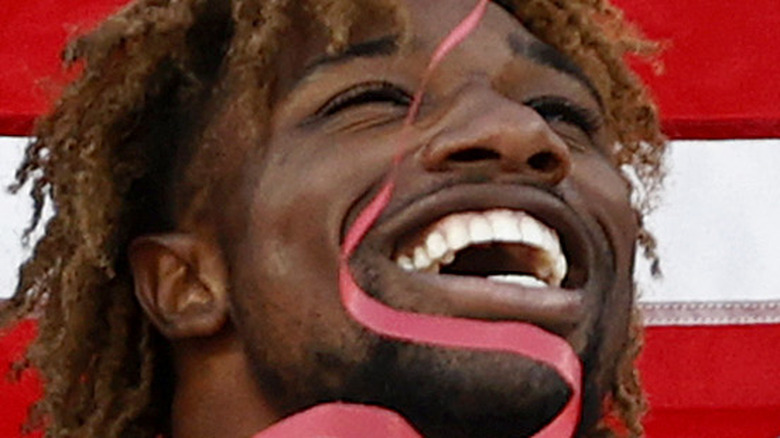 Steph Chambers/Getty Images
Sprinter Noah Lyles set an American record in the 200m finals on Thursday, July 21, 2022 at the World Track and Field Championships in Eugene, Oregon, according to ESPN. In doing so, Lyles surpassed a best-ever time for a U.S. runner set by Michael Johnson at the 1996 Summer Olympic Games held in Atlanta, Georgia. Lyles' accomplishment marks a turn-around for the sprinter coming off a disappointing performance in the 200 at the 2020 Summer Olympic Games held in Tokyo. At those Olympics, Lyles took home bronze, despite high expectations (per The New York Times). 
On that same evening, Jamaican sprinter Shericka Jackson also made history when she set a new best-ever national and championship mark in the 200m, based on reporting from CNN. For his part, Lyles finished well ahead of his next closest competitor, making him the clear winner. Establishing just how fast Lyles ran the race, though, was not quite so clear cut, as NPR also notes.
It first appeared that Lyles might have tied Johnson's record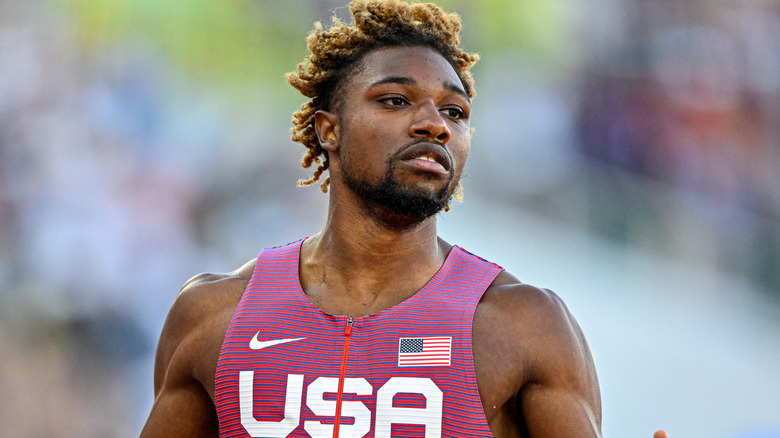 Bsr Agency/Getty Images
In the moments after Noah Lyles crossed the finish line in the 200m at the Track and Field Championships, the clock reflected the Florida runner's overall time as 19.32, which would mean that Lyles had tied the time set by Johnson instead of surpassing him, as NPR goes on to explain. That time was unofficial, though, and the moments before Lyles' official times were announced were filled with suspense for the young sprinter.
On the matter of just one-tenth of a second standing between holding a world record and sharing that accomplishment with Johnson, Lyles said (via NPR) he asked the clock to cut him some slack. "How's it going to show the same time, 19.32? Come on, change that," Lyles later said, referring to the time clock. Lyles also said (according to ESPN), "Nobody wants to share a record. I think even Michael Johnson doesn't want to share a record. So I was just begging it to change."
Lyles' official time was 19:31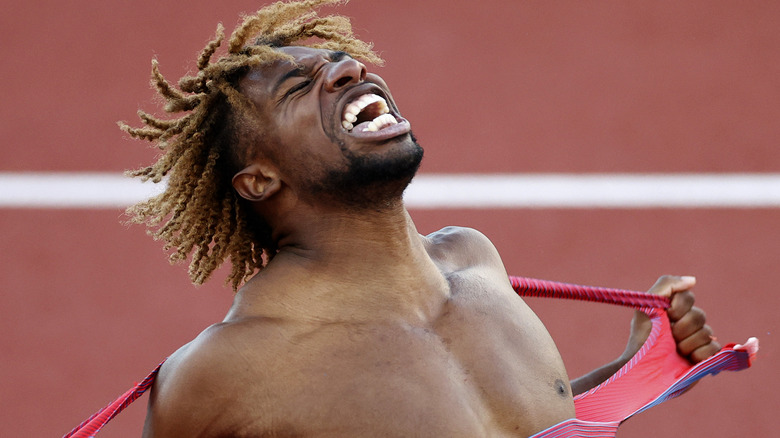 Steph Chambers/Getty Images
When the official time clock ticked back by just one-tenth of a second, putting Lyles ahead of Michael Johnson in the 200m, Lyles ripped off his shirt and was seen hugging his family in an exuberant celebration. Notably, joining Lyles on the podium at the World Track and Field Championships were Kenny Bednarek and Erriyon Knighton, giving American runners a sweep in the competition, and a total of 22 medals at the event (via ESPN).
Of the accomplishment, Lyles later said he credits a quality start (via CNN). "Today is my day. I finally got to do what I dreamed of ... It's an immaculate feeling to be on the podium with two fellow Americans," Lyles said. Lyles' final time in the 200 m of 19.31 puts him third of all time, behind Jamaican sprinter Usain Bolt, who set the pace at 19.19, and another Jamaican, Yohan Blake, who holds the second-best-ever time in the 200 at 19.26 (per ESPN).