Even Deion Sanders Was Humiliated Thanks To Bo Jackson's Elite Talent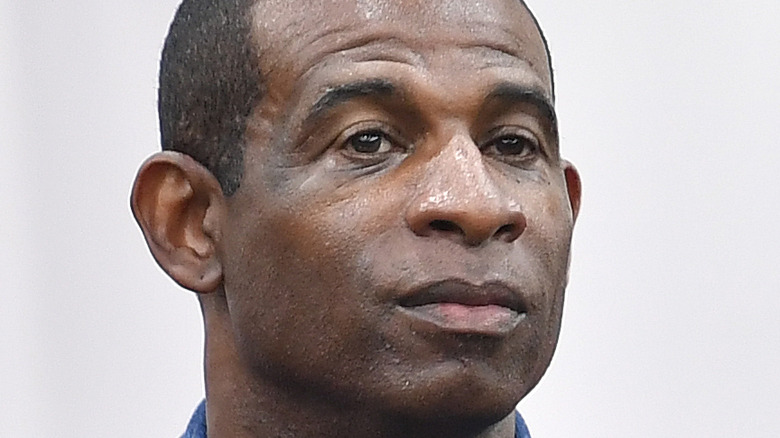 Paras Griffin/Getty Images
Bo Jackson and Deion Sanders are regarded as two of the best athletes of their generation, and probably of all time. They were a sort of throwback to the likes of Jim Thorpe, in that they not only played, but excelled, at multiple sports. Both Jackson and Sanders wound up being inducted into the Pro Football Hall of Fame, while also playing Major League Baseball.
Of course, those pro careers were preceded by legendary college careers. According to Fanbuzz, Jackson spent his college years with the Auburn Tigers, while Sanders played a little farther south, where he was a standout for the Florida State Seminoles. There wasn't a huge amount of overlap in their NFL careers — Jackson's ended with a hip injury in 1991, while Sanders only debuted in 1989 — but they did cross paths in college, and unfortunately for Sanders, Jackson wound up getting the better end of their on-field encounter.
Jackson and Sanders had a run-in during their college years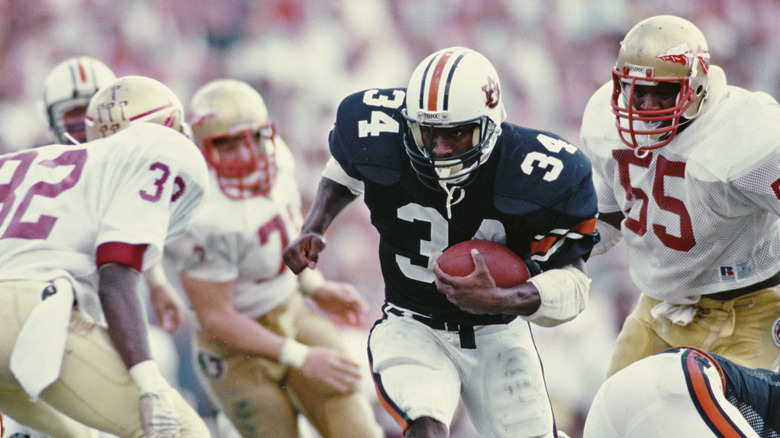 Getty Images/Getty Images
During the 1985 college football season, the matchup between the Auburn Tigers and Florida State Seminoles was a game that most fans probably had circled on their calendars. It pitted Auburn, who at that point in the season was ranked No. 1 in the nation, hosting the Seminoles, who came in ranked No. 4, per Fanbuzz. Auburn was coming off a loss the week before and was looking to avenge themselves against the Seminoles.
While it was expected to be a close game, it wasn't. At all. Auburn leveled Florida State in a lopsided affair, by a score of 59-29 in front of a very pleased home crowd, per Sports Reference. However, the game is perhaps best remembered for a stiff-arm Jackson planted on Deion Sanders.
Auburn had the ball on the Florida State 35 yard line. After the snap, Tigers quarterback Pat Washington tossed the ball back to Jackson, who cut sharply to the left, dodging a tackle in the process. He rushed to outflank his offensive line. He planted one Florida State player before turning up field for a run-in with Deion Sanders.
Jackson's brutal stiff-arm on Sanders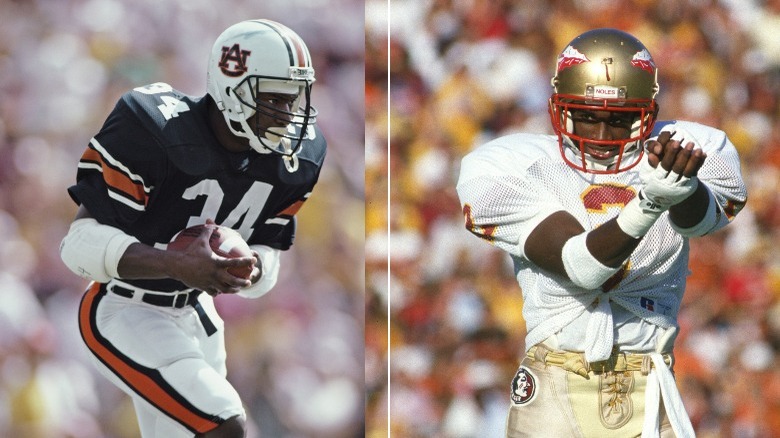 Getty Images & Focus On Sport/Getty & undefined
As Sanders neared the Florida State 15 yard line, he ran directly into Deion Sanders' sights. Sanders angled himself in an attempt to cut off the hard-charging Jackson (the evidence is on YouTube). He got close enough to Jackson to attempt a tackle but all he got in return was a vicious stiff-arm to the face that sent him tumbling to the turf at the 10-yard line. Jackson broke one final tackle inside the 5-yard line before diving into the endzone with a Seminole defender still clinging to his legs.
Sanders discussed the incident in a 2014 interview with Fox Sports (also posted on YouTube) in which he made sure to remind everyone watching that he was indeed a freshman when this whole thing happened. Sanders mentioned that he was "enamored" with watching Jackson play back then. Sanders recalled that since he was the left cornerback on that play, he had to run the entire way across the field in order to try to stop Jackson. But once he got there, Jackson had other plans.
Sanders didn't seem to hold any grudges over the incident, even indicating that it taught him a thing or two. "That's why I'm a man," Sanders said.