How A Saudi Arabian Man's Health Turned Into A Royal Intervention
At 1,345 pounds, Khalid bin Mohsen Shaari was among the heaviest people to ever live, according to VNExpress. At his heaviest, by the time he was in his teens or 20s, Shaari weighed more than the other largest person alive, Manuel Uribe of Mexico. Shaari was never officially recognized for his weight, while Uribe was in the Guinness World Records in 2006. However, Shaari now has an improved quality of life after significant weight loss and physical therapy, thanks to some major help from Saudi Arabian royalty.
According to CNN, Shaari's story was shared with the world when he was just a young man, between the ages of 18 and 20 years old. He lived in Jazan, Saudi Arabia, and for a long time, Shaari's weight caused him health issues and social isolation. By 2012, his health problems were becoming critical. 
Shaari appeared on television to ask for help. By that point, he weighed 1,345 pounds, and was no longer able to walk or get around on his own (via CNN). His legs were swollen, he was diagnosed with diabetes, and had issues with his lungs and heart as well.
Shaari recieves a 'humanitarian gesture' from the King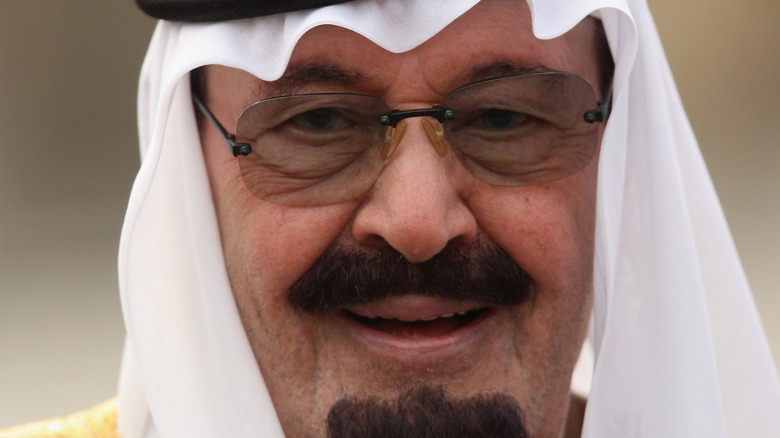 Sean Gallup/Getty Images
Shaari also had a poor quality of life before starting treatment, per CNN. He hadn't been able to leave his bed or home in three years (per NY Daily News). But that all changed when King Abdullah of Saudi Arabia heard about Shaari's health problems. The King decided to give him all the assistance he needed in a "humanitarian gesture."
In fact, in order to leave his home to get treatment, Shaari first needed a hand from a demolition crew, who the King ordered to destroy part of Shaari's house. After knocking down some of the structure, the Saudi Civil Defense crew placed Shaari on a custom-built bed, then used a forklift to lift the young man down to the ground. From there, he was flown to a hospital in Riyadh. Starting in August of 2013, Shaari received healthcare in the hospital.
Per CNN, as Shaari worked with a team of doctors, he received a customized wheelchair to make it easier for him to get around. This was a big help for his physical therapy, too.
Where is Shaari today?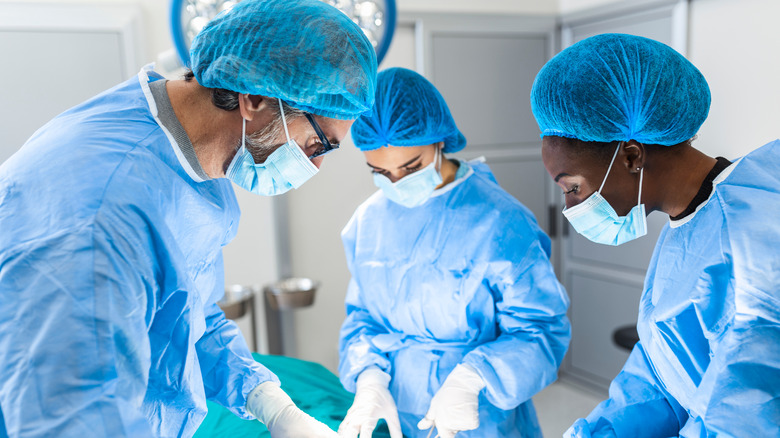 Photoroyalty/Shutterstock
NY Daily News reports that Shaari underwent bariatric surgery in 2013, and this helped him lose more than half of his body weight. CNN reports that Shaari began to sit up with the help of a mechanical pulley, and was in much improved spirits. His mother stayed with him at the hospital during his surgeries and physical therapy sessions, and doctors gave him the nickname of "the smiling man" due to his cheerful demeanor.
Per NY Daily News, his heart, muscles, and lungs have all greatly improved since he began treatment. The Deccan Chronicle reports that Shaari's doctors reported improvements in his physical and mental health. 
The Sun reports that by 2016, Shaari was able to walk again for the first time in years with the assistance of a Zimmer frame. Then, in 2018, he underwent more surgery to remove some of his excess skin. As of 2021, Shaari was 29 years old, and had lost even more weight. Nearly a decade after his original televised plea for help, Shaari's doctors recently shared a photo of himself in which he weighs just 140 pounds.