The Song Paul McCartney Wrote On The Spot After Being Challenged By Dustin Hoffman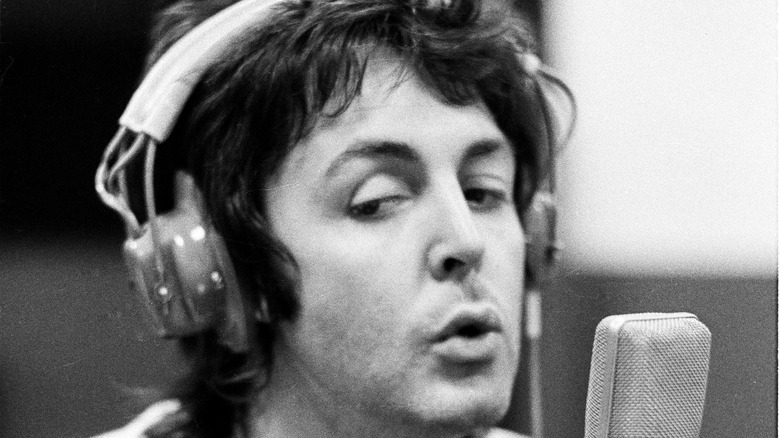 Michael Putland/Getty Images
2022 marks 59 years since The Beatles released their debut album "Please Please Me" in 1963. However, that was not just the album that introduced the world to The Beatles, but also the album that introduced the world to the songwriting of John Lennon and Paul McCartney. While George Harrison and Ringo Starr also wrote songs for The Beatles such as "Something" and "Octopus's Garden" respectively, Lennon and McCartney are credited as the writers for around 200 songs. Both went on to write their own music as solo artists after the band split in 1970.
Over the course of his career, McCartney has become just as influential in songwriting as in other aspects of the music industry. Fellow Brit Harry Styles referred to McCartney as his biggest songwriting influence, and the former Beatle recently discussed his songwriting and upcoming "McCartney III" album with Taylor Swift when she interviewed him in 2020. McCartney once put his songwriting to the test after taking some inspiration from Pablo Picasso and Dustin Hoffman.
Dustin Hoffman and Paul McCartney met in Jamaica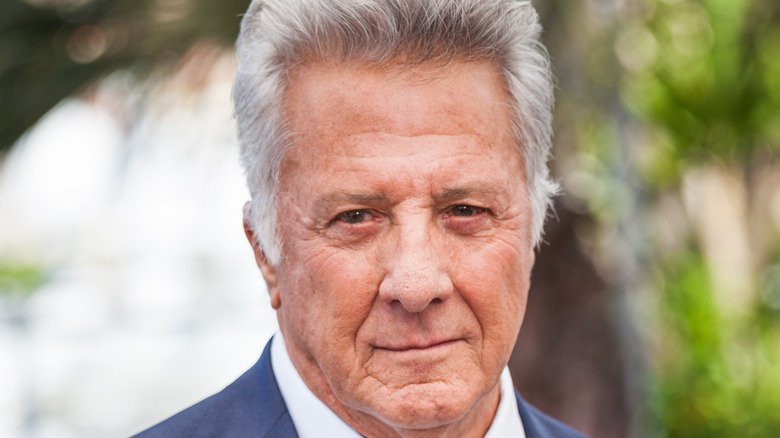 taniavolobueva/Shutterstock
Dustin Hoffman made a name for himself in films like "The Graduate" and "Midnight Cowboy." In 1973, Hoffman was filming "Papillion" in Jamaica when Paul McCartney happened to be on the island as well. As the two spent time together there, Hoffman asked him, "How do you write songs? Can you write them about anything?" McCartney did not offer much of an answer. There was a magazine featuring the news of famed painter Pablo Picasso's death and his last words, which were "Drink to me. Drink to my health. You know I can't drink anymore." Hoffman pointed out that phrase to McCartney and said, "Try this." Within a few minutes, McCartney thought up a few song lyrics based on Picasso's last words in front of a shocked yet thrilled Hoffman (per Far Out).
The song "Picasso's Last Words (Drink To Me)" ended up on the 1973 album "Band on the Run" that McCartney released with his band Wings. The album went triple platinum in the United States and won a Grammy. 
Dustin Hoffman was blown away by Paul McCartney's writing skills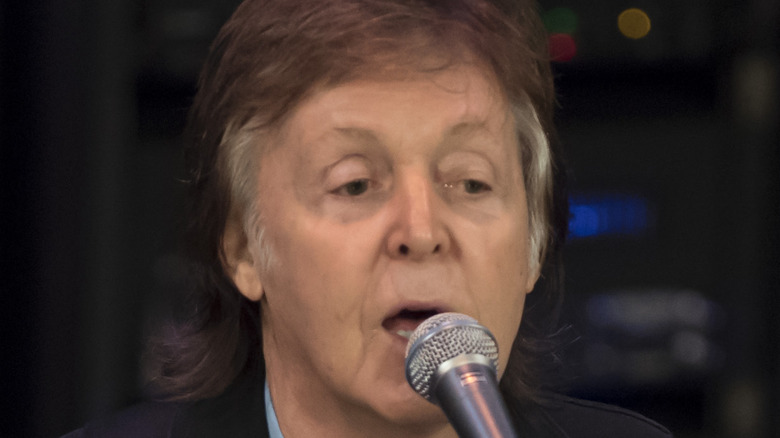 James D. Morgan/Getty Images
In the documentary "Paul McCartney — Wingspan — An Intimate Portrait," Paul McCartney recalled the time spent with Dustin Hoffman that day in 1973. When he began to write a song per Hoffman's challenge, Hoffman exclaimed, "He's doing it! He's doing it!" McCartney explained that songwriting just came naturally to him, but Hoffman was "blown away by it." When it came time to record the official version of "Picasso's Last Words (Drink To Me)," McCartney kept the song somewhat jumbled on purpose in order to reflect the cubism of some of Pablo Picasso's paintings (via The Paul McCartney Project).
Though it is difficult to force art, apparently McCartney can. "Picasso's Last Words (Drink To Me) proves that and also proves that inspiration can come from unexpected places. Perhaps McCartney also has some similarities with Picasso. McCartney has more than dabbled in painting as well. The Robert Kidd Gallery shows that McCartney has painted landscapes, abstract people, and the cover for his album "Egypt Station," which hit No. 1 on the Billboard album charts upon its release in 2018.