Here's Where New Jersey Gamblers Are Probably Spending The Most Money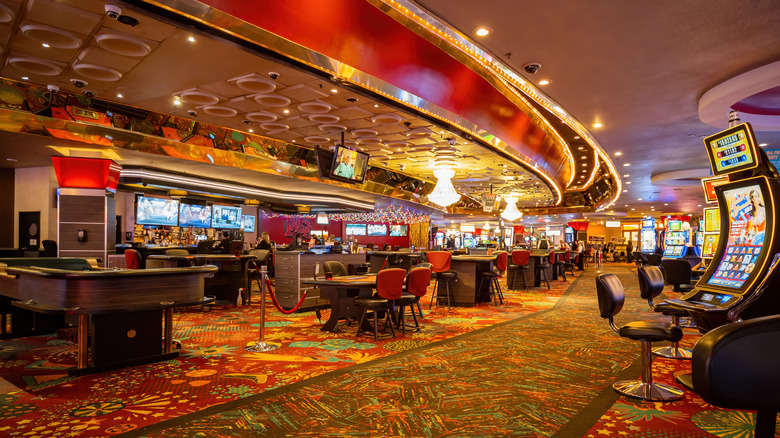 Kit Leong/Shutterstock
After more than two years at home, some Americans are ready to travel. As of spring, 2022, short-term rental data site AirDNA reports bookings up 26% over pre-pandemic levels, according to Reuters. Those numbers were nearly double what short-term rental bookings same time last year. For vacationers who love to gamble, everyone's heard of Vegas destinations like Caesar's Palace, among other well-known spots on the Strip. Next to Nevada, though, there's New Jersey, home to Atlantic City, which is among the biggest gaming markets in the country, as the Library of Congress website notes.
In Atlantic City and elsewhere, Garden State resorts and casinos, in fact, grossed roughly $4.7 billion dollars in 2021 (per Statista), and it's possible that this number will be similar or even higher for 2022. More so than how much Jersey gamblers spend, though, we wondered which casino New Jersey visitors spend the most time in — and whether an Atlantic City spot might top that list. Based on data from Safegraph, Jersey's most visited casino is probably not where you might expect it. The results do make some sense, though, based on the type of betting that New Jersey gamblers most enjoy, per Sports Betting Dime.
More Jersey gamblers visit Meadowlands Racing & Entertainment than any other casino
According to Safegraph data, the most visited New Jersey casino in terms of foot traffic is Meadowlands Racing & Entertainment. While gathering these numbers, Safegraph defined a casino visit as any stay lasting more than four minutes. The Meadlowlands leads other Jersey spots by a fairly wide margin, with visit spikes around the 2022 holidays and again in April and June. Notably, the Meadowlands is not in America's Playground at all — as Atlantic City is sometimes called — but in East Rutherford, just a short drive from New York City (per Trippy). 
With strong transit infrastructure from New York to East Rutherford, where the NFL's New York Giants and New York Jets play at MetLife Stadium and as part of the Meadowlands sports complex, day-trippers to the site may account for the lead it has in terms of visitors over its next closest rival, the Atlantic City Borgata Hotel Casino & Spa. Speaking of football, the kind of betting and gaming the Meadowlands is most known for could account for those Safegraph results, even when it's not an NFL game day. 
According to Sports Betting Dime, New Jersey is America's most well-known destination for sports betting, with some $1.8 billion in gross revenue in sports gaming reported since 2018, and $815 million grossed in sports gaming in 2021 alone. On that note, the Meadowlands is home not just to football but also to horse racing, as the Best of New Jersey website explains.