Carol Burnett Appeared In The First Episode Of A Long-Running Children's Show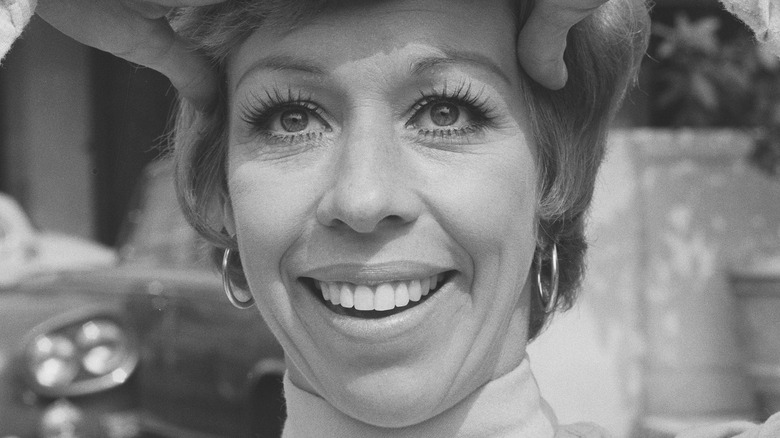 Evening Standard/Getty Images
Rounding the corner on its sixth and final season, the AMC TV series "Better Call Saul" announced a perhaps unexpected guest star for its final few episodes: the acclaimed actress and comedian Carol Burnett (via IMDb). "Saul" is the "Breaking Bad" prequel/spinoff about criminal lawyer Jimmy McGill, before he became Saul Goodman. Entertainment Weekly reports that Burnett, known for her lovable and zany antics on "The Carol Burnett Show," among other roles in her long career, will play a character known as Marion (per IMDb).
At first, the criminal underworld of "Better Call Saul," set in New Mexico — and "Breaking Bad," for that matter, of which Burnett admits she's a fan (via EW) — might seem like a strange fit for the Emmy Award-winning star. And that's especially true considering that Burnett helped make history in 1969 by appearing on the first episode of what became a long-running kids' show, some two years after her hit TV comedy "The Carol Burnett Show" premiered, according to Britannica.
Burnett has range as a performer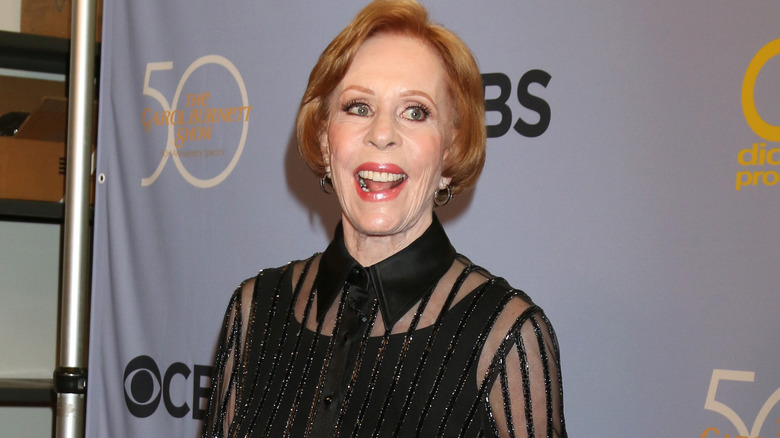 Kathy Hutchins/Shutterstock
Though known for comedy, Burnett is no stranger to dramatic parts. In addition to her work on "The Carol Burnett Show," the Golden Globe-winning actress has appeared on decidedly unfunny TV shows like "Law & Order: Special Victims Unit," and in 1979, she played the mother of a soldier killed in action in the made-for-TV movie "Friendly Fire" (via IMDb).
In 1969, though, the Texas-born actress was known for comedy, based on her star-making turn on the TV variety and sketch comedy show that shared her name and for which she won the "Best TV Star — Female" Golden Globe in 1968. Possibly because of this, Burnett was selected to make an appearance in the first-ever episode of a long-running PBS children's series. And that long-running TV program, which is still on the air, is known for celebrity guest appearances to this day (per TV Guide).
Burnett was in the premiere episode of 'Sesame Street'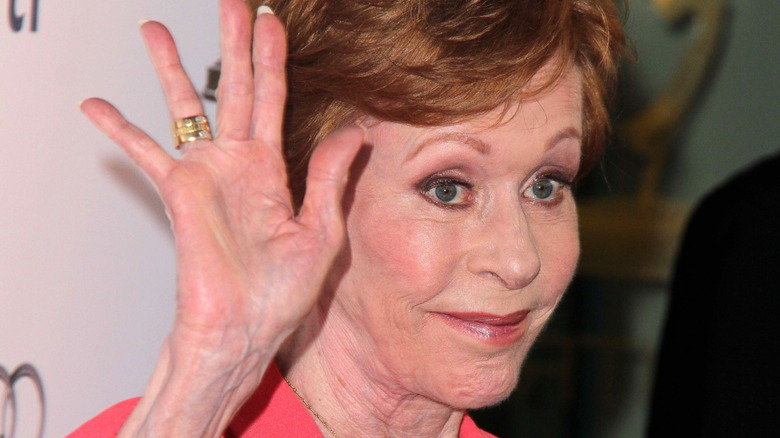 s_bukley/Shutterstock
Though she was just briefly on screen, in 1969 Carol Burnett appeared in the debut episode of "Sesame Street," as AP Entertainment reported in 2019 on the 50th anniversary of the beloved kid's show. Per that AP report, Burnett was seen on "Sesame Street" as she followed a witch named Wanda, a moment which, in true "Sesame Street" style, was used to teach kids all about the letter W. In the scene, Burnett said (via AP), "Wow, Wanda the Witch is weird," before Wanda the Witch disappeared. 
Remembering that "Sesame Street" appearance, Burnett later said (via AP), "I was a big fan. I would have done anything they wanted me to do ... I loved being exposed to all that goodness and humor." Something must have clicked; Burnett went on to make seven more "Sesame Street" appearances between 1969 and 1974 (per IMDb).
Of "Better Call Saul," which stars Bob Odenkirk as McGill, Burnett has said (via Entertainment Weekly) that she's a fan of whatever "Breaking Bad" and "Better Call Saul" showrunner Vince Gilligan writes. And on her upcoming guest spot, she noted in a statement (via EW), "I'm thrilled to be a part of my favorite show."