German Museum Münzkabinett Houses More Forms Of Currency That You Ever Knew Existed
Bukhta Yurii/Shutterstock
Coin collecting is a popular hobby. It's pretty straightforward in the sense that to participate, you simply need to collect coins. However, as CoinWeek notes, the simplicity ends when a collector decides what it is they're looking to collect. There's typically a goal, a set that the collector is looking to complete. That could mean that they are trying to specialize in collecting one specific type of currency, while others will try to add anything to their collection that appeals to them.
There's another subset of coin collectors who may not even call themselves coin collectors, but prefer to be called numismatists. Numismatists approach coins in a different way than collectors. They tend to focus more on the historic and cultural significance of currency.
Whichever camp someone falls into, there's little doubt that they could spend hours with their faces pressed up against the glass at the Münzkabinett, one of Germany's oldest museums which houses more than five centuries' worth of currency (via Atlas Obscura).
The Münzkabinett has been around a long, long time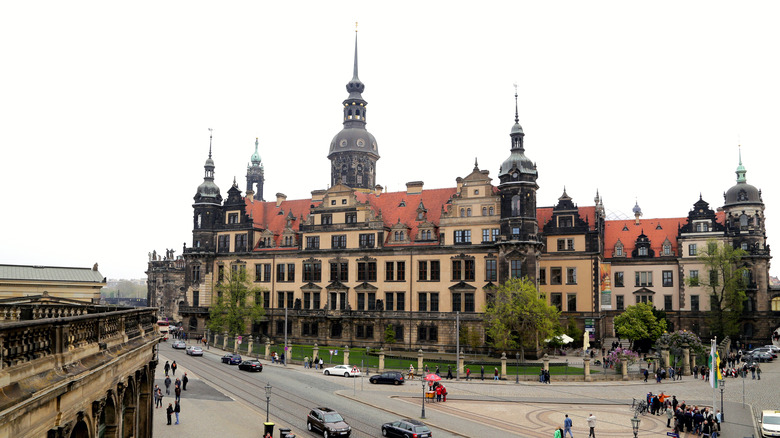 Athanasios Gioumpasis/Getty Images
According to Atlas Obscura, coin collecting has been around for a long time. Of course, for some, the goal was simply to accumulate as much wealth as they could, but others collected coins because they had a deep appreciation for the artwork that was featured on them. In the years after the Renaissance, the typical practice was for coin collections to be stored in wooden cabinets. The name cabinet has since stuck around, and some national coin collections to this day are still called cabinets.
The Münzkabinett in Dresden — also known as the Coin Cabinet of Dresden —dates back to the 16th century. It is currently kept in the Dresden Residenzschloss, or Royal Palace, where it has been located for most of its history, with some exceptions. In the 18th and 19th centuries, the collection bounced around to several different palaces, but its most notable relocation happened just after World War II. The Trophy Commission of the Red Army took the collection with them back to Moscow, where it stayed until 1958. However, books and magazines which had also been taken along with the collection were not returned,
Even early in its existence, the Münzkabinett gained a reputation for being the most famous institution of its kind in Europe, and was even considered to be a central location for German scientific research.
What is in the collection?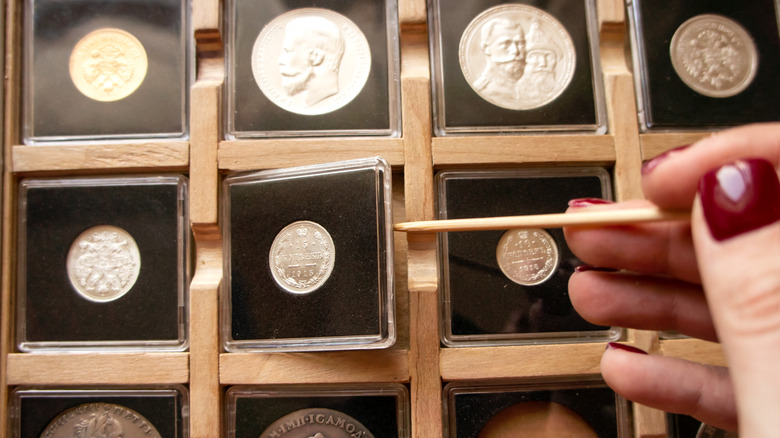 Linguist/Shutterstock
Dresden's Münzkabinett houses more than 300,00 artifacts. According to Atlas Obscura, the portion of the museum that is open to the general public contains all kinds of currency-related items like coins, banknotes, counterfeit coins and banknotes, primitive forms of money that pre-date coins, and even equipment used by ancient Greeks and Romans to mint their coins. The museum's collection has the potential to grow because the institution has been legally permitted to claim any coins excavated from sites on former Saxon territory.
The museum also hosts exhibits designed to teach visitors about how money is made and how currency systems work. There are  other components to the Münzkabinett that aren't open to the public, too: onsite research facilities, as well as an array of other artifacts not currently on display.
While impressive, Dresden's ​​Münzkabinett isn't even the biggest one in Germany. The ​​Münzkabinett in Berlin is regarded as one of the largest collections in the world with over half a million objects in its possession (via Staatliche Museen zu Berlin).