Who Created The Little Miss Characters?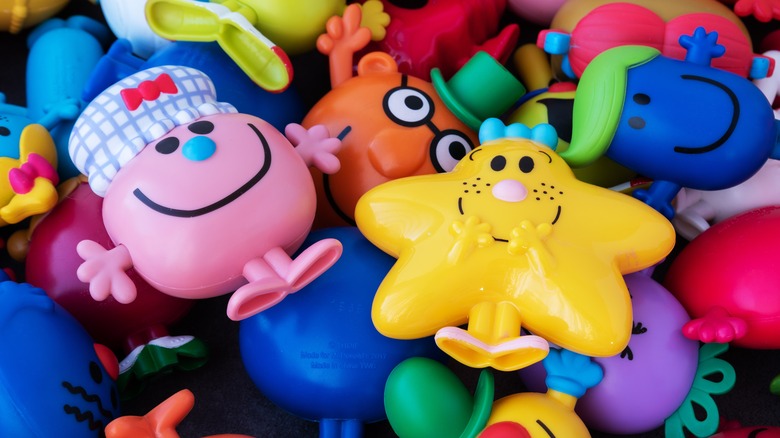 Ana Belen Garcia Sanchez/Shutterstock
The Little Miss characters totally infiltrated social media in summer 2022, as brands and individuals alike post shareable memes of the cute round characters (via Today). Endlessly customizable, the brightly-colored characters in the memes have been plastered everywhere online lately, encouraging users to share them with their friends. If you have no idea who the Little Miss characters are, you aren't alone — here's where they originated from.
Artist Roger Hargreaves created the ubiquitous Little Miss characters in 1971, and nearly a century later, they have come into popular culture relevance once again (via Mr. Men Little Miss). Hargreaves loved drawing even from a young age, and he turned his creativity into a career as a copywriter by the 1950s. As a father to several young kids, Hargreaves often thought about writing a children's book, complete with his own drawings. 
His own child, Adam, ended up inspiring Hargreaves. The 8 year old asked what a tickle looked like, which sparked Hargreaves to draw up the answer to his son's question, reports The New York Times. Hargreaves didn't stop at just drawing the tickle character. He would go on to create 43 Mr. Men characters and 21 Little Miss characters.
The characters exploded in popularity in the 1970s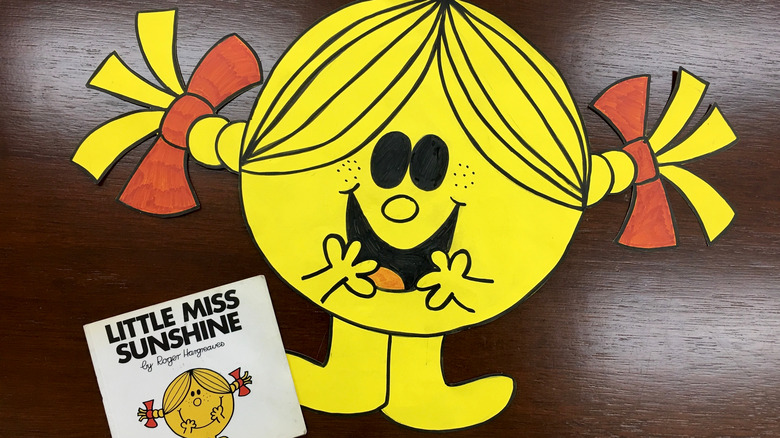 Tania0378/Shutterstock
Great British Life reports that "Mr. Tickle" was Roger Hargreaves' first book in the series, and he penned five more in the following years. Adam revealed in an interview that his dad wrote the books very fast, often in a single day, and he wanted them to take just five minutes to read, since he created "bedtime stories for weary daddies." Mr. Men Little Miss reports that the 1971 book was a smash hit, selling one million copies in the first three years of publication. 
In the 1970s, Hargreaves agreed to license the characters, per Great British Life. The colorful blobs were soon featured on everything from baby bibs to adult footwear. And in 1974, Hargreaves brought his characters to the small screen with a television show — the colorful gang lived in Misterland, and had two seasons' worth of adventures (via IMDb). They then appeared in British newspaper comic strips, and in 1979, an album called "Mr. Men Songs" was released as well. 
By the 1980s, you could spot the Little Miss and Mr. Men on Glasgow's red double-decker busses. And Hargreaves was once again inspired by his family when he drew the Little Miss Twins in 1984, after his own twin daughters Sophie and Amelia.
Per The New York Times, the creation of the Little Miss and Mr. characters didn't stop after Roger Hargreaves tragically died of a stroke in 1988. Instead, the drawings remained a family business. 
Adam Hargreaves continues the Mr. Men and Little Miss legacy
Lenscap Photography/Shutterstock
Adam Hargreaves, who gave his father the idea in the first place, kept the beloved characters going, per The New York Times. He has since created over a dozen new characters, and Adam wrote 150 books in 17 languages that are read across the globe. According to Great British Life, by 2010, more than 100 million copies of the Little Miss and Mr. Men series had been sold.
According to Mr. Men Little Miss, there are now a bevy of quirky characters, like Little Miss Scatterbrain, Mr. Sneeze, Little Miss Wise, and Mr. Noisy, just to name a few. In 2011, the character Little Miss Princess was drawn up in time for the royal wedding of Princess Kate and Prince William; the next year, a new character named Little Miss Stella was featured in a Stella McCartney fashion show. Then, the characters starred in London subway ads and stamps in 2016. After collaborating with more celebrities — the Spice Girls got their own Little Miss characters — the Mr. Men and Little Miss drawings turned 50 years old.
Today reports that the characters have made yet another comeback with the newest social media trend. People can tailor the simplistic character traits to make their own highly specific memes, like "Little Miss Scalding Hot Showers," "Mr. Receding Hairline," or "Little Miss Can't Be Wrong." They continue to live on after 50 years, introducing the newest generations to the characters.