Nichelle Nichols' Fame As Star Trek's Uhura Was Strangely Tied To Martin Luther King Jr.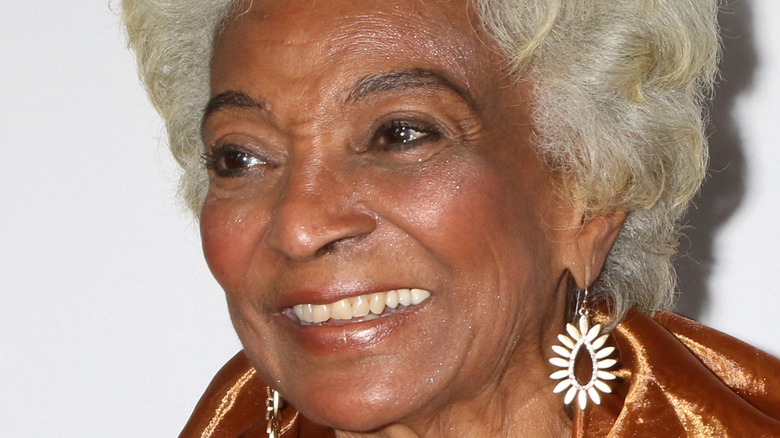 Joe Seer/Shutterstock
The 1960s saw many firsts, such as the first moon landing. However, while the Apollo 11 astronauts were making giant leaps for mankind, some people back on Earth were making giant leaps for racial equality. For example, in 1966, Edward W. Brooke was the first popularly elected African American senator to serve in Congress. In 1968, Arthur Ashe was the first African American tennis player to win a Grand Slam tournament. Pop culture saw giant leaps as well.
Nichelle Nichols busted down barriers as a Black actress in the 1960s. Though she was not the first Black woman to appear on a television show, many refer to her role of Lieutenant Nyota Uhura on "Star Trek" as the first time a Black woman played a character with power and influence over a show's plot rather than a supporting or even stereotypical character. She was also part of one of the first interracial kisses on television when she kissed William Shatner's character, Captain Kirk (via CNN).
Dr. Martin Luther King, Jr. was a 'Star Trek' fan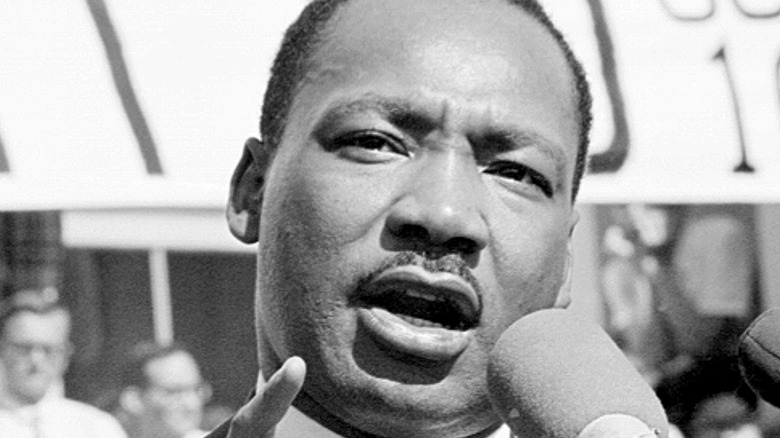 Michael Ochs Archives/Getty Images
Nichelle Nichols' character, Lieutenant Nyota Uhura, was a communications officer for the main team in the original "Star Trek" television series (via Deadline). She reprised the role for the multiple "Star Trek" films that followed the series as well (via IMDb). Uhura was an officer, not a stereotypical maid or background character. This struck a chord with future actress Whoopi Goldberg who excitedly watched the show as a child, according to Screen Rant. Uhura also struck a chord with civil rights leader Dr. Martin Luther King, Jr.
Nichols explained to NPR that she intended to begin a career in theater, especially on Broadway. "Star Trek" opened up such options for her. Therefore, she planned on leaving "Star Trek" after its first season. That's when she met Dr. King, introduced to her simply as a "Star Trek" fan. She thanked him for his kind words regarding her character "reflecting what we are fighting for," before mentioning that she would miss her costars. Dr. King was shocked at this statement.
Nichelle Nichols became a NASA spokesperson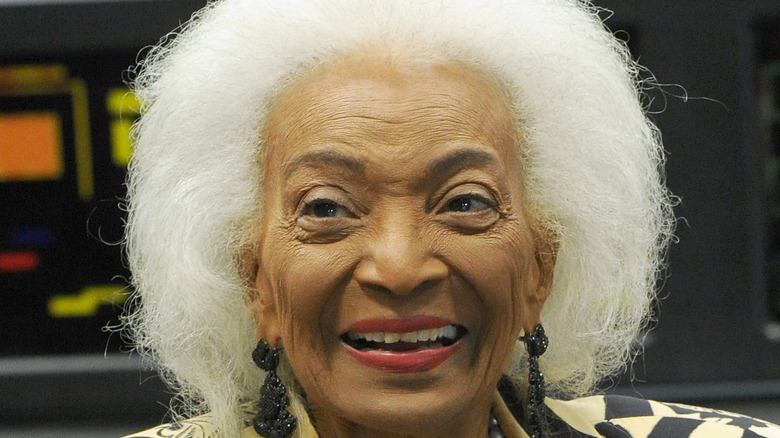 Albert L. Ortega/Getty Images
Upon hearing Nichelle Nichols' intention to leave "Star Trek," Dr. Martin Luther King, Jr. explained to her his personal connection to the show (via NPR). "For the first time, we are being seen the world over as we should be seen. ... Do you understand that this is the only show that my wife Coretta and I will allow our little children to stay up and watch?" Dr. King inquired. Putting Broadway dreams aside may sound unfortunate, but Nichols later stated that she knew she "made the right decision" to stay on the show, per NPR.
Deadline explains that Nichols did go on to act in theater productions and plenty of other film and television roles, but she also went on to work for a space exploration company in real life. She became a spokesperson for NASA to help promote diversity. Dr. Mae Jemison was the first Black woman to fly on the Space Shuttle, and "Star Trek" served as inspiration for her future career (via Duke Today). Nichols proves that inclusion even in works of fiction translates into the real world.