The Real Reason NASA-Branded Clothes Are Everywhere Now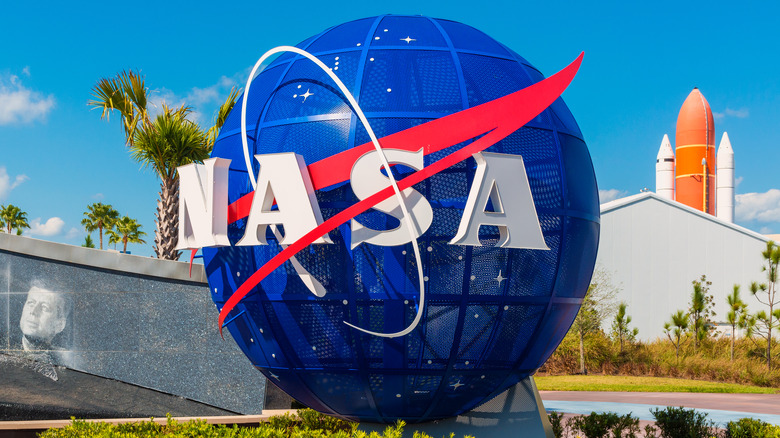 Allard One/Shutterstock
National Aeronautics and Space Administration (NASA) is famous for its ambitious space exploration programs and moon landing missions. Its telescopes offer a stunning glimpse of the universe from time to time. From sharing fascinating images of Mars to breathtaking views of the deepest universe, NASA has been captivating people all over the world for more than six decades.
Despite being a U.S. government agency, NASA is a brand in itself. The Space Shop at Kennedy Space Center is a hub for stellar souvenirs, space memorabilia, and NASA gear. No wonder some space enthusiasts want to experience and own a piece of everything "out of this world."
Gucci's double G, the LV monogram, Hermes' horse-drawn carriage, and Chanel's interlocking C are some of the world's most iconic and desired fashion logos. However, NASA's famous insignia (nicknamed the meatball logo) and logotype (nicknamed the worm logo) are often the logos of choice for fashionistas, including celebrities like Chris Evans and Ariana Grande, and famous fashion brands like H&M and Tom Sachs.
Fashion Emblem With A Broad Appeal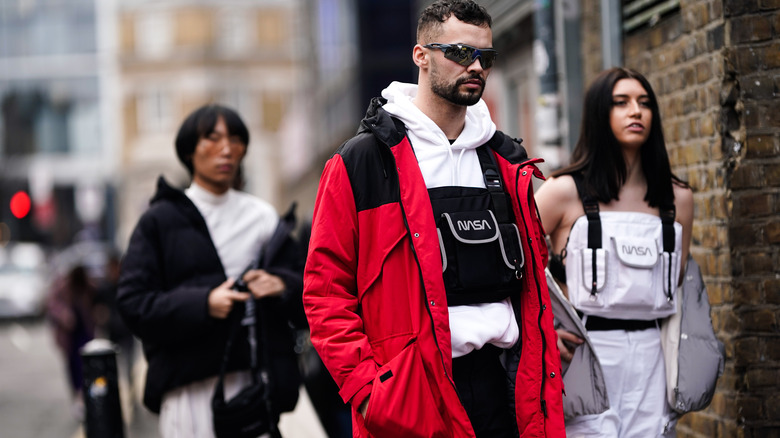 Edward Berthelot/Getty Images
Designed by James Modarelli when NASA was founded in 1959, the revered round red, white, and blue meatball logo represents the planet, stars, and orbit (via NASA). It was eclipsed by the worm logo in 1975, which developed a cult following before the meatball kicked it aside in 1992. Today, both logos are in the fashion orbit and are widely used on backpacks, t-shirts, shoes, hoodies, hats, and handbags sold at Target, Walmart, and Urban Outfitters (via The Hustle).
Consortium NYC's creative director Jahn Hall told CNN, "The folks who work for brands like Heron Preston and Balenciaga are as enamored by the fantasy of space travel as anyone else ... Not everyone may connect with either Heron Preston or Target, but everyone gets the modern Americana of brands like NASA, Disney, Peanuts, and The Simpsons. Things like NASA sort of act like this magic equalizer."
Prior to 2016, NASA only allowed brands to use the meatball logo. But, according to collectSPACE, after fashion designer Vivienne Tam used the worm logo in her Spring/Summer 2017 collection and luxury fashion brand Coach incorporated it into haute couture handbags, the demand for the latter skyrocketed. "Before 2017, we did five or 10 logo approvals a week. It's now come to the point that we get out on average 225 a week," Bert Ulrich, NASA's multimedia liaison who oversees the use of NASA logos in films, apparel, and souvenirs, told CNN. "Last year, there were over 11,000 requests — an all-time high."
The Logos Are Free, Conditions Apply Though
Why are the companies interested in patching NASA logos on everything? Because they don't have to license the logos — they are free to use them (via NASA). To put the retro meatball logo or the cool worm logo on their products, they submit their designs via an email to NASA's multimedia division for approval. While brands make millions, NASA doesn't make a cent off merchandise bearing its stylish logos because it is a government agency.
Can anyone use the iconic logos? Anyone, if they adhere to NASA guidelines. For example, NASA logos cannot be pictured together. Also, NASA logos cannot be used alongside other brand logos. The space agency avoids cosmetics, underwear, and alcohol products with NASA logos. Moreover, NASA may send cease-and-desist letters to companies that misuse the logos. "It's just a question of how we're perceived and how it represents us," said Ulrich, per Los Angeles Times.