The Sad Truth About The First Place Albert Woodfox Visited After His Prison Release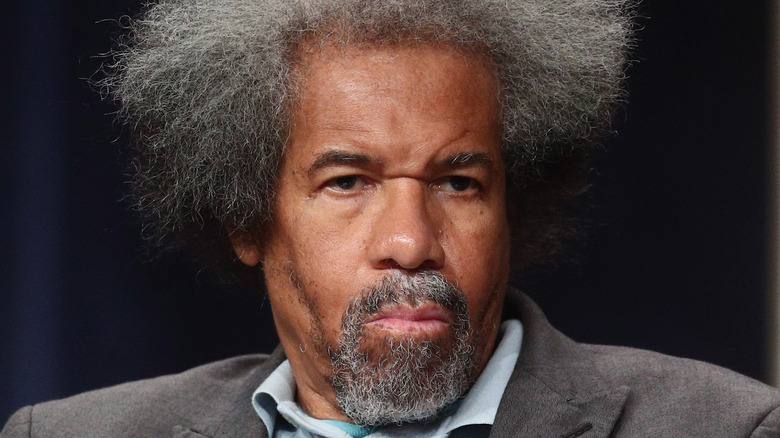 Frederick M. Brown/Getty Images
Albert Woodfox, a former inmate at the Louisiana State Penitentiary which is also known as "Angola," died August 4, 2022 at the age of 75 from complications related to COVID-19, as reported by The Guardian. One of the so-called Angola 3, Woodfox was wrongfully convicted in the 1972 of killing prison guard Brent Miller. Though he maintained his innocence, Woodfox spent 43 years in solitary confinement for the crime. After his conviction was overturned, Woodfox pleaded no contest to lesser charges and, in 2016, he was released from prison, as the AP reports. The first place Woodfox chose visit once he was freed adds a touching coda to his story.
The penitentiary where Woodfox spent more than four decades confined in isolation is known as Angola Prison because that was the name of a former plantation that was once located on the site that was worked by African slaves who were largely taken from the South African country of the same name. Prior to Miller's death, Woodfox and the other two inmates who would come to be known as the Angola 3 tried to form a branch of the Black Panther Party within the Louisiana penitentiary where they were inmates. That move was made in protest of what was in their view the racially-motivated mistreatment of prisoners, as NPR notes. For this reason, the harsh sentences levied on the Angola 3 were seen by humanitarian observers as politically and racially motivated and therefore unjust.
Woodfox spent 23 hours a day in a 54 square-foot cell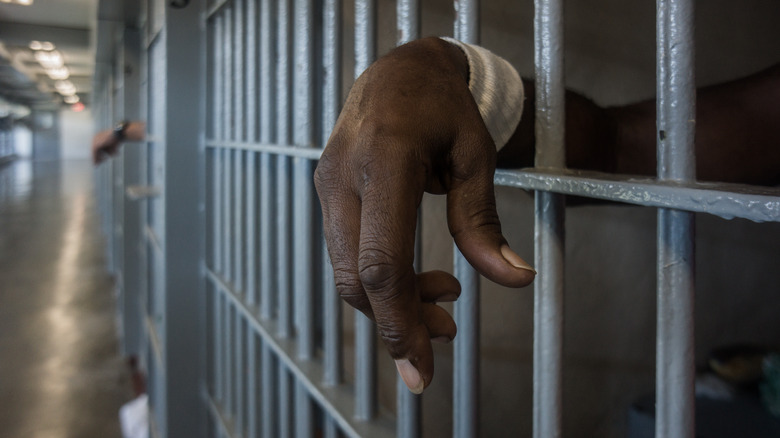 Giles Clarke/Getty Images
As the AP goes on to note, throughout Woodfox's 43 years in isolation he was only allowed to emerge for an hour a day from a six-by-nine-foot jail cell, or 54 square feet in total. As Woodfox revealed in his 2021 memoir, "Solitary," he was also reportedly beaten and gassed during the time he spent imprisoned at Angola. He also lived with frequent and severe bouts of claustrophobia with symptoms that were only worsened by the conditions. Throughout the 43 years spent he spent in solitary confinement, Woodfox later said that he maintained his composure through education and whatever contact he managed to have with fellow inmates. 
During that time, Woodfox's political activism also never wavered. In 2019, he recalled to NPR the horrific conditions he lived in while at Angola, such as the time he spent shackled in a place that he referred to as a dungeon (via NPR). Given the specifics of the Angola 3 case, Amnesty International and other humanitarian organizations advocated for Woodfox's release and that of the other two Angola 3 inmates. Before Woodfox' was freed, though, a tragic development in his private life led him to request an exception to the terms of his imprisonment. That request was denied which influenced the first place Woodfox decided to visit when he was a free man.
Woodfox visited his mother gravesite
Frederick M. Brown/Getty Images
While still in solitary confinement, Woodfox received word that his mother died and requested permission to attend her funeral. However, that request was denied, as the AP explains. Because of this, when Woodfox was freed, his mother's gravesite was the first place he chose to visit. Shortly after his release, Woodfox recalled this time period to Renée Feltz on the independent news program, "Democracy Now!". On the show, Woodfox said that his family and friends tried to make arrangements for him to say goodbye to his mother and to his sister, who also died while he was behind bars.
Speaking with Feltz, Woodfox went on to add (via Democracy Now) "[F]or some years now, there has always been this emptiness when it came to my mom and my sister, because I never had a chance to say a final goodbye. And so, that's why it was important that one of my first acts of being free was to relieve that burden off of my soul." Though Woodfox pleaded no contest to the lesser charge of manslaughter, he admitted no guilt and he explained how that plea was the most direct route to secure his freedom, as the AP reports. Also according to the AP, Woodfox contracted the coronavirus in July, 2022 and was thought to have recovered before respiratory symptoms returned, complications from which contributed to his death.