Whatever Happened To The Lawyer Who Represented The Menendez Brothers?
The 1993 trial of Lyle and Erik Menendez for the brutal murder of their parents, José and Mary "Kitty" Menendez, dominated headlines and attracted millions of viewers to watch the televised court case. A central character on the defense team for the two brothers was Leslie Abramson, the charismatic, controversial, larger-than-life star attorney who fought vehemently for her two clients. Abramson claimed the murder of their parents was motivated by the Menendez brothers' childhood of physical and sexual abuse and therefore it was an act of self-defense (via Biography).
The parents of Erik and Lyle Menendez were shot to death in their Beverly Hills home in 1989. After two high-profile trials, the Menendez brothers were convicted of first-degree murder in 1996. With no chance for parole, the brothers remain in prison to this day. With the Menendez story trending on TikTok, the 2022 documentary "Menendez Brothers: Misjudged?" revisits the Menendez brothers' trial, as well as Abramson's version of events. The documentary examines whether Abramson was right, that after a long history of abuse, the Menendez brothers were in fact acting in self-defense when they killed their parents (per TV Insider).
If you or someone you know may be the victim of child abuse, please contact the Childhelp National Child Abuse Hotline at 1-800-4-A-Child (1-800-422-4453) or contact their live chat services.
The Menendez brothers were tried twice
After the first Menendez brothers' trial ended in two hung juries — each unable to reach a conclusion if the case that Leslie Abramson laid out was in fact the true version of events or if instead, the Menendez brothers did kill their parents for financial gain — the brothers were again put on trial in 1995. After this trial, they were convicted and sentenced to life without parole. The second Menendez trial was a closed-door affair, in an effort made to calm the sensationalist nature and media scrutiny of the first two court proceedings, one trial for each brother, as Biography goes on to note.
Based on 1996 reporting from The Washington Post, Abramson's contribution to each Menendez brother trial was not without controversy. She allegedly asked a forensic psychiatrist to alter his notes to support her narrative of a home life filled with domestic abuse. As a consequence, Abramson was allowed to remain on the case, but could no longer argue for her clients in the courtroom. At the conclusion of the trial, Abramson claimed the psychiatrist lied and that she never asked him to rewrite his notes. At the trial, Abramson's allegations of abuse were corroborated by a cousin of the brothers, based on reporting by ABC News.
Abramson was cleared of ethics violations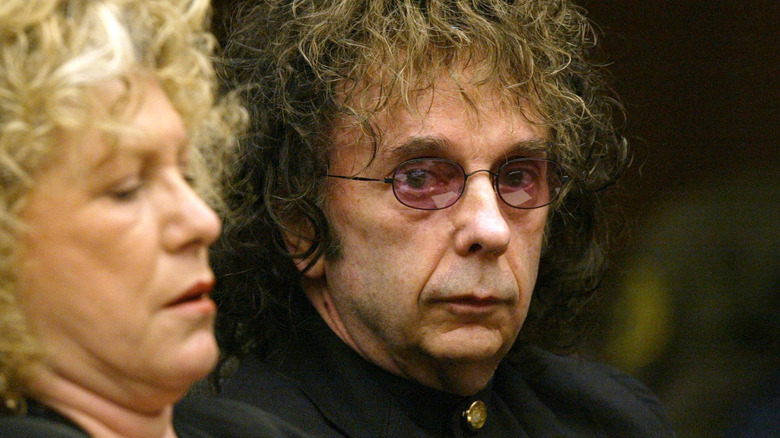 Pool/Getty Images
Based on a New York Times report from 1997, after the Menendez brothers' conviction and sentencing — a ruling that Leslie Abramson called (via Town & Country) "exceedingly cruel and heartless" — Abramson was investigated for ethics violations related to the Menendez brothers' defense. After reviewing the details of the case, though, the Los Angeles County district attorney declined to investigate any further. After that time, Abramson remained in the spotlight. In 1997 she published a legal memoir "The Defense is Ready: Life in the Trenches of Criminal Law."
At that point, Abramson had already appeared in a 1993 Menendez brothers-themed "Saturday Night Live" sketch, which can be watched now on YouTube. In 2004, the celebrity defense attorney spent some time defending music producer Phil Spector (pictured above next to Abramson) in his murder trial but in her view, she was forced to resign, according to CBS News. Abramson is now retired, according to Town & Country. A trailer for Investigation Discovery's "Menendez Brothers: Misjudged?" is also available to watch now on YouTube.