Gabby Petito's Family Lawsuit Against The Utah Police Department Explained
On July 2, 2020, 21-year-old Gabby Petito posted a picture of her and her boyfriend, Brian Laundrie, on Instagram. Above the hashtag #sushionthebeach, she wrote, "Here's a picture from our first date because I have so much love for you. Brian asked me to marry him and I said yes! @bizarre_design_ you make life feel unreal, and everyday [sic] is such a dream with you."
A little over a year later on September 19, 2021, her body was found near an "undeveloped camping area" in northern Wyoming, as the BBC says. At that point, she'd been dead for three to four weeks already, strangled after having set out on a cross-country van trip with Laundrie. A month later in October, as CNN states, Laundrie was found dead in a Florida swamp with a self-inflicted gunshot wound to the head. He admitted to killing Gabby in a notebook discovered near his body, as Yahoo News explains.
Meanwhile, back at home, Gabby's mother watched her daughter sob in footage from a police video taken with a body cam. Moab, Utah police had pulled Gabby and Laundrie over the summer prior to her death and questioned the couple on the roadside in their van. At the time, Gabby described having had a physical conflict with Laundrie, but the police dismissed the incident and left the couple alone. These are the circumstances under which the Petito family brought up a lawsuit against the Utah police department. Something could have been done, they feel, to save their daughter's life. 
The classic hallmarks of an abused partner
NBC News goes into some heart-breaking details about when Utah police pulled over Gabby and Laundrie, which are at the core of the Petito family's lawsuit against the Utah police department. Prior to the couple being pulled over, a witness had called the police and reported seeing Laundrie "slapping" Gabby. When the police pulled the couple over, they did so for speeding as well as crossing the road's double yellow line and hitting a curb. 
Both officers on the scene — Eric Pratt and Daniel Robbins — interviewed the couple separately. Officer Robbins described observing cuts on Gabby's cheek and arm, and that she "displayed the classic hallmarks of an abused partner" by trying to take the blame for the incident, and saying that she'd struck Laundrie first. This means that the officers on the scene had to determine whether or not to cite Gabby, not Laundrie, with domestic violence. 
The article also contains the actual body cam footage from that encounter, dated August 12, 2021, with one officer trying to discern Gabby's intention in striking Laundrie. He asks her, "Were you attempting to cause him physical pain or physical impairment?" Gabby replies, "I was trying to get him to stop telling me to calm down," and then her face crumples up and she starts crying. Even so, the couple stated they didn't want to leave each other, and that they loved each other, which factored into the police letting them be.
Qualified immunity from wrongful death suits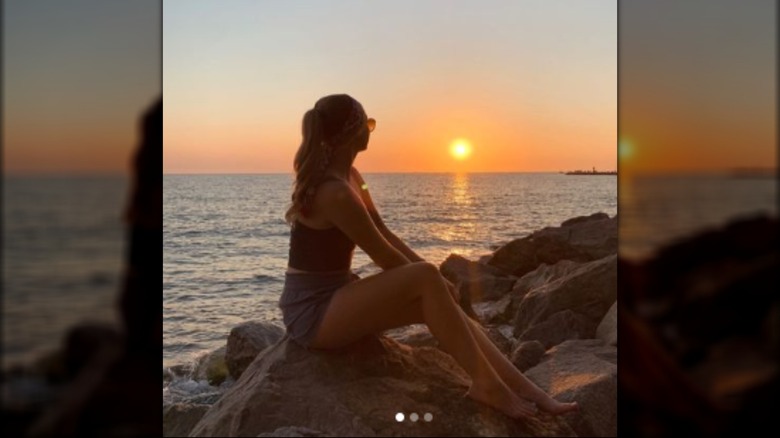 Instagram
It's easy in retrospect to see where things went wrong when Utah police pulled over Gabby and Laundrie, but it's doubtful that anyone involved could have foreseen that the absolute, worst-case scenario would happen. And yet, as NBC News says, an independent investigation into the incident found the police officers at fault, saying they made "several unintentional mistakes that stemmed from the fact that officers failed to cite Ms. Petito for domestic violence." Brandon Ratcliffe, captain of the Price City Police Department, also reviewed the incident report and said that it was "missing significant details." 
As of August 8, 2022, the Petito family has raised a $50 million wrongful death lawsuit against the Moah, Utah police department. Yahoo News quotes the Petito family lawyer, James McConkie, as saying, that "the officers fail to recognize the serious danger that she was in, and failed to investigate fully and properly," and, "They did not have the training that they needed to recognize the clear signs that were evident that morning, that Gabby was a victim and that she was in serious need of immediate help." 
The Petitos are impeded in their goals by a legal precedent called "qualified immunity," which was put into action in 2020 across a number of states, including Utah. This set of precedents protects officers from legal fallout regarding on-the-job decisions. The Petito family, in turn, has stated that qualified immunity to wrongful death claims is "unconstitutional and a roadblock to accountability."