All The Times Marshawn Lynch Has Gotten In Trouble With The Law While Driving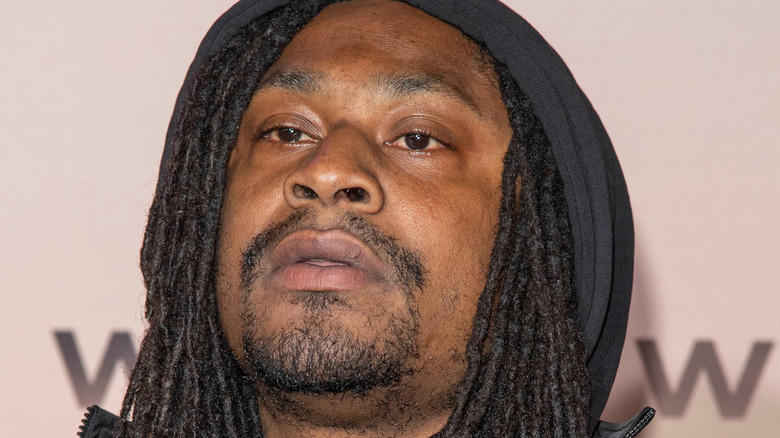 Eugene Powers/Shutterstock
Marshawn Lynch may do well on the field, but behind the wheel... that's another story. The former running back for the Seahawks, Raiders, and Bills has gotten numerous DUIs and has even had his license revoked on multiple occasions. In 2008, Lynch was driving his 2008 Porsche Cayenne SUV, when he hit a woman and drove away from the scene, according to ESPN. Apparently, at around three in the morning on June 27, 2008, he had been distracted by another woman dancing in the middle of the street in Buffalo, New York, when he hit his victim.
When the authorities came to Lynch's home to confiscate his vehicle, Lynch claimed that he had no idea that he had even hit anyone with the car, and said "It was raining real hard, there was a dancing pedestrian in the middle of the street... I slowed down to let her go and continued on my way home. I didn't know my car had hit anyone or anything" (via ESPN). Luckily, the woman only suffered minor injuries, including a bruised hips and some stitches. Lynch had his New York license revoked due to the accident after only having it for one day.
Pleading Guilty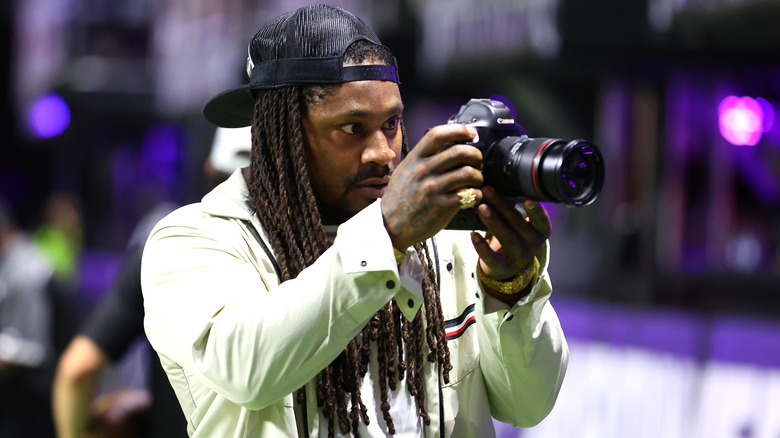 Casey Sykes/fan Controlled Football/Getty Images
In July, 2012, Marshawn Lynch had another run-in with the law when he was pulled over for drunk driving, and failed a sobriety test with a 0.8 blood-alcohol level, according to ESPN. Lynch was reportedly driving a Ford van in Oakland, California, where he was driving on Interstate 880 and nearly hit multiple vehicles, according to the officer who pulled him over. Lynch was arrested on July 27, 2012 for the incident, but pleaded guilty to reckless driving in 2014 (via ESPN).
Lynch was sentenced to two years of probation along with having to pay a fine. His attorney commented on the matter, saying "With the way the media is today, it would be tough for him to go through a trial like this... It was better to plead to the much lesser charge, which basically is an unsafe lane change." Lynch also had to attend classes that taught driving safety and proper alcohol consumption, according to ESPN.
Arrested Again!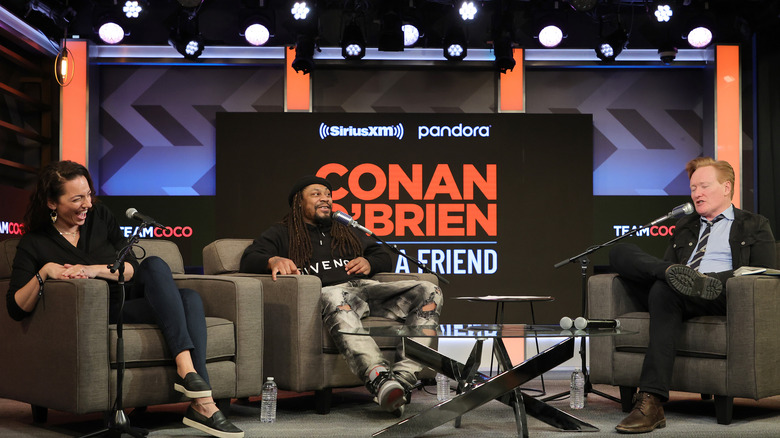 Cindy Ord/Getty Images
Marshawn Lynch retired from the NFL officially in 2019, but his run-ins with the law didn't stop with his football career. Lynch was arrested in the early morning on August 9th, 2022, on the Las Vegas Strip, for driving under the influence (via Yahoo! Sports). Reportedly, Lynch refused to take a breathalyzer test. The Las Vegas Metropolitan Police Department (LVMPD) tweeted about the incident, and also stated that Lynch had been sent to the Las Vegas City Jail.
Since his retirement from the NFL, Lynch now focuses on helping other athletes through brands like Beast Mode Marketing, which he founded (via The New York Times). Lynch also became the NFL Player Association's first chief brand ambassador, and helps provide financial advice for athletes. He also has stakes in other sports groups, such as the Seattle Kraken, an NHL team that he is a part owner of, and the Oakland Roots Sports Club of the USL Championship, of which he is a minor owner.