Where Is Convicted Murderer Matthew Hoffman Now?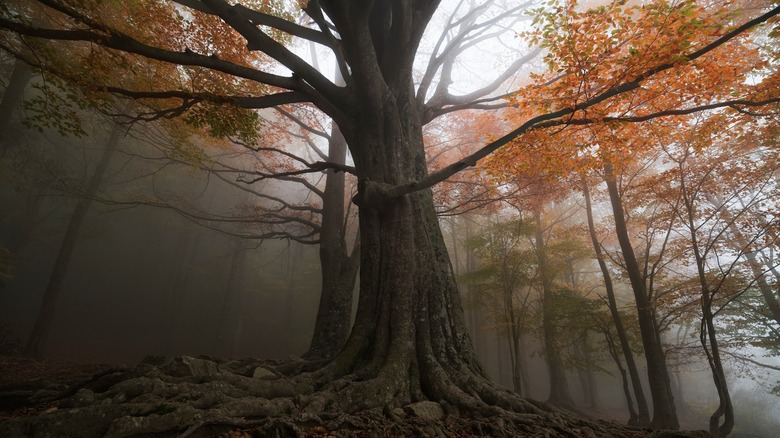 Teo Tarras/Shutterstock
In 2010, Tina Herrmann, her friend Stephanie Sprang, and Herrmann's children, Kody and Sarah Maynard, all went missing from their home in Knox County, Ohio as Cleveland news outlet WKYC relates. As the ensuing investigation revealed, in what prosecutors alleged was a botched burglary, three of the four were murdered, and Sarah, who was 13 at that time, was abducted. Convicted for those crimes was a local unemployed tree-trimmer named Matthew Hoffman, who, as the jury learned though his trial, showed signs of an unusual sexual predilection.
After the disappearance of the four Knox County residents was reported, a massive missing persons search took place in the area. Among the locations covered by the authorities was nearby Kokosing Wildlife Preserve. It was there that the remains of Herrmann, Sprang, Kody, and the Herrman family pet were all recovered. Kody was 11 years old when he died. Each one was dismembered, and stranger still, all were found in garbage bags stuffed in a hollowed-out tree trunk, as WKYC goes on to note. One question remained, though: Where was Herrmann's daughter, Sarah Maynard?
Security footage provided information
Authorities only searched the Kokosing Wildlife Preserve where Herrmann and the other murder victims were found because Knox County resident Matthew Hoffman, who was under suspicion for their disappearance, led them there. Based on 2010 reporting from ABC News, Hoffman — an out-of-work professional arborist — was known to engage in strange behaviors such as sitting in trees and killing and eating squirrels. He had no known connection to Tina Herrmann and her family beyond his parents, who lived near Herrmann's home.
What led the police to Hoffman were garbage bags and a tarp found in a Walmart bag in the garage of Herrmann's home. A tremendous amount of blood was also discovered. A man fitting Hoffman's description was seen on security footage from a local Walmart, and police were also able to gather vehicle identification information (via Oxygen). Hoffman was also found in his car near where Herrmann's stolen car was spotted, according to NBC News. It was then that authorities searched Hoffman's home where still further disturbing clues were uncovered.
Hoffman was an alleged dendrophile
Per the American Psychological Association, dendrophilia is sometimes characterized by sexual attraction to trees, and evidence found inside Hoffman's home suggests he lived with the condition. Once inside the suspect's residence, police found hundreds of bags of leaves, and dead squirrels in the freezer, but most important of all, Sarah Maynard, tied up and gagged but alive, in the basement of the dwelling, also on a bed of leaves.
Of the highly unusual evidence found in Hoffman's house, local police detective Craig Feeney, who worked the case, said (via ABC News), "So much runs through your mind. What if someone was hiding under those piles of leaves, or in this case, I thought, 'Is that where he's hiding the bodies?'"
When the death penalty was off the table in case of a conviction, Hoffman agreed to lead the police to the bodies of Sarah Maynard's family and the other victims (per Oxygen). Hoffman pled guilty and was convicted on 10 counts, including gross abuse of a corpse, kidnap, and rape, among others. According to CBS News, Hoffman was sentenced to life in prison without parole. The Ohio Department of Rehabilitation and Correction reports that Hoffman, now 41 years old, is incarcerated at Toledo Correctional Institution, a state prison.
If you or anyone you know has been a victim of sexual assault, help is available. Visit the Rape, Abuse & Incest National Network website or contact RAINN's National Helpline at 1-800-656-HOPE (4673).