Paul McCartney And John Lennon's Tragic Connection That Helped Them Form Their Bond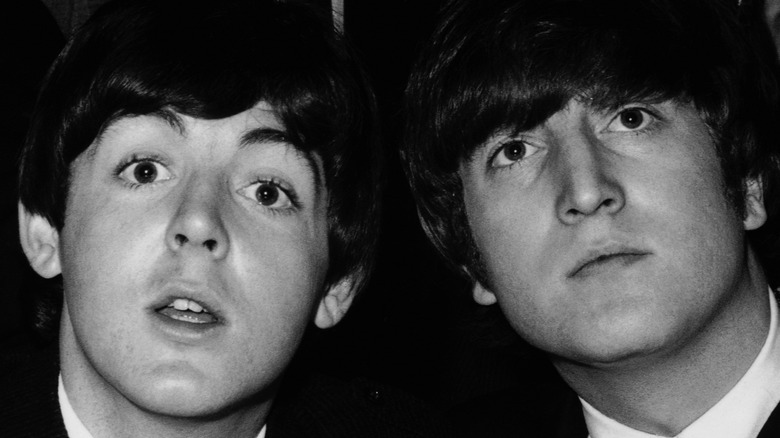 William Vanderson/Getty Images
Legendary songwriting duo John Lennon and Paul McCartney have some 200 songs credited to their names — a majority of the songs recorded by The Beatles — although not all featured 50-50 contributions from both artists. Their friendship and music partnership still intrigues fans even five decades after The Beatles released their last studio album "Let It Be'" in 1970. All four members of The Beatles had their issues when it came to the dissolution of the band, but John Lennon's untimely death in 1980 added much to the public's interest in where The Beatles stood with each other post-breakup, especially with regard to McCartney. After all, Lennon and McCartney knew each other long before Beatlemania was in full swing.
In 1957, a teenage Lennon was performing with his band The Quarrymen in Liverpool. McCartney was just 15 at the time. They were both impressed with each other's musical abilities. Soon, McCartney joined the band (per Beatles Bible).
John Lennon and Paul McCartney both lost their mothers at young ages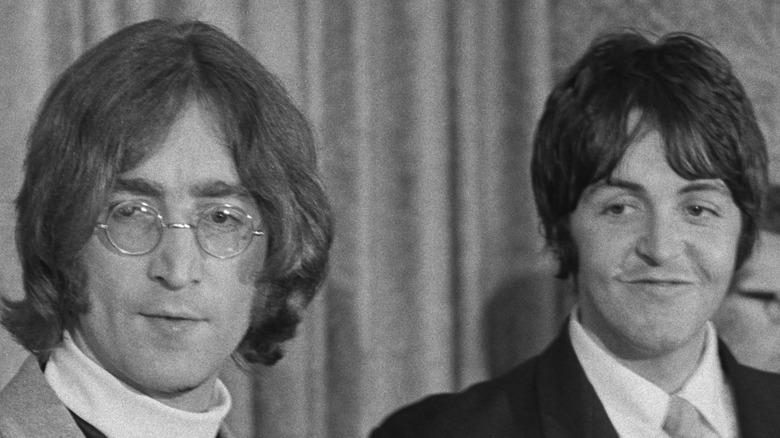 Michael Ochs Archives/Getty Images
As teenagers in Liverpool, a working class town still recovering from World War II, John Lennon and Paul McCartney began creating the music that was to become the music of a generation — music that is continually being appreciated all these years later. As Biography details, they were with each other as they wrote their first-ever songs. However, they had more in common than just their interest in music. A deeper connection that helped them form their bond was their mothers. Lennon's mother died in a car crash when he was 17. McCartney's died of breast cancer when he was just 14. "We [both] knew that feeling," recalled McCartney on The Late Show with Stephen Colbert (posted on YouTube).
Family life continued to play a role in both Lennon's and McCartney's lives. According to Beatles Story, their mothers both served as inspiration for some of their songs, such as Lennon's 1968 song "Julia" and McCartney's "Let It Be" from 1970.
John Lennon said that Paul McCartney was like a brother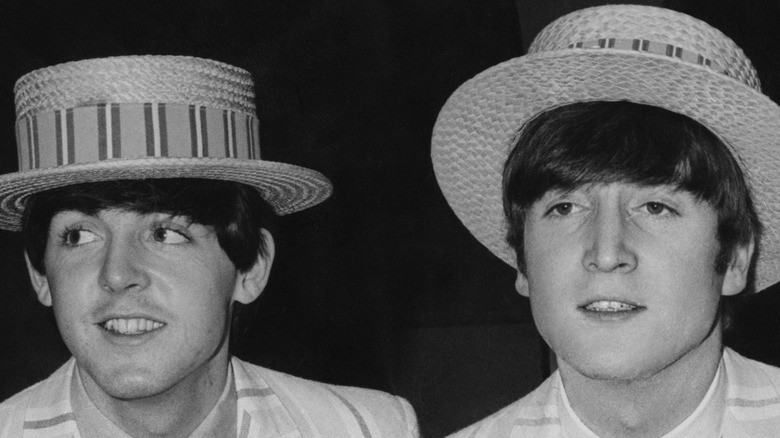 Ron Case/Getty Images
John Lennon's mother Julia played multiple instruments and enjoyed singing as well. She encouraged him to do the same. As for Paul McCartney, his mother Mary appeared in his dreams even years after her death. Lennon's son Julian is named after Julia. McCartney's daughter Mary is named in honor of his mother as well (per Beatles Story).
As fans and non-fans alike are well aware, the friendship between Lennon and McCartney did not last. Thankfully, they began speaking more often before Lennon's death in 1980. In one of Lennon's last interviews, he said that McCartney was "like a brother" and that they would both likely do anything for each other. 
When speaking to BBC in 2016, McCartney relayed that the business side of The Beatles' break-up perhaps took the largest toll on his relationship with Lennon. However, the two were able to talk about life as friends do throughout the last year of Lennon's life. This path to reconciliation was undoubtedly important to McCartney, but also to Beatles fans everywhere.