Whatever Happened To The Actor Who Played Jimmy Chitwood In Hoosiers?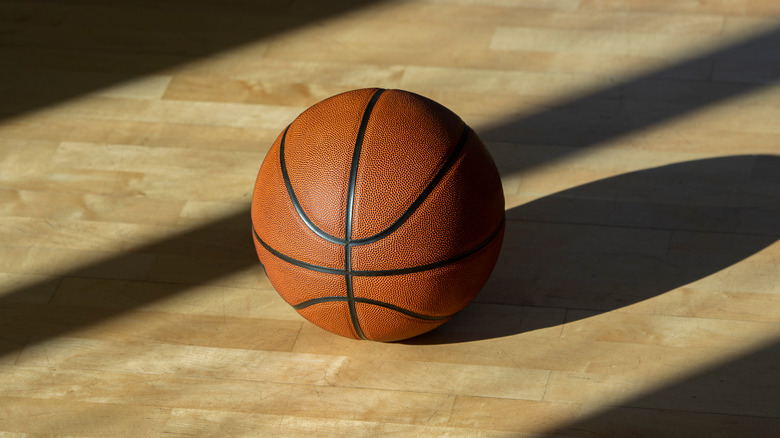 sportoakimirka/Shutterstock
Maris Valainis was one of the stars of the sports classic "Hoosiers" as championship-winning player Jimmy Chitwood, but before that, he had never acted. The Indy Star says he was scouted by the film's casting director, Ken Carlson, while playing pickup basketball at a church in Indianapolis. Valainis remembers Carlson approaching him and asking, "Do you want to be in a movie?" (via Indianapolis Monthly). Carlson wanted authentic players for the film, based on the 1954 Milan, Indiana high school basketball championship.
The film's writer, Angelo Pizzo, told Indianapolis he knew Valainis was right for the part as soon as he saw him: "He had the face, the innocence, the kind of opaque quality I had imagined in the character. And he had the pure shot," (via Indianapolis Monthly).
According to The Indy Star, Valainis nearly left the audition — a casting call with hundreds of other people — annoyed that it had lasted so long, but just before he walked out, he was asked to show off his basketball skills. He got the part. But, Valainis didn't stick with acting, so where did he end up?
Further acting work
Maris Valainis missed the Indiana premiere of "Hoosiers" because he was in California looking for more acting work (via The Indy Star). He had discussed his prospects with Gene Hackman, who played his coach, and David Neidorf, the only young professional actor in the movie, who played Everett. They encouraged him, saying they thought he was talented enough to get work in California. Privately though, Neidorf thought Valainis might be too sensitive to handle the rejections that come with being an actor (via Indianapolis Monthly).
Valainis wasn't well-known, even after the premiere of "Hoosiers," and didn't know the business, he told Indianapolis Monthly. He did get a few more roles working with stars like Sean Penn, Michael J. Fox, and a pre-fame George Clooney. He traveled to Thailand for his movie with Penn and Fox, "Casualties of War."
"I've had a chance to work with a lot of very good actors, who continued to go on to lots of successes," he told Indianapolis Monthly. "I wonder why I can't." Ultimately, he moved on to other careers.
Maris Valainis' later life
Ironically, Maris Valainis wasn't a basketball star in high school: He tried out for the team at Bishop Chatard High School in Indianapolis four times but was always rejected. However, he was successful on the school's golf team, and when acting didn't work out, he returned to the world of golf (via Stateline Sports Network). According to The Indy Star, he managed golf courses and caddied on the PGA Tour.
As of 2021, at age 58, he'd changed careers yet again. According to FanBuzz, he's a business owner and construction consultant. The Indy Star specifies that he works in the field of renewable energy.
He still plays basketball in his spare time, and he says that being known as Jimmy Chitwood helps him in a pickup game — the other players are a little intimidated and leave him wide-open for shots (via Indianapolis Monthly). He says he's also sometimes invited to talk to basketball teams. Nearly 40 years later, he still likes reminiscing about "Hoosiers": "It brings back good memories" (via The Indy Star).