What Happened To Ronaiah Tuiasosopo, Manti Te'o's Catfisher?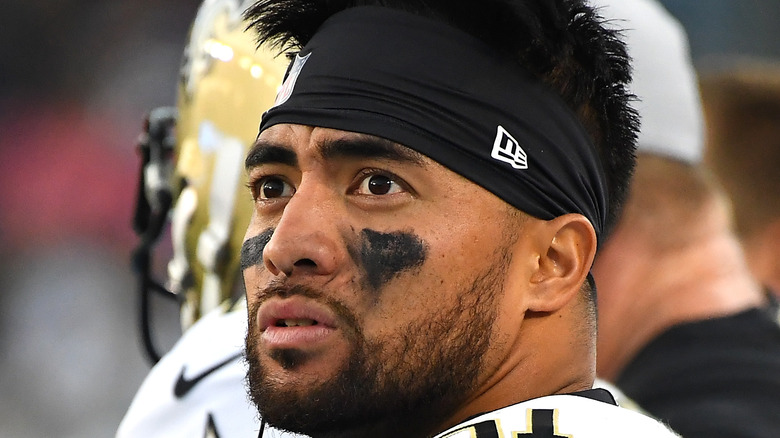 Jayne Kamin-oncea/Getty Images
In 2012, it was revealed that Notre Dame football star and Heisman Trophy finalist Manti Te'o, was involved in a catfishing scandal. Lennay Kekua, the online girlfriend of whom Te'o spoke about publicly, such as at the 2012 Heisman award ceremony, reportedly died of leukemia. Not only was that not the case, Kekua wasn't real, and the entire relationship was based on a fictitious Facebook profile created by a transgender woman named Ronaiah Tuiasosopo.
In the profile, Tuiasosopo used stolen pictures from a friend of hers named Diane O'Meara without her knowledge, as Men's Health reports. Though drafted with the San Diego Chargers and still in the league, the fallout from Te'o's high-profile catfishing scandal negatively affected his NFL playing career, according to most football observers. With the complete Te'o story now told in the 2022 Netflix documentary, "Untold: The Girlfriend Who Didn't Exist," here's an update on where Ronaiah Tuiasosopo (via IMDb).
Kekua and Te'o's grandmother reportedly died within hours of one another
A standout talent at Notre Dame, Te'o caught the broader public's attention when it was said that both Kekua and his own grandmother had died within hours of one another, a heart-rending version of the star athlete's story referenced on ESPN's "College Gameday," as The Washington Post reports. Te'o even reportedly met Kekua, a supposed student at Stanford, when the linebacker traveled to Stand Stadium to play a game.
Over the course of their love affair, Te'o reportedly kept in contact with Kekua over the phone during her supposed cancer treatment, and the couple also remained close online, communicating through social media, chat, and texting, but never in person. Soon, Tuiasosopo's story fell apart. Not only was Kekua not a Stanford student, but she wasn't even real. The entire relationship fostered with Te'o was a fabrication, according to the 2013 Deadspin article that broke the story.  An image of Diane O'Meara as Lenay Kekua is pictured above.
The truth about Te'o's fake girlfriend rocked sports media
As the Washington Post goes on to note, it was an embarrassment not just for Te'o but for major sports media outlets like ESPN and The New York Times bought into the sentimental story that Te'o's supposed girlfriend who captured the public's attention when she reportedly died was fake. Around that same time, Tuiasosopo told Dr. Phil that she'd developed feelings for Te'o over the course of their online relationship and concocted the leukemia story after the couple had an argument, as USA Today reports.
The Mirror reports that Tuiasosopo, who now goes by Naya, lives in Carson, California where she is a retail manager at Lowe's Home Improvement. Though not currently in contact with Te'o, when the scandal broke, she did get in touch to apologize. She also credits the experience with helping her come to terms with her gender identity. After spending four seasons with the Chargers, Te'o played three seasons with the Saints, and one season for Chicago. He is now an NFL free agent, according to the Washington Post.