Experts Have Different Opinions On Prince Andrew's Future Once Charles Is King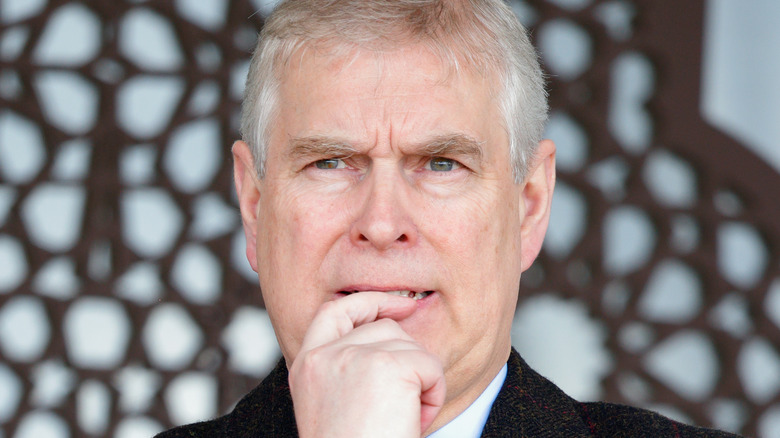 Max Mumby/indigo/Getty Images
According to Reader's Digest, Prince Charles is promised immediate kingship when his mother, 96-year-old Queen Elizabeth II dies. His mother currently holds two esteemed titles as Queen of the United Kingdom and Sovereign of the 14 Commonwealth Realms (via Royal), as well as the longest-reigning British Monarch in recorded history. Rumor has it that although Queen Elizabeth II is still alive, Prince Charles, at 73, is preparing more than ever to take the reins of the country and the Commonwealth.
While kingship would certainly mean a more powerful position for Prince Charles, it could hold very different implications for "Playboy Prince" Andrew, who has been embroiled in scandal ever since his ties to sex trafficker Jeffrey Epstein came to light (per The Week). Once revered as the queen's favorite son and honored with a slew of U.K. military titles including Colonel of the Grenadier Guards and Colonel-in-chief of the Royal Irish Regiment, Prince Andrew is now seemingly on the road to losing it all (via BBC). Experts weigh in on how Prince Andrew's future might be affected by Prince Charles taking the throne, but their opinions clash.
Theory 1: complete exclusion from the monarchy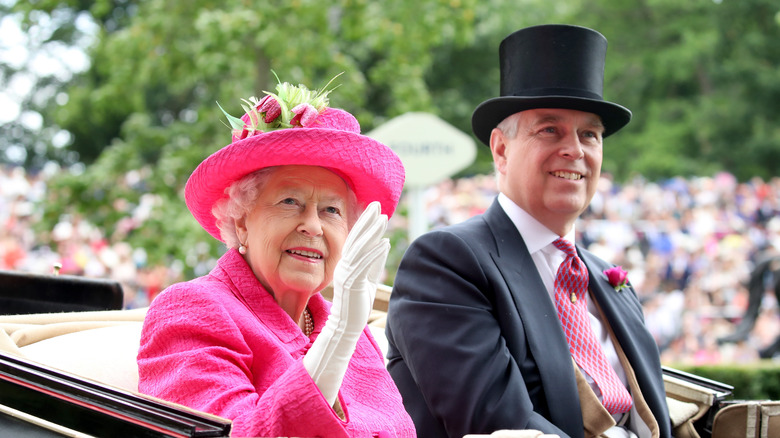 Chris Jackson/Getty Images
NPR reports that as of January 2022, the Duke of York, a.k.a. Prince Andrew, is currently operating from a point of disadvantage, having been officially stripped of all royal patronages and military titles. This all began when he faced charges in a civil sexual assault case as part of the larger Epstein scandal. According to Time Magazine, Virginia Giuffre who accused Prince Andrew of sexually abusing and raping her when she was 17, was awarded a multi-million-dollar settlement despite the prince vehemently denying the accusations. According to sources, the royal family's take on the topic was to distance themselves from the disgraced prince, claiming he would be "defending this case as a private citizen."
Adding fuel to the fire, Prince Charles and Prince Andrew appear to have years of pent-up tension between them. Purportedly, in wake of the Princess Diana scandal that rocked the '90s, Prince Charles's approval ratings nosedived and Prince Andrew reacted by strategizing a coup. His plot to take over the throne as king regent until Prince William was old enough to take the title may not have come to fruition, but it certainly sparked the attention of Prince Charles, sewing the seeds of deceit. Now, it is Prince Andrew leading the league as the least popular royal (via Express) and Prince Charles holds all the power to banish him. According to Newsweek, some experts believe this is exactly what Prince Charles will do, but others claim it's not so simple.
Theory 2: tolerance as a kind pf preventative damage control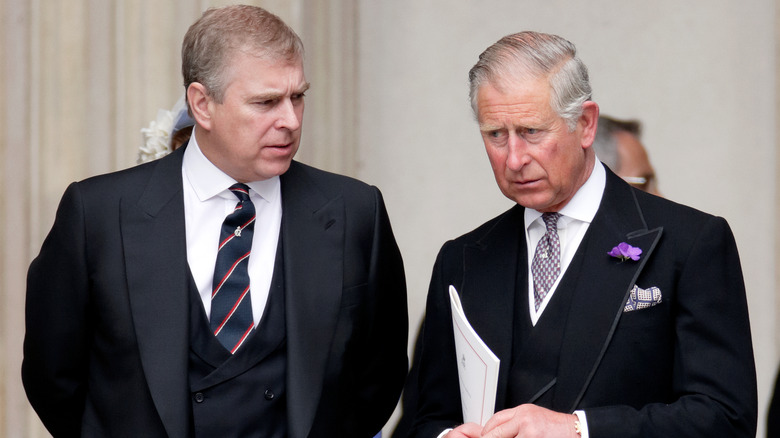 Max Mumby/indigo/Getty Images
Despite kinship and kingship on the horizon, there's no denying the bad blood between these two brothers. According to Newsweek, while Prince Andrew was cooking up a scheme to make Prince William the King of England over Charles, the soon-to-be king himself had an equally sinister plot in mind. In the biography "Battle of Brothers," Prince Charles spoke candidly of slimming down the monarchy, and part of his plan was hinged on ousting Prince Andrew from the royal family completely.
However, royal biographer Ingrid Seward believes that Prince Charles is unlikely to banish his brother because that action could potentially cause more trouble for the royal family in the long run (via Geo TV). Expert Seward explained her viewpoint, stating, "They're not going to cast him out because he will be more trouble and start talking and giving TV interviews and writing books ... They don't want that again."