The Controversial Theory That Pits Prince William Against His Father As The Next King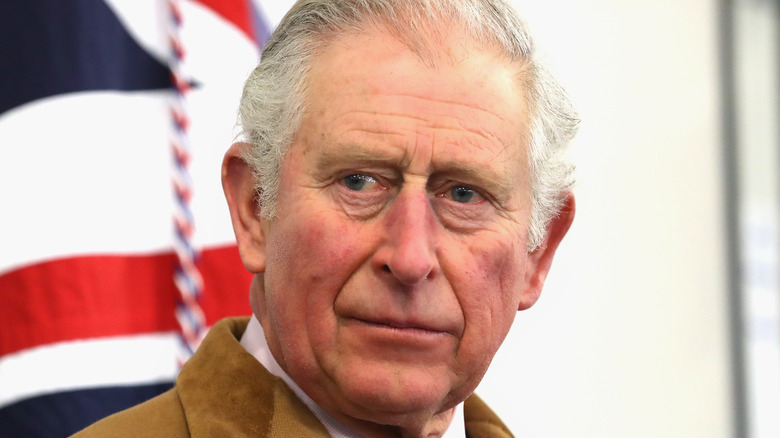 Chris Jackson/Getty Images
At 96 years old, Queen Elizabeth has been England's royalty for the past 70 years. She's one of the oldest ruling members ever — she's been on the throne since 1952 (per NPR). While she may still have years left to continue ruling, her advanced age brings up questions of lineage. And one controversial theory pits father and son against each other in the fight for England's crown.
According to the University College London, as soon as the queen dies, Prince Charles will immediately become the king, following a longstanding rule that "The king never dies." The role should never be left with an empty seat, so Prince Charles will automatically become king. 
But is there a secret rivalry between father and son? After all, Prince Charles has been waiting for his turn at the throne for more than 68 years, making him the longest-waiting heir apparent in British history (via Guinness World Records).
Does Charles really want to be King?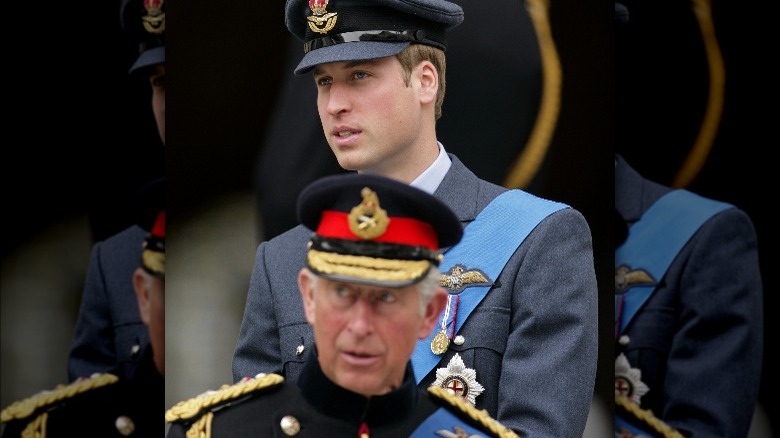 Max Mumby/indigo
Prince William allegedly has a bit of a temper during family spats, according to Express, who claimed that he has dramatic fights with Prince Charles. Camilla, Charles's wife, reportedly witnessed William yelling at Charles, while Charles remained mostly silent. The theory goes that because of their blowup fights, Charles might let William claim the throne to avoid conflict.
Per Marie Claire, Princess Diana's former voice coach, Stewart Pearce, also believes there is conflict over this issue. He said, "He [Charles] may not take the throne, he may hand it to his young son. He doesn't want to do it, such a difficult task."
So is there any weight to this theory? This conversation is nothing new in the royal family — Charles and William have been talking through the possibilities since William was in his teenage years. Independent reports that Charles has said he is eager to take the throne, and that he has been patiently waiting for decades.
Avoiding a constitutional crisis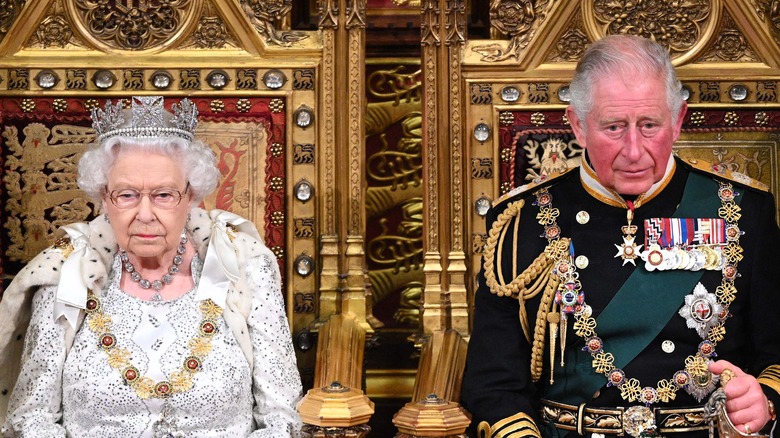 Wpa Pool/Getty Images
If Prince Charles really did decide not to accept the crown, he could give the honor to Prince William, according to Independent. The Accession council will have to declare Prince Charles as the next king once the queen has died or is unable to serve any longer. 
If there was a dispute between Charles and William, it could potentially cause a "Constitutional crisis." Marie Claire reports that if Charles did pass the crown to William, parliament would have to sign off on it. Parliament is in charge of the line of succession, and Charles can't hand the crown over without their express permission.
But that seems pretty unlikely. Instead, Charles will almost certainly become King Charles, and William will take his dad's title of Prince of Wales. And since Prince Charles is 73 years old, it's totally plausible that both Charles and William will be able to be Kings in their lifetimes.