Emergency Replacements Who Saved The Day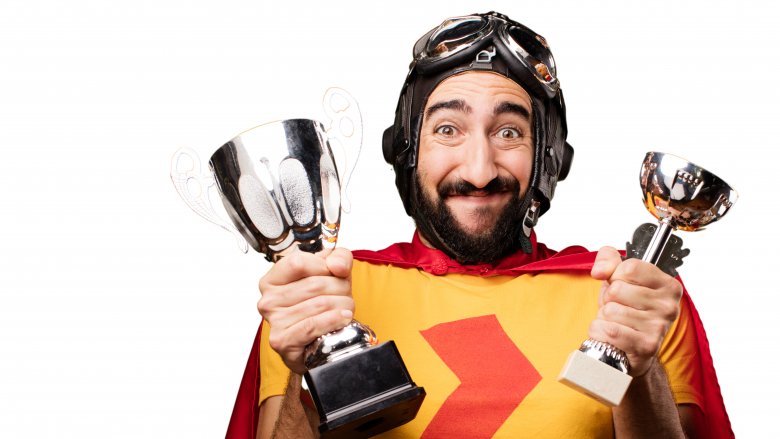 Shutterstock
Life doesn't always conform to the best laid plans of mice and men, or if you're not feeling particularly literary, of mice and sports coaches. On any team, there are willing replacements ready to step up if a key player goes down. But what happens if the backup goes down, and then the backup's backup also bites it? It happens all the time, and it's almost always a recipe for disaster — except in these instances, when instead it turned out to be a recipe for delicious, crunchy heroics.
Luis Felipe Alvim
CBS Sports reported the story of 22-year-old Brazilian Luis Felipe Alvim, who was among the attendees at an October 2017 UFC match in which welterweight champ Carlos Eduardo Rufino was scheduled to take on contender Claudinei Kall. Unfortunately for fans of sweaty guys beating the hell out of each other, it looked as though the night was going to come to an early end before the main event — Rufino weighed in slightly above the 170-pound limit, which irked Kall enough for him to pull out of the fight. However, also in attendance was Felipe Silva, who had been training Alvim. Silva whispered into the ear of a few fight promoters, and Alvim suddenly found himself yanked from the stands and penciled in to take Kall's place — a mere 40 minutes before the fight was to start.
It's the kind of "fan gets to go to the big show" story that sounds like a made-for-TV movie that ends with the fan getting absolutely pummeled by the top pro, while also learning lessons about life and punching and stuff. But Alvim had other ideas — ideas put in his head by, um, Brad Pitt. He would later tell reporters that Pitt's performance in the film Troy inspired him to kick the crap out of the champ in front of 1,500 fans, earning the welterweight title in the process. He then proceeded to propose to his girlfriend from the Octagon, just to make sure Hollywood would option his story.
Tom Matte
Football was different back in the day; while any modern-day player who takes a helmet hit must get checked out for a concussion, players in the '60s were expected to stay in the game even with their heads on backward. Because of this, many teams only employed one backup quarterback, a fact that — as reported by Fox Sports — would bite the '65 Baltimore Colts right on the rear end. Near season's end, star quarterback Johnny Unitas and his backup Gary Cuozzo went down in consecutive games, with the Colts contending for a spot in the NFL Championship. (This was still a couple years before the dawn of the Big Game With The Roman Numerals Era.) With few options, coaches turned to a player who hadn't played quarterback since college — running back Tom Matte, who initially wasn't too happy with his promotion, according to Boston's WBUR radio.
With only a week to get ready for the regular season finale against the Rams, Matte channeled his annoyance into a solid performance, leading the Colts to a 20-17 win and punching their ticket to the playoffs. With Matte still under center, the Colts' championship hopes were dashed the following week in a 13-10 loss to the Packers — but in those days, losing playoff teams faced each other to determine the final standings. In Matte's final game as a quarterback, he threw two touchdowns in a 35-3 destruction of the Cowboys and was named the game's MVP. Also, he finally had to admit that the whole thing had been pretty fun.
Nick Russo
In case you haven't been paying attention, like even Sports Illustrated has, e-sports — playing video games competitively for money — has become big business. One of the more popular games to hit the competitive circuit recently is Rocket League, which is essentially soccer played with rocket-powered cars and a giant, exploding ball. (It's every bit as awesome as it sounds.) At one recent tournament hosted by NBC, competitor Josh "JumpOnStuff" Russo faced an early exit when his teammate inexplicably bailed on the tournament (and a shot at its $100,000 grand prize) the night before a match. Fortunately, as reported by Vice, Josh had a secret, grey-haired weapon up his sleeve: his father, Nick "Dad" Russo, who had never played the game before.
With only a weekend to prepare, JumpOnStuff and Dad knew their chances weren't good — and indeed, their opponents quickly jumped out to an insurmountable lead. But being good sports, the opposing team eased off in the game's final moments, allowing to Dad to line up for a shot and score a relatively easy (albeit backward) goal. Rocket Dad became an internet sensation in short order, but it's unlikely we'll see him compete again — with 100 percent shooting accuracy in tournament play, he decided it was prudent to make like the senior citizen he is and retire.
George Rohe
Shutterstock
The Chicago Cubs famously endured a century-plus streak of futility that made the record books weep with frustration. World Series titles in 1907 and '08 would be the last taste of glory the hapless Cubbies would get until their 2016 triumph, and the 1906 team gave fans a bit of unhappy foreshadowing. After cruising to an unrealistically dominating 116-36 record, the Cubs found a way to lose the Series to a team nobody expected to see — and their downward spiral started with a player nobody had ever heard of.
As reported by the Chicago Tribune, the crosstown rival White Sox had clawed their way up from sixth place, earning a Series berth despite being referred to all season as the "hitless wonders." With the series tied at a game apiece, Game 3 saw both teams trying hard to stay hitless through five scoreless innings. Despite slugger George Davis being out with an injury, the Sox managed to load the bases with two outs in the sixth — just in time for Davis' last-minute substitute, reserve infielder George Rohe, to step up to the plate. But instead of whiffing like literally everybody in the stadium expected him to, Rohe promptly crushed a triple that brought three White Sox home — the only runs of the contest. It was a turning point in a Series that the Sox would go on to win four games to two, and an unfortunate harbinger of the many, many, many postseason losses the Cubs would soon endure.
Chris Stokes
The idea of Jamaica competing in Olympic bobsledding may seem like the setup for a really stupid punchline, but it was no joke for members of the 1988 inaugural team. The team's members came from a wide array of disciplines, and most were recruited not from colleges or sports clubs, but from the Jamaican Army. They actually ended up dominating in the two-man sled event in trials — so much so that, according to ESPN, they decided to quit screwing around and give the much more difficult four-man sled a shot in Calgary, site of the 1988 Winter Games.
Unfortunately, shortly after this decision was made, injuries knocked the team's numbers down to three, according to The Guardian. Unfazed, team member Dudley Stokes called up his brother Chris — a University of Idaho track star who had never seen a bobsled in his life — to fly in and join the team. After only three days of training, Stokes found himself huddled in a freezing deathtrap with his brother and a couple other guys before the eyes of the world. A staggering 40,000 people showed up to watch them crash nearly immediately, at a terrifying speed. But the team emerged from the wreckage smiling and waving, eliciting a rousing cheer from the crowd. They didn't win, but they did enough to be immortalized in a stupidly inaccurate Hollywood comedy produced by Disney, and if that isn't saving the day, then what is?
Denmark's soccer team
The Euro Cup is one of the more prestigious events in the sport that Americans call soccer and that literally everyone else in the world calls football. Denmark's national team had narrowly missed out on the 1992 tournament, finishing as a runner-up to Yugoslavia — but at the last minute, that country was forced to pull its team due to a bad case of civil war. With about a week's notice, Denmark's team was informed that they would be required to show up and get creamed by a presumably superior, better prepared opponent. Problem was, the sneaky Danes weren't exactly in vacation mode just yet.
They had paid close attention to rumors that Yugoslavia might be forced to withdraw, and therefore were better prepared than their opponents expected. Speaking with the BBC, midfielder Kim Vilfort reasonably pointed out, "We couldn't fail because there were no expectations. If we lost 5-0 three times then that would not have mattered." After the first two matches resulted in a draw and a loss, the team entered the crucial final match with France playing free of nerves because, said Vilfort, "We thought we'd be going home." As it turned out, they did go home — later, with the trophy. They defeated France 2-1, then went on to spank the Netherlands in the semi-final and Germany in the final, shocking the entire football world less than a month after being called up from the Eating Cheetos on the Couch League.
Chad Ochocinco
Ex-Cincinnati Bengals receiver Chad Johnson was a lot of things: a phenomenal talent, a legendary loudmouth, and the kind of guy who would actually change his name to his jersey number. In a 2009 contest against the New England Patriots, Johnson — who was then going by the ridiculous moniker "Chad Ochocinco," which is Spanish for "Eight Five," like the numbers on his jersey — was forced to become yet another thing: an emergency place kicker. 
According to Deseret News, it was a defensive slog of a game, with starting quarterbacks Carson Palmer and Tom Brady both injured. The Patriots had managed to boot a couple field goals for a 6-0 lead in the second quarter. Just before the half, the Bengals scored on a J.T. O'Sullivan touchdown pass, but with kicker Shayne Graham nursing an injured groin, taking the lead would be no gimme. Enter Ochocinco, who had kicked in high school and continued practicing his kicking every week. Mustering the will to shut his mouth for five seconds, he calmly lined up and booted through the extra point — as it turned out, the deciding one. With their star quarterback on the sideline, the Patriots could produce no second-half points, and the lowly Bengals sent America's Supermen home to pout over steaming bowls of delicious clam chowder.
Chellsie Memmel
It was a sign of things to come when Samantha Sheehan, an alternate on the 2003 U.S. Women's Gymnastic Team, went down with an injury prior to the world championships in Anaheim. Fifteen-year-old Chellsie Memmel, who had just missed making the team with an injury of her own, was busy kicking ass and taking names for the B-squad at the Pan Am Games in the Dominican Republic when she got the call that she would have to report to Anaheim to fill Sheehan's spot on the bench. "It was like, wow, I'm going to the worlds — that's amazing!" Memmel told Sports Illustrated. But then the rest of the team began to drop like flies, and Memmel found out she wouldn't be riding the bench for long.
Injuries to three more teammates meant that the last-minute replacement would suddenly be carrying the team on her back. Many teenagers would simply melt under this type of pressure, but Memmel — displaying composure that her coach called "almost unnatural" — slayed it through all four disciplines, helping her team to deliver the first ever women's team gold for the U.S. After the competition, Memmel was sought out by legendary gymnast Mary Lou Retton, who had four words for the home-schooled, brace-faced teen: "You are my hero."
Alexander Artemev
The U.S. men's gymnastic team also received an unwanted visit from the Injury Fairy shortly before competition commenced in Beijing at the 2008 Summer Olympics. Superstar twins Paul and Morgan Hamm were out, which is like missing two Michael Jordans. To make matters worse, Morgan's replacement was alternate Alexander Artemev, who had failed to make the team by virtue of completely blowing it at the national championships on the pommel horse, his specialty. So of course, the team's last routine — upon which a trip to the finals hinged — would be decided by Artemev's performance in that very event. Artemev shrugged off any suspicion that a Hollywood screenwriter was now writing his life and stepped up to face his nemesis.
According to the New York Times, what happened next electrified the whole freaking stadium, probably while that "You're The Best" song from The Karate Kid was blaring in the background. Completely forgetting his poor performance at the nationals, Artemev killed it, dominating the pommel horse as if everything in his body that wasn't muscles had suddenly become weightless. After his dismount, he pumped his fist and flashed a blinding smile as he was mobbed by teammates; "I knew I could do it," he said. "All I needed was some confidence back, and with that I could do anything." Then he froze as that song began to fill the stadium again, and credits started scrolling across his face.
Kurt Warner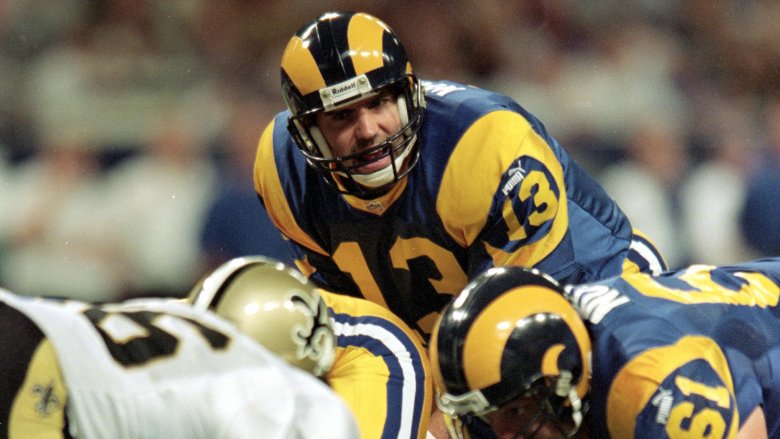 Getty Images
In 1999, the St. Louis Rams were ready to make a Super Bowl run behind newly acquired starter Trent Green. As reported by CBS Sports, Green had proven himself the previous season as a member of the Washington Redskins, passing for over 3,400 yards and 23 touchdowns in 14 games as a starter. The Rams had finished the previous season with a 4-12 record, but Green — with a fat contract and a winning attitude — was ready to turn that around, until he nearly broke off one of his legs in a preseason game. With their starting quarterback out for the year, the Rams hung their heads and steeled themselves for another loss-fest season. Their only viable backup was a former Arena League quarterback whose most recent gig had been stocking shelves in a supermarket. Fortunately, that guy's name was Kurt Warner.
With the aid of receivers Torry Holt and Isaac Bruce, running back Marshall Faulk, and a brick wall for an offensive line, Warner put up staggering numbers while having one of the best seasons any quarterback has ever had. The Rams quickly earned the nickname "The Greatest Show on Turf," finished the regular season with a 13-3 record, and advanced to Super Bowl XXXIV — where they triumphed over the Tennessee Titans in a 23-16 thriller of a game. Warner was named MVP of the league and of the Super Bowl, and Green endured the next season as the stock boy's backup before being traded the following year to the Kansas City Costco — er, Chiefs.