Hattie McDaniel Was Not The Only Accomplished Actor In Her Family
Despite the mountain of social challenges she faced, the late Hattie McDaniel forged a long and successful career in entertainment. McDaniel began her 40-plus year career as an entertainer in 1910 when she toured as a singer for traveling minstrel shows (via Britannica). Her beautiful voice carried her far, eventually leading her to radio, where she became one of the first Black women to have her voice transmitted over the airwaves. She continued to work the vaudeville circuit as a singer but found herself struggling for work after talkie films ended the vaudeville stage era. 
Management at Milwaukee's Sam's Pick Club heard of her vocal talent. Working as a washroom attendant at the time, McDaniel's reputation as a vocalist lead to the club bending their own "white performers only" rule and having her headline shows. A year and a half later, she moved to Los Angeles, performing on the radio before jumping into film. It was on the big screen that McDaniel became a household name, co-starring as Mammy in the 1939 award-winning film "Gone with the Wind" (per IMDb). For her efforts, McDaniel was awarded the Oscar for Best Supporting Actress — the first African American to win an Academy Award — even though she was not allowed to attend her own film's premiere in a theater with a "whites only" rule. 
McDaniel enjoyed a successful acting career until her death in 1952 from breast cancer. In 1960 she was posthumously awarded a star on the Hollywood Walk of Fame. What many of her fans and admirers might not realize is that McDaniel came from a family of successful performers.
McDaniel came from a talented family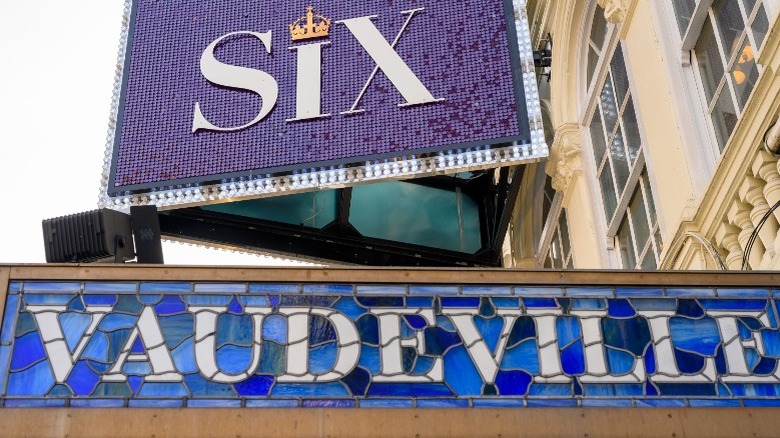 rightclickstudios/Shutterstock
Hattie McDaniel was born into a family of talented performers. The Encyclopedia of World Biography tells us that McDaniel was the youngest of 13 children born to gospel singer Susan (Holbert) McDaniel and minstrel performer Harry McDaniel. The patriarch of the family was intent on organizing the McDaniels into a traveling minstrel group and decided to move them all from Wichita, Kansas to Denver so that they could forge more opportunities.
The heads of the McDaniel family were former slaves, and Hattie and her siblings were the first of their line to be born into the post-slavery United States. But their road to success would be paved with Jim Crow-era laws, limiting their opportunities as performers. At that time, African Americans who wanted to entertain for a living could mostly find work in the minstrel show circuits, often sharing the stage with white actors in blackface. 
The younger children in the McDaniel family are said to have been allowed into the family show by a persistent elder brother. The Wichita Eagle reports that it was Otis McDaniel who convinced his parents to let Hattie and her siblings travel the circuit. According to Afro News, Otis led his group of traveling performers, which Hattie and some of her siblings joined. The troupe suffered a tragic loss in November 1916 when Otis died at the age of 34 after several months of illness (via The Denver Star). Without his leadership, the show began to lose money, and eventually disbanded. But this marked only the beginning for Hattie and two of her siblings, all of whom would eventually land notable roles on the silver screen.
McDaniel's brother Sam had a prolific acting career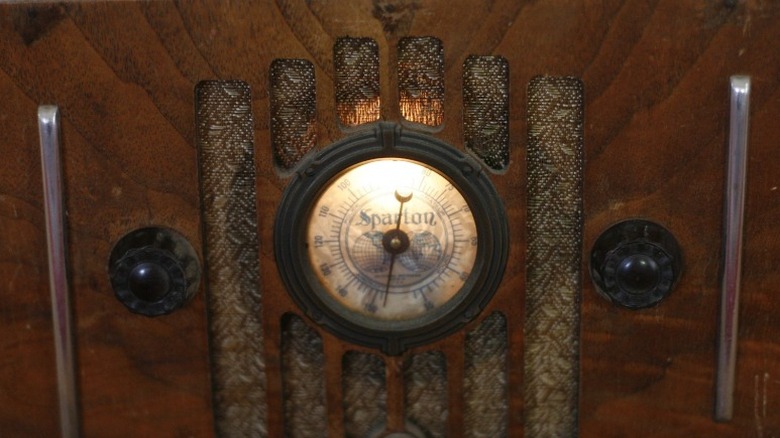 Jim Steinfeldt/Getty Images
McDaniel's brother Sam was a part of the traveling show that Otis established. After the breakup of his late brother's group, Sam wound up working in radio. According to Beyond Tolerance Wichita, Sam was employed by KXN radio in Los Angeles in the early 1920s. He was most known here for his regular appearances on the popular program "The Optimistic Do-Nuts." His influence at the station led to them hiring Hattie as a performer where she began to make history happen.
Already in the film capital of the world, Sam began to pursue a career in film. But this was no easy task, as nearly all facets of life in America in that era were mired by the injustices of segregation. These inequalities were pervasive in Hollywood also, making leading roles an impossibility. But the times didn't keep the budding actor from attempting to make his mark.
Sam McDaniel built a career out of minor roles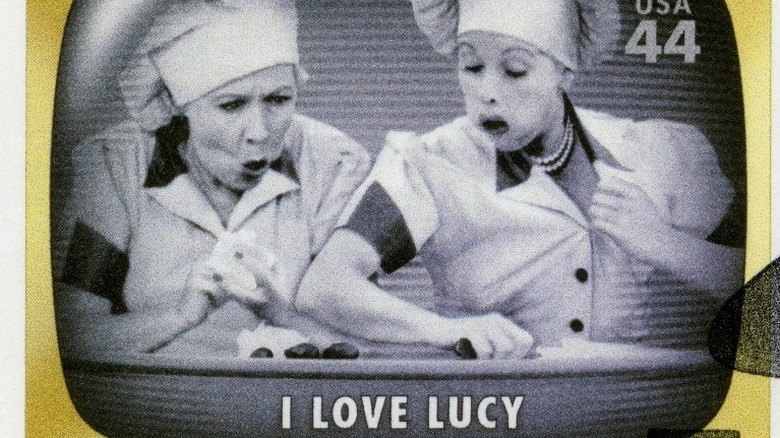 Olga Popova/Shutterstock
Sam broke into film in the 1929 film "Hallelujah" and never quit moving. From then until his death from throat cancer in 1962, McDaniel amassed over 200 film credits. Though never a leading man, he was part of the Academy Award-winning film "Captains Courageous," the horror classic "Son of Dracula," and was the first African American to appear on the classic television show "I Love Lucy" (per IMDb). 
Because of the racial injustices that were pervasive during the entirety of Sam McDaniel's career, he was mostly known to play roles that fit into the stereotypes of the era. There's a good chance that if you are watching a film from the 1930s or 1940s that has an African American porter, butler, or hired help, it might well have been performed by McDaniel.
And though he is now credited with an abundance of film roles, many of his parts were "uncredited" after the release of the films he worked in. Oftentimes, minor roles were not listed in the film credits during this era. It might be speculated that this was a regular practice that many actors of color fell victim to.
Etta McDaniel was also a film staple, and appeared in King Kong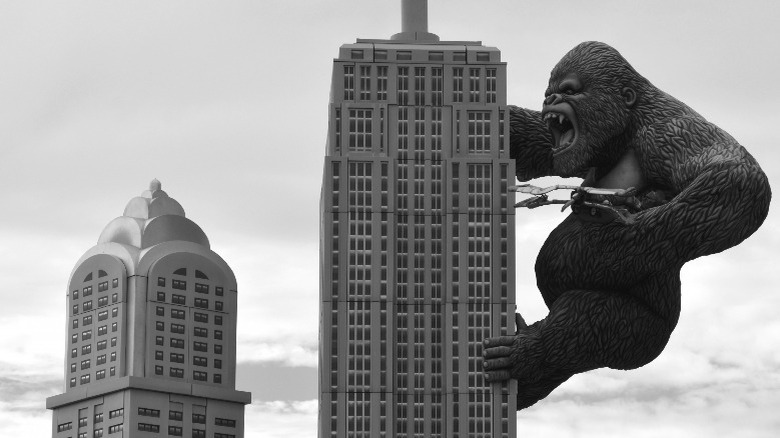 meunierd/Shutterstock
The elder sister of Hattie McDaniel also made a name for herself in Hollywood during the 1930s and 1940s. Etta McDaniel, like her siblings, started as a traveling minstrel show performer. She and Hattie formed "The McDaniel Sisters Company" in 1914, touring the United States (via Colorado Virtual Library). Like her brother Sam, Etta broke into film playing small parts in some big-name films. Her screen debut was in the 1933 classic blockbuster "King Kong," where she was cast as one of the native islanders on Skull Island (via IMDb). She later played roles in films such as "Lawless Nineties" (with John Wayne) and "The Thin Man Goes Home."
Etta, like her siblings, was cast into roles that fit the racial stereotypes of her era. She was given parts of maids, "mammies," and various other servants. These film roles were often uncredited, despite her being cast in 60 different productions. Etta McDaniel died in 1946 at the age of 55 in Los Angeles.
The siblings sometimes were cast in films together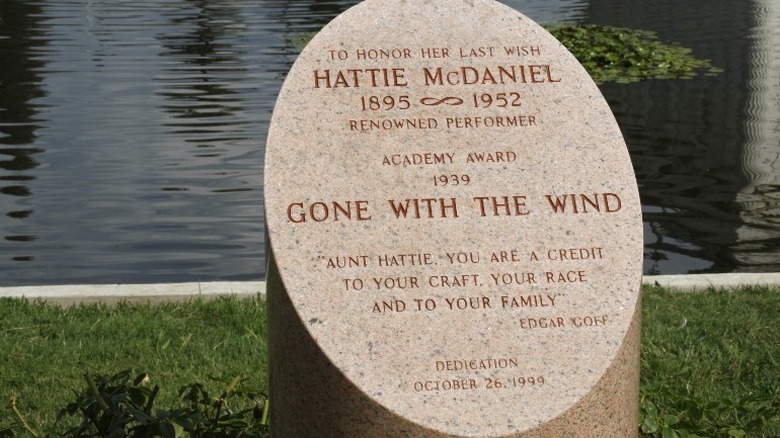 Amy T. Zielinski/Getty Images
Hollywood was a small world in those days, and it was even smaller if you were a person of color in the business. With that in mind, it shouldn't be a surprise that the trio of McDaniel siblings was sometimes cast in the same films.
Sam and Etta would appear in eight films together, including "Son of Dracula" and "Three Loves Has Nancy." Sam and Hattie appeared together the most. The brother-sister combo shared the screen a total of nine times. The films they were cast in together included "They Died with Their Boots On," "Are You Listening?" and "Never Say Goodbye." Etta and Hattie, however, appeared in only one production together.
When you include all of the uncredited roles the siblings were cast in, they add up to quite a family film resume. According to the Hattie McDaniel website, altogether, the three appeared in over 1,000 entertainment and film projects, a staggering number even by today's standards.