The Number Of People That Die In Yellowstone's Hot Springs Every Year Might Surprise You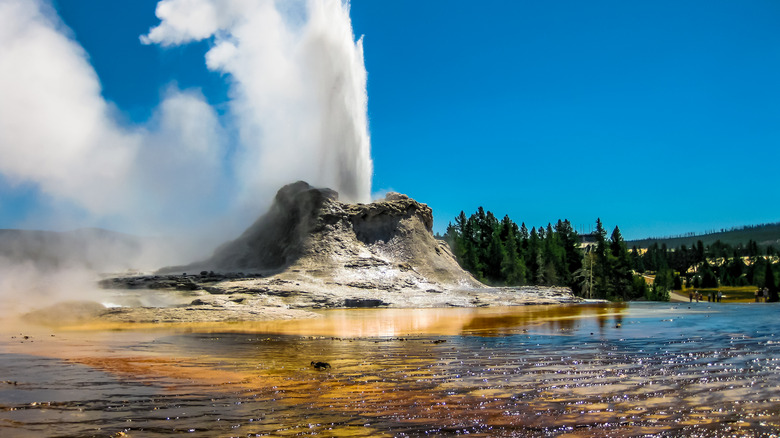 Benny Marty/Shutterstock
Recently, an employee at Yellowstone National Park discovered a portion of a human foot inside of a shoe in one of the deepest geysers called Abyss Pool. After investigating, officials believe the foot ended up in the geyser during a fatal "incident" at the pool on July 31, 2002, according to the National Park Service (NPS). No foul play is suspected.
Yellowstone is known for its spewing geysers, hot springs, and even a supervolcano. These attractions bring in millions of tourists from around the world. According to Statista, 4.86 million people visited the park in 2021, up slightly from the yearly average of 4 million. With that many people walking among some 10,000 geysers and hot springs (via the National Park Foundation), some accidents are going to occur. According to the United States Geological Survey, people risk injury at Yellowstone from an assortment of causes, ranging from encounters with wildlife to falling into the hot springs.
Yellowstone's hot springs are boiling hot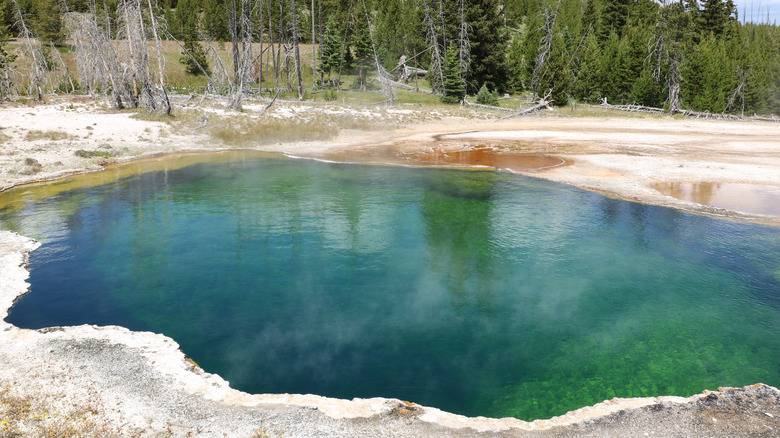 salilbhatt/Shutterstock
The temperature of the hot springs at Yellowstone varies, depending on weather, air pressure, gas, and salts in the water (via the U.S. Geological Survey). That said, most of them are boiling, and a fall into one could be fatal. So, just how many people have died while visiting Yellowstone over the years? According to the NPS, 121 people have died from drowning, and 21 have died from burns sustained after falling into one of the park's hot springs, which makes 142. The agency also reports that 26 people have reportedly committed suicide, but it did not clarify how these deaths occurred.
Certainly, Yellowstone is a wonder to behold, but it is a dangerous place. The NPS urges people to protect themselves when spending time in the park. Visitors should especially beware of the hot springs. When wandering off the hot springs' boardwalks and trails, people are more at risk of falling through the thin, crusty sections that surround them. Moreover, the hot springs can produce toxic gases that may cause some people to become sick.
If you or anyone you know is having suicidal thoughts, please call the National Suicide Prevention Lifeline by dialing 988 or by calling 1-800-273-TALK (8255)​.
Animals are also a threat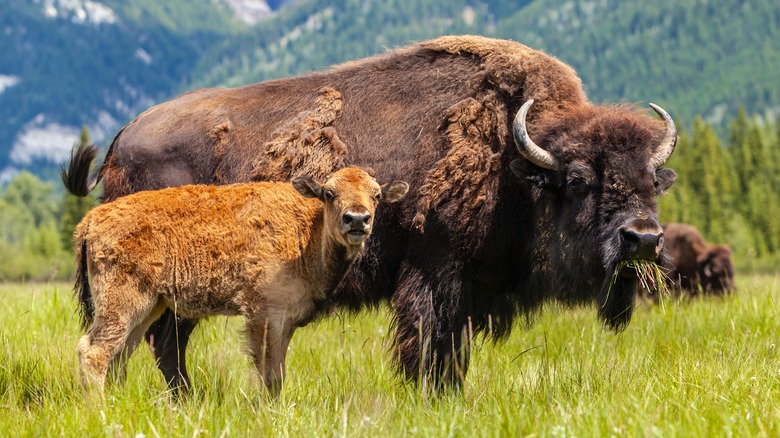 Darren Baker/Shutterstock
Hot springs aren't the only way people have died in Yellowstone. Eight individuals have been killed by bears, seven were victims of falling trees, six people died in an avalanche, and five were struck by lightning. Combined with the other deaths mentioned, that makes a total of 194 deaths since the park was established in 1872, per the National Park Service.
Dozens of animals call Yellowstone National Park home. In fact, more wild animals live at the park than anywhere else in the U.S. (via Yellowstone National Park). Grizzly bears and black bears, bison, and elk are just a few of the wild animals you can see at Yellowstone — and they are the most dangerous.
Bison are erratic, and more people have died from bison attacks than any other animal in the area. It's recommended to stay at least 25 yards from bison and elk, which are known to become aggressive in the spring as they watch over their young. Bears are also unpredictable, and they live everywhere in Yellowstone. According to the NPS, if you see a bear, you should stay at least 100 yards from it.