One Man Literally Took His Love Of Mercedes To His Grave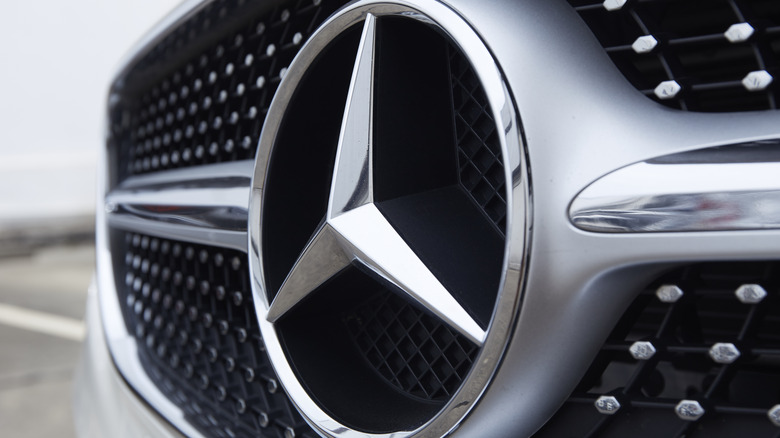 JADEZMITH/Shutterstock
What's not to love about a Mercedes Benz? The solid doors, the smooth ride, the luxury touches ... the list goes on. Turns out, one man loved his Mercedes so much he wanted to be buried in it. And, in March of 2020, surrounded by a gathering of mourners, South African businessman and politician Tshekede Pitso took his last heavenly ride and was buried inside his beloved Benz, via News 24.
Tshekede Pitso's love of the Mercedes brand was a long-time affair. He once owned a fleet of them, according to his daughter Sefora Letswaka, via the Nigerian outlet, The Guardian. She said that later in life her father had to get rid of his prized car collection "when he hit on hard times," but was eventually able to buy a used E500. When that car broke down, Letswaka said, her father was content just sitting behind the wheel listening to the radio.
"He said when the time came he wanted to be buried in it. We listened to him and honored his wish and hope he is happy looking down on us," Letswaka said.
Burial in a Car? Not an Easy Wish to Grant
While the burial happened during the early months of the pandemic, COVID restrictions weren't the only thing that made the burial complicated. Funeral Director Thabiso Mantutle said honoring the family's unusual request was difficult. He described the stressful undertaking which involved several challenges: digging an eight-foot-deep hole with an excavator, constructing a ramp to lower the car into the grave, and obtaining permission from authorities, via the Daily Mail.
On the day of the burial, crowds of onlookers came out to watch Tshekede Pitso's car being towed through the streets with Pitso positioned in the driver's seat, hands on the steering wheel, wearing his favorite white suit, via The Daily Mail. A fellow politician described the burial in a tribute to Pitso on his Facebook page saying Pitso was flamboyant even in death and that it was no surprise the journey to his final resting place would be inside his favorite ride.
Burials in Cars? Unusual, yes. Unheard of, no.
While the final request of Tshekede Pitso may seem unorthodox to many, he's not the only one who went on a last heavenly journey in a car. There are a number of other people who were so attached to a vehicle that they wanted to take it with them after they died. 
In 1977, oil heiress Sandra Ilene West was reportedly buried inside her 1964 Ferrari in San Antonio, Texas, via The New York Times. In 1989 Cuban native Aurora Schuck, was buried in Aurora, Indiana, in her red 1976 Cadillac Eldorado convertible. Because the vehicle was so big, it took a combined 16 gravesites to fit the car. And, in South Carolina Lonnie Holloway had a similar wish. He also wanted to be buried inside his car, even buying a burial plot next to the road to make it easier, according to the website RoadSideAmeria.com. In 2009, he was buried wearing his best suit and hat inside his green 1973 Pontiac Catalina.