The Pro Soccer Player Who Received Multiple Suspensions For Biting His Opponents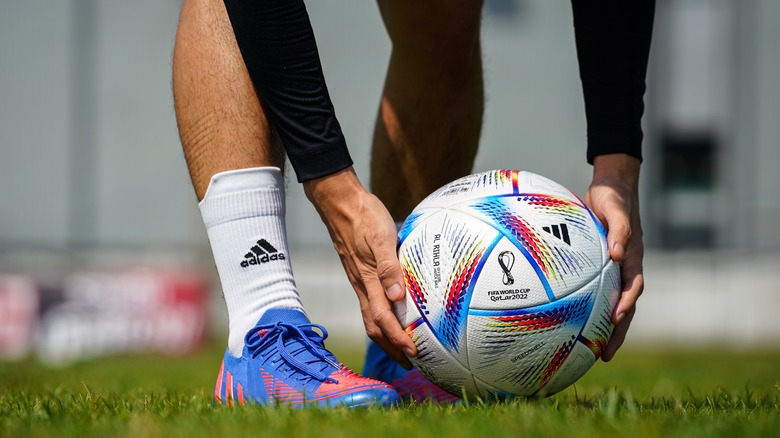 Nattawit Khomsanit/Shutterstock
The Sydney Morning Herald named Luis Suárez the fifth dirtiest soccer player in the world in 2013. The now 35-year-old has played soccer professionally for his home country of Uruguay since 2003 (via Barcelona.com). He's known as a talented and high-paid striker, as he signed a five-year, €82.3-million ($82.1-million) contract with Barcelona in 2014. But he's also a super controversial player with a track record of some really unsportsmanlike behavior. 
BBC reported that Luis Suárez has been routinely accused of diving (faking an injury) and stamping (stepping on a player who has fallen to the ground). And what Suárez is most known for might be his repeat habit of biting his fellow soccer players.
According to SB Nation, Luis Suárez bit a player for the first time during a 2010 Eredivisie game. Neither of the two teams, PSV Eindhoven and Ajax, had scored yet. But as a group formed around the referee, Suárez surprised everyone by turning to Otman Bakkal and biting him on the shoulder (per Insider). He was dubbed "the Cannibal of Ajax" and was promptly suspended for seven games due to the unsportsmanlike conduct of chomping on another player.
Suárez's bite was caught on camera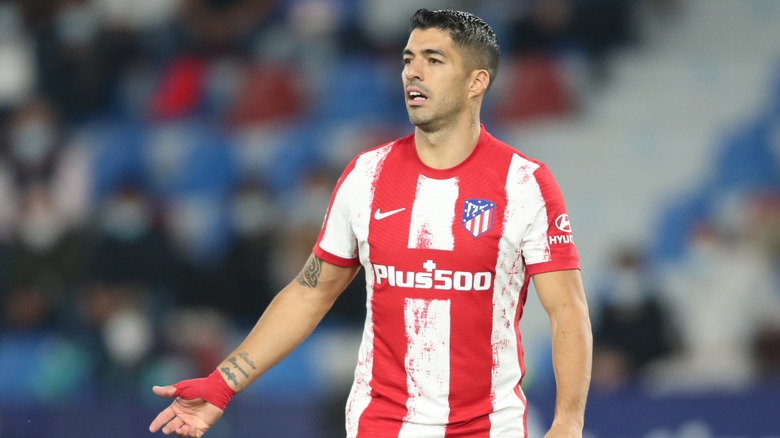 Saolab Press/Shutterstock
Over the following years, it became clear that when playing soccer with Luis Suárez, biting was a feature rather than a bug. In April 2013, Suárez attacked another player (per The Indian Express). Chelsea was playing Liverpool at Anfield, and Liverpool was one point behind. Suárez had scored his 30th goal of the season that game, but for some reason, as he approached Chelsea's Branislav Ivanović, he chomped down hard on the player's arm (per Insider). 
The Indian Express reports that it was under the radar during the game — The referee didn't notice. But the bite was caught on camera, and fans definitely took notice. Suárez apologized after the incident, but The Football Association decided that he should be barred from playing. He had to sit out the next 10 games. 
The Irish Times reports that after two biting incidents, along with other unsportsmanlike incidents of racist abuse and violence toward other players, Suárez was supposed to be on his best behavior. He wanted to rid himself of his "bad boy image," but he just couldn't seem to control his frustration during games.
Just a year later, in 2014, Suárez's temper flared once again on the soccer field. It was a World Cup match – Uruguay versus Italy. Nearly 80 minutes into the game, Suárez and Italian soccer player Giorgio Chiellini collided. 
Suárez thinks biting is 'relatively harmless'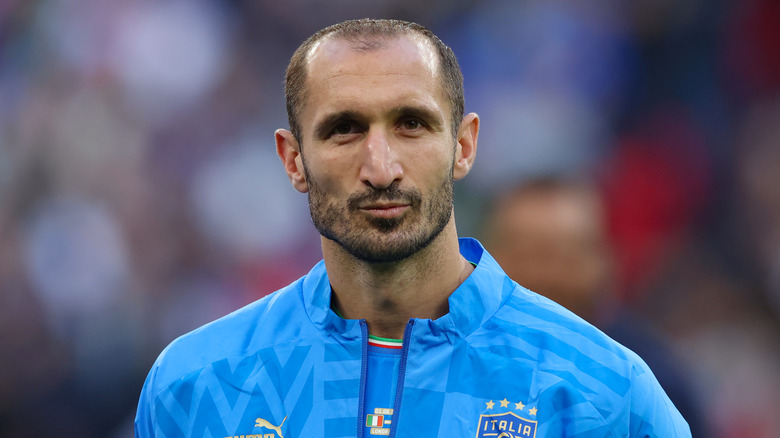 Jonathan Moscrop/Getty Images
Suárez bit Chiellini on the shoulder, but once again, the incident wasn't caught by referees, and Suárez wasn't punished during the game, according to The Irish Times. In photos captured of the incident, Chiellini is sprawled out on the field, holding his shoulder in pain, while Suárez sits beside him, holding his teeth. No one could believe what had just happened, thinking surely it was just a regular collision and not another biting incident. But after reviewing the footage, it was clear that Suárez had bitten yet another soccer player for the third time in his professional career.
Suárez tries to explain the incident through rose-colored glasses, making himself the victim. When talking about his brush with Chiellini, he said that he lost his balance, hit his face against the player, and had sore teeth because of it. But Insider reported that there were perfect imprints left from Suárez's teeth on Chiellini's shoulder, which the latter had tried to show the referee.
The soccer organization FIFA was not sympathetic to Suárez's latest defense — They swiftly fined him 100,000 Swiss francs, banned him from nine international games, and banned him from soccer entirely for four months (via The Irish Times). Suárez has apologized to Chiellini, but he also believes he's never seriously hurt anyone with his biting incidents, saying, "I know biting appalls a lot of people, but it's relatively harmless" (via Yahoo News).