Inside Chad Smith's Relationship With Taylor Hawkins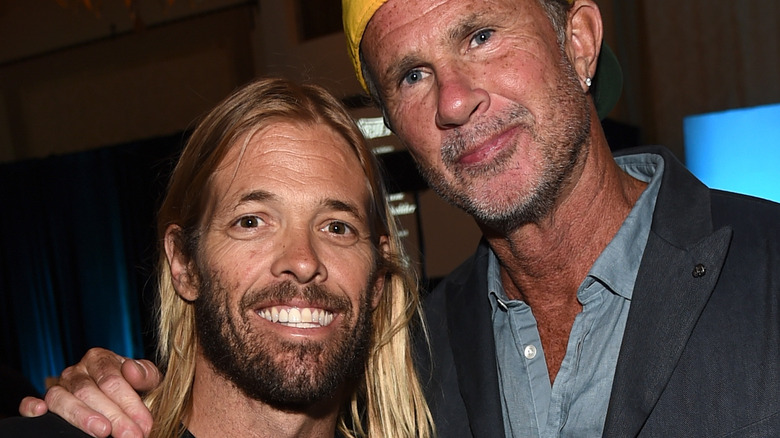 Michael Buckner/Getty Images
At the 2022 Video Music Awards, musician Chad Smith made sure to dedicate the Red Hot Chili Peppers' 2022 Global Icon Award to his friend and fellow musician Taylor Hawkins (via Ultimate Classic Rock). Smith dedicated the Icon Award to his "brother, Taylor Hawkins" and to the Hawkins family, adding, "​​I miss him every day. Fly on, Hawk." According to Page Six, Hawkins' name and an image of a hawk were featured on the drum kit the Red Hot Chili Peppers played with, as another sign of respect for the musician.
As Rolling Stone reports, Chad Smith and Taylor Hawkins were very good friends who had a love of music in common. Chad Smith is the drummer for the Red Hot Chili Peppers, while Taylor Hawkins played drums for the Foo Fighters. They had apparently been friends for many years, per People.
Rolling Stone reports that in December 2021, Hawkins reportedly had a medical issue while aboard a plane, and told Smith that he'd passed out.
Smith and Hawkins talked almost every day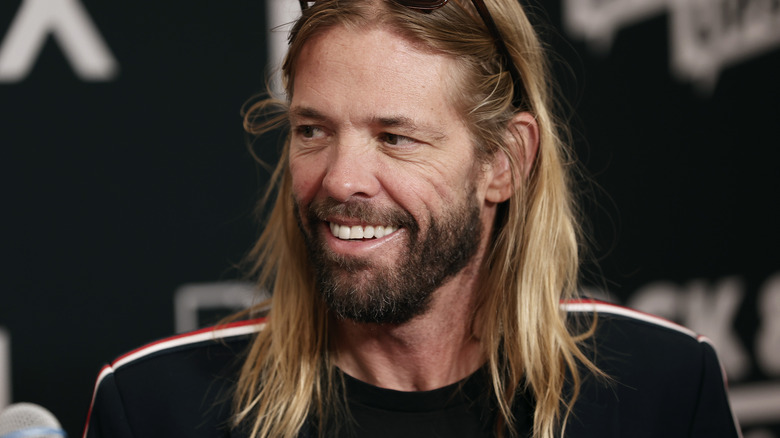 Arturo Holmes/Getty Images
Taylor Hawkins then told Chad Smith that he'd been dehydrated and was given an IV bag (per Rolling Stone). But Hawkins also confided in Smith that he was struggling with touring, telling him, "I can't do it like this anymore." According to LoudWire, the Foo Fighters deny that there were any issues on board the plane.
Rolling Stone reports that Smith said that Hawkins seemed to be pursuing health goals in his final months — Hawkins had told him that he had been lifting weights, as well as drinking electrolytes and water. He and Hawkins talked on the phone almost every morning, so Smith gave him the nickname "Coffee Hawk." 
Smith recalled Taylor Hawkins' 50th birthday party, where a small group of the drummer's friends gathered to celebrate him. Smith said everyone at the party gave a personal toast to Hawkins to tell them how much he meant to them. Even as he spoke to Rolling Stone about Hawkins, Smith was still grieving. He said, "The best [people], sometimes they just burn bright and extra hard."
Smith continually honors Hawkins as RHCP gets awards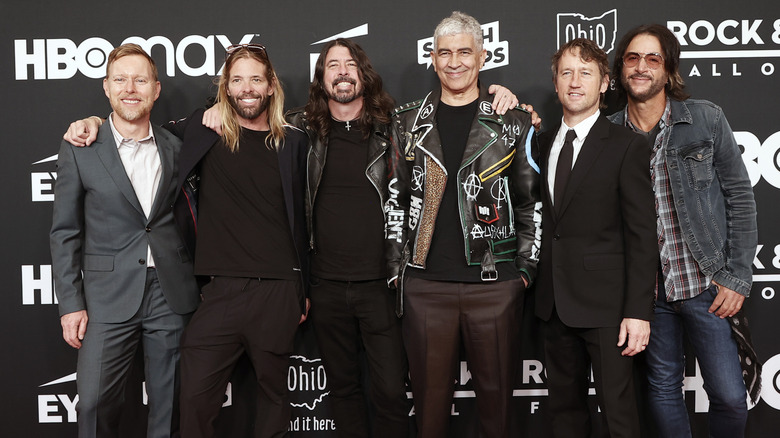 Arturo Holmes/Getty Images
On March 25, 2022, while the Foo Fighters were on tour, paramedics arrived at a hotel Taylor Hawkins was staying at (per Rolling Stone). Tragically, they weren't able to save Hawkins, who was 50 years old at his time of death. He was reportedly having chest pains before he died, although his autopsy hasn't been made public yet.
According to Ultimate Classic Rock, since Hawkins' death, Chad Smith has honored him publically numerous times. When the Red Hot Chili Peppers earned a spot on the Hollywood Walk of Fame, Smith brought up Hawkins in his speech.
Even right after Hawkins' death, the Red Hot Chili Peppers wanted to show their respects to him, reports NOLA. They filled in for the Foo Fighters during the May 2022 New Orleans Jazz & Heritage Festival, where they encouraged the crowd to chant, "We love you, Taylor!"
People reports Smith has been talking with Alison Hawkins, Taylor Hawkins' wife, to plan a celebration of the late musician.