Stanley Kubrick Managed To Sneak A Cameo By His Wife Into A Clockwork Orange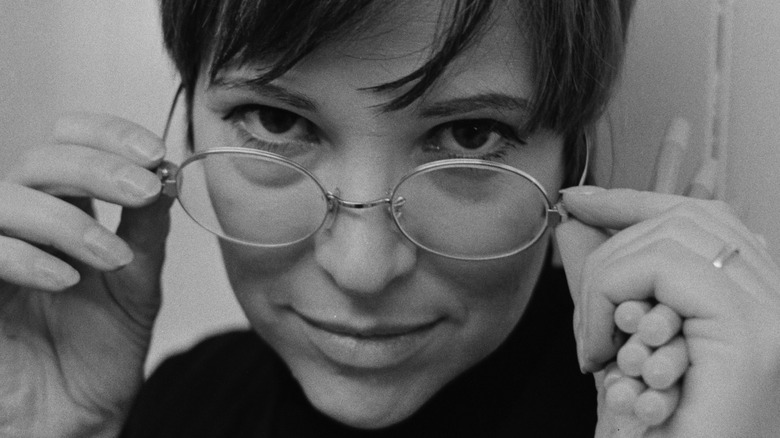 P. Felix/Getty Images
In the decades since his death in 1999 at the age of 70, the legendary status of the acclaimed film director Stanley Kubrick has barely dimmed. Looking back on Kubrick's body of work, scholars, film buffs, and his many fans seem to agree that the famously obsessive director of such classics as 1980's iconic horror "The Shining" and 1987's "Full Metal Jacket" are among some of the greatest movies of 20th-century cinema.
As well as being a skillful storyteller, Kubrick was an innovator, whose work, especially 1968's sci-fi epic "2001: A Space Odyssey," pushed the boundaries of filmmaking and made audiences and fellow filmmakers alike reconsider what cinema could truly be. "Inception" director Christopher Nolan recalled seeing the film as a child, and described it as a "seminal introduction to the power of cinema" (via YouTube).
But Kubrick was also happy to use ideas that had come before him, and in "A Clockwork Orange," the director hearkened back to the signature of another cinema great, the British filmmaker Alfred Hitchcock, who signed each movie with a cameo, his own brief appearance somewhere in each of his films. For Kubrick, it involved his wife, Christiane (above).
Christiane Kubrick: actor, singer, painter
Germany-born Christiane Kubrick, née Harlan, first met her future husband Stanley during the making of his epic 1957 war movie "Paths to Glory." According to The Guardian, the director had seen the young actress performing on German television and cast her as a German singer in the upcoming film. Christiane recalled: "He was shooting chronologically ... so from the time he hired me at the start of the film to the time I actually had to do my scene, we had got to know each other, and were already attached to be married." 
It may have followed that Stanley Kubrick would thereafter cast his wife in many of his upcoming projects. However, that wasn't the case. The director was famously picky when it came to casting, and was capable of re-casting actors' roles mid-shoot, according to The Hollywood Reporter.
Instead, Kubrick exploited another of his wife's talents: painting. Christiane had been making art for many years, becoming accomplished in her chosen medium. So much so that according to Christiane's pictorial biography of her husband, "Stanley Kubrick: A Life in Pictures," the director chose one of her pieces, an oil painting titled "Seedboxes," to adorn the wall during one of the notoriously brutal home invasion scenes in his 1971 cult classic "A Clockwork Orange" (above).
Christiane's paintings and Kubrick's final film
But "A Clockwork Orange" wasn't the only movie in Stanley Kubrick's oeuvre to highlight the artistic talents of his wife, Christiane. Decades later, when working on his final film, 1999's "Eyes Wide Shut" starring Nicole Kidman and Tom Cruise, the director again turned to his wife's art as a source of stunning set dressing, placing many of her paintings, including "Seedbox Theatre" and "Presents for Tourists," on the walls of the couple's apartment (via Paintings in Movies).
And Christiane wasn't the only member of the Kubrick family to have their artwork immortalized in one of Stanley's films. In 2019, a Reddit user posted a still from "Eyes Wide Shut," in which was visible a large painting of a cat. The user claimed that the painting was of Stanley Kubrick's favorite cat, Olly. Kubrick's daughter Katharina then joined the conversation using a verified account, telling Redditors: "Her name was Polly. I made it for his 60th birthday."