The Reason You Can't Visit Andy Griffith's Gravesite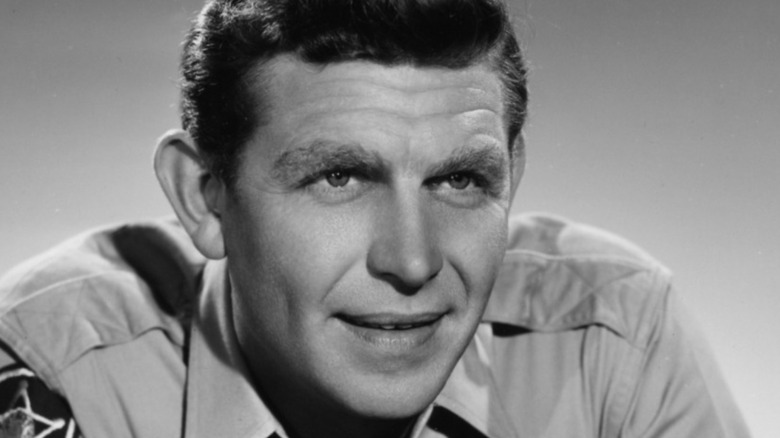 Michael Ochs Archives/Getty Images
It's not uncommon for fans to make pilgrimages to the final resting places of their favorite stars. Many of our screen idols are interred in public cemeteries, and internet sites like Find a Grave make it easy to search for and locate the places you might want to visit and pay tribute to a performer, elected official, or other celebrity.
The funeral of a celebrity might also be well-attended if a public ceremony has been selected. For example, the funeral procession for silent film star Rudolph Valentino was attended by over 100,000 mourners who watched the beloved actor's remains carted throughout the streets of New York City. When Princess Diana was killed in a car wreck in 1997, her procession was a four-mile-long affair, passing by an estimated one million members of her adoring public. And though the funeral of Elvis Presley was a private affair on his Graceland estate in Memphis, more than 25,000 fans swarmed the mansion (per Newser).
The stars of "The Andy Griffith Show" remain few among the living. Over the years since its finale in 1968, nearly everyone in the main cast has died, with many of their graves being a destination for long-time fans of the popular television show. So whether it's Don Knotts' grave in Westwood Memorial Park in Los Angeles or George "Goober" Lindsey's monument at the Oak Hill Cemetery in Jaspar, Alabama (per FindAGrave.com), there are places for you to make a final tribute.
But when trying to visit the grave of the show's star, Andy Griffith, a fan will be disappointed.
Griffith is buried in a private cemetery on Roanoke Island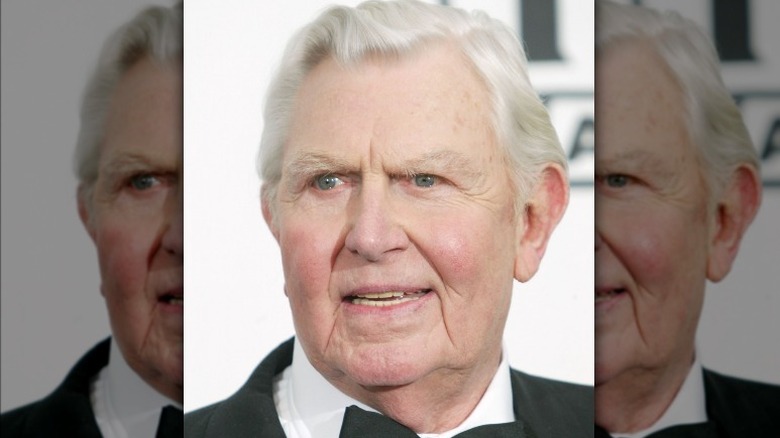 Frederick M. Brown/Getty Images
When Griffith died on July 3, 2012, he was buried beformostof media outlets became aware of his death. CNN reports that the actor died from an undisclosed illness and departed this world at around 7:00 a.m. at his home on Roanoke Island in his beloved home state of North Carolina. The media outlet reports that Griffth was laid to rest in a grave on his family's property on the island. CNN spoke with a funeral home representative that handled Griffith's arrangements. The funeral home stated that the late actor's final wishes, including his resting place, were planned out some time ago. "This was the wish of his family," the representative continued.
CNN also spoke with Larry F. Stegall, executive director of the state's Funeral Directors Association. Stegall said that while the Griffith family's actions were almost unheard of, the family's wishes are always honored and respected. However, because his burial happened so quickly after Griffith's death, it prohibited many loved ones from paying traditional post-death respects. Stegall commented that the arrangements were not the usual practice. He said, "I don't recall having heard of it, and I've been here 32 years."
A more common tradition would have been for Griffith to have been interred several days after his death, giving more time for anyone other than immediate family to visit him in-state and mourn with friends and family. Unfortunately, whatever reason Griffith had to have his death handled this way has not been released to the public.
Griffith's hometown erected a statue in his honor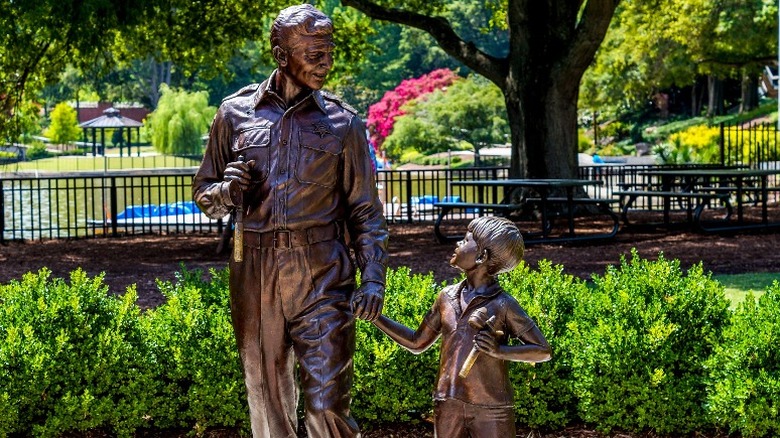 Toro_The_Bull - Arturelia/Shutterstock
Soon after his passing, Griffith's wife Cindi released a statement to the media (per C: "d "Andy was a person of incredibly strong Christian faith and was prepared for the day he would be called Home to his Lord." There were no mentions of any public or private service in her statements, but Outsider reports that the final resting place of the famed TV star is located in a private cemetery on the family's property. This won't allow for any visitors who wish to pay their respects to Griffith in the traditional way of making a pilgrimage to the cemetery. The actor led a private life, and Outsider speculated that perhaps Griffith didn't want a lot of the fuss associated with his death.
But there are other ways to pay respects to Griffith. WRAL News reports that a statue of Griffith was erected in his hometown of Mount Airy, North Carolina in October 2003. The bronze statue is an 800-pound likeness of Griffith's character from "The Andy Griffith Show," paired with a smaller statue of his TV son Opie Taylor (who was depicted by Ron Howard). Father and son are frozen in time in the famed statue, their likenesses armed with poles while on their way to catch fish from their favorite fishing hole.
When the statue was unveiled, Griffith joked, "That beats anything. I kind of wish I looked like that now."